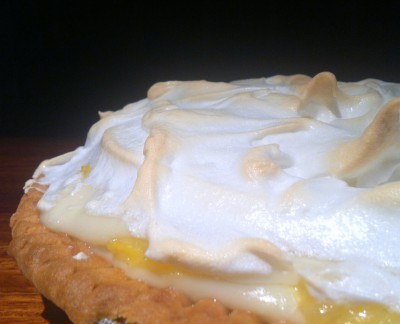 Many Aussies would have happy memories of Frangipani Pie.
It was a staple at most family gatherings years ago, and originally came from the recipe on the Golden Circle crushed pineapple tin.
I haven't seen one in years, but I know that this pie evokes vivid memories for everyone in our family of happy times spent together when we were younger.
This is an updated version, using coconut cream instead of milk as was listed in the original recipe. Coconut cream was a bit hard to find back then!
Despite having a few steps, this is a really easy dessert and a great one to take to barbecues.
So here's what you need:
1 x 20cm sweet shortcrust pie shell
For the Pineapple layer:
450gm tin Crushed Pineapple
3 tablespoons cornflour mixed with 1/4 cup water to a smooth paste
2 egg yolks (save the whites for the meringue layer)
For the coconut cream layer:
1 tin coconut cream
1 cup dessicated coconut
2 teaspoons butter
3/4 cup sugar
2 tablespoons cornflour mixed with 1/4 cup water to a smooth paste
For the meringue layer:
2 egg whites saved from the egg yolks separated for the pineapple layer
4 tablespoons caster sugar
Preheat the oven to 180C.
Tip the pineapple into a small saucepan, and bring to the boil. Quickly mix in the cornflour paste and stir until the pineapple thickens. Remove the pan from the heat and allow to cool for about five minutes. Beat in the egg yolks and set aside.
Tip the coconut cream into a small saucepan and bring to a simmer. Add the sugar and butter and stir until the sugar dissolves, then add the dessicated coconut. Add the cornflour paste and stir until the coconut cream mixture thickens. Set aside to cool.
Put the egg whites in a bowl and whip until light and fluffy and they hold a peak easily. Add the sugar, one tablespoon at a time and whip until glossy and stiff.
In the pie shell, layer half of the coconut cream mixture. Top this with the pineapple mixture, then layer the rest of the coconut cream mixture over it. Spoon the meringue over the top of the pie, lifting into small peaks with a knife or the back of the spoon.
Bake for 15 minutes or until golden on top.
Cool and enjoy!