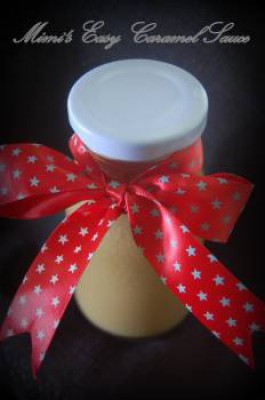 A great gift, treat, or secret indulgence to hide at the back of the refrigerator. Not that I'd do that of course.
This does need to be refrigerated, and it's best made close to the time of use or gifting due to the addition of the cream.
But then who would ever expect Caramel Sauce to actually keep. Doesn't it get eaten the same day???
To make about 400mls....
You'll need:
1 cup soft brown sugar, firmly packed
1 cup cream
1/2 teaspoon vanilla essence or vanilla extract
Then just:
Place all ingredients in a small saucepan over a medium heat, stirring constantly till the brown sugar has completely dissolved.
Whisk to remove any remaining lumps of sugar.
By the time you've done this, is should have reduced slightly and will thicken upon standing and chilling.
Pour into small bottles or jars, and embellish with a ribbon.
That's it :)
Use as a topping for icecream, poured over a cake or muffins, as a flavouring for milk, to flavour whipped cream, or as an addition to cocktails or gourmet coffee.