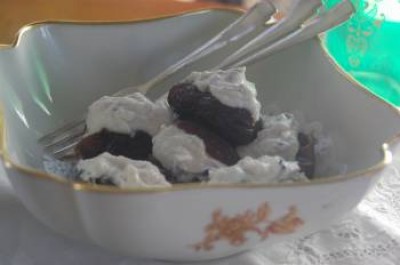 These little morsels taste like a gooey sundae, only healthy!
Dates always taste like heaven to me. All that sticky sweet goodness, and all totally provided by Mother Nature, her sweet self.
I thought they couldn't get any better, then someone introduced me to the idea of stuffed dates. The closest I've come to one of those, is an Angel (or was it a Devil?) on Horseback, which was the finger food of choice back in the early 70's when my Mum was the hostess with the mostest.
We kids would spend hours on New Years Eve, dutifully wrapping strips of bacon around prunes on a toothpick. Mum would bake these morsels in the oven, and voila! Yumminess on a stick...or actually a toothpick!
These are a similar idea, only even more delish if that's humanly possible. The tweenies and morose teenagers will almost certainly look at them like they're poisonous, but with any luck, that means all the more for you!
Dates filled with Blueberry Rosewater Cheesecake
Serves 4
Equipment required:
Small bowl
Teaspoon
Dessertspoon
Small serving dish
Plus the following:
8 Medjool Dates (the dried ones will do, but these are so scrumptious!)
3 dessertspoons cream cheese or labna (drained yoghurt cheese)
1 teaspoon icing sugar (optional)
Small handful blueberries...about 12...slightly mashed to release the juices and colour
2 teaspoons Rosewater
Then....
In a small bowl, mix the cream cheese/labna, icing sugar, mashed blueberries and rosewater.
Slit the dates down one side, and carefully remove the seed.
Use a teeny teaspoon, to slide some of the filling inside the date, and give it a little swirl on top.
Pile into your serving dish prettily and let them chill for about an hour.
Now if you want to get really flash, you could drizzle these with some melted chocolate or dust them with icing sugar, but that's not really necessary at all.
This, whilst not being a completely 'nude' food, is pretty darned close as far as desserts go. You can vary the filling with any flavour you like, and things like an almond,inside a dried apricot, inside the date is damn fine eating as well.
When I eat these, I always feel like I'm in a Kasbah, my camel parked outside ready for my next desert adventure..or is that Dessert Adventure?
;0)