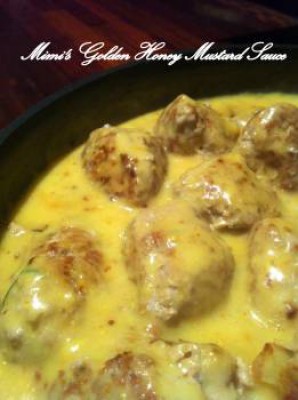 You know that blobby stuff in the jar that makes chicken taste heavenly and elevates meatballs to something glamorous?
I make my own, and I thought I'd share it so you too can stop paying $4 a jar for something that costs cents to make :)
My recipe has no cream in it, unlike many other home made versions, and uses ingredients that most of us have on hand.
Here it is:
Mimi's Golden Honey Mustard Sauce
1 1/2 cups milk
1/2 chicken stock cube
2 teaspoons wholegrain mustard (or a combination of two different kinds if you want)
2 tablespoons honey
1/2 teaspoon Turmeric
2 dessertspoons cornflour mixed to a paste with a little water
Then just:
Whisk all the ingredients together in a small saucepan, and stir until it bubbles and thickens.
That's it.
Serve over meat, vegetables or chicken or use as a simmer sauce.