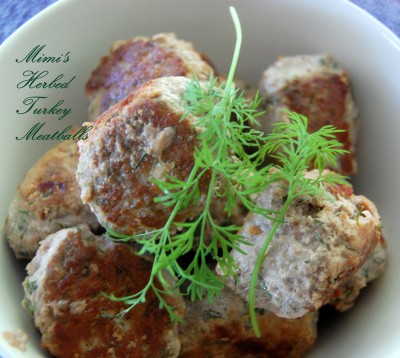 I made the most delicious turkey meatballs on Monday. And on Tuesday. And on Wednesday. I'm making them again today. My daughter, who is finicky at best, can't get enough of them!
The garlic, onions and herbs really lift the flavour and they need no other sauce or seasoning. You can use any fresh herbs, especially ones from your own garden, but the combination of the dill and thyme is particularly nice.
These have no bread or flour in them either, so they don't sit in your tummy like a rock, and Turkey Mince in such an inexpensive, lean and tasty mince that it's worth making these up by the dozens for a quick meal, sub-style rolls on the weekend, or snacking material for the hordes.
Mimi's Herby Garlic Turkey Meatballs
500gms turkey mince
1 large garlic clove, peeled and crushed
1 medium onion, peeled and finely diced
1 egg
2 sprigs fresh dill, stalks and foliage chopped
2 large sprigs fresh parsley, chopped
3 sprigs fresh thyme, leaves stripped and stalks discarded
Mix all ingredients in a bowl with clean hands until well combined. Take large teaspoonsful of this mixture and roll into neat balls.
Refrigerate the meatballs for an hour or two to firm them up.
Heat a non stick pan over a hotplate heated to high, spray with cooking spray, and brown the meatballs all over.
Cook them, turning often for about ten minutes until they are firm but springy when pressed, and the juices run clear when pierced.
Serve hot or cold. You can also make these into a pattie for burgers or served as rissoles.
Utterly delicious :)