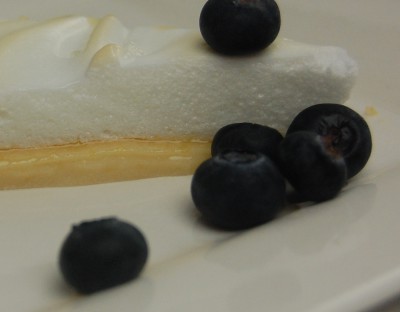 Everyone loves meringue.
Whether it's atop a Lemon Meringue Pie or served as a Pavlova, it's always a winner.
So I'm thinking, why stop there?
I've topped our favourite stirred custard with meringue and baked it and we love it. I've even put lemon juice and zest into the custard so we can get our lemon meringue fix now that we're all Gluten Free.
So here's what I do.
You'll need:
For the custard:
2 eggs, separated. You'll use the yolks for the custard and the whites for the meringue.
2/3 cup sugar
2 tablespoons cornflour
1 teaspoon vanilla essence OR the juice of two lemons
2 cups milk
For the meringue:
The 2 egg whites from your eggs
4 dessertspoons caster sugar
Pinch of Cream of Tartar
Then:
Preheat the oven to 175C.
Have a pie dish or quiche dish ready on your bench.
Stir the egg yolks, sugar and cornflour together in a small jug or bowl, adding a little of the milk to smooth it if necessary. Add the vanilla or lemon juice (you won't need to add the milk to smooth this, if you're using lemon juice).
Put the milk in a microwave safe jug and heat to steaming in the microwave. That's about three minutes in mine. Whisk the egg yolk mixture into it and continue to whisk until it's smooth.
Pour into your waiting pie dish. Put it into the fridge to firm it up a bit.
Whip the egg whites, gradually adding the sugar, one spoonful at a time. Beat until it's glossy and the peaks hold when you lift the beaters out.
Spoon the meringue over the custard and pop it into the oven for about ten minutes until browned.
Remove from the oven and chill well before serving.