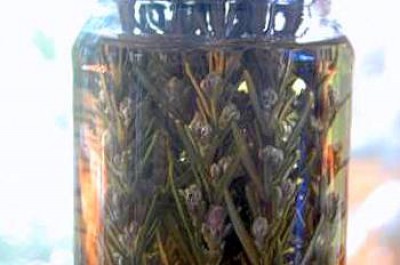 I continue to be obsessed with natural alternatives to overpriced and over processed skin care and cosmetics, and my latest experiment is with this solution.
Queen of Hungary Water was the original scented cologne and over the centuries has morphed many times with different herbal additives used, and reports that being applied externally as well as taken internally, resulted in many significant health benefits. In fact, stories of it's health benefits include increased youthfulness and relief of a long list of ailments. Gypsies were purported to use it as a cure all for every malaise of their era. Try doing that with your average Estee Lauder or Clinique product!
It lives on now as a skin toner and pore tightener, and is marketed by many companies in Europe, packaged in stylishly Mediaeval bottles, attracting a seriously modern day price. One I saw was 57 euros. Hmmmm....
So here's what it actually is, as best as I can determine from my research.
Apple Cider Vinegar or Vodka, depending upon whether you're using is as tonic and skin toner (ACV) or cologne (Vodka)
Fresh Rosemary
That's it. As far as I can see, the other botanicals are entirely variable, and mostly added to disguise the vinegar smell or enhance the fragrant properties.
The list of included botanicals seems to be extensive, but here's a starter list:
Rose petals (unsprayed)
Lemon Balm
Lemon Thyme
Lavender
Chamomile
Calendula
Citrus peel
Sage
Mint
Orange Blossom
It appears that Lush markets a skin cream containing a version of Queen of Hungary Water, which is simply the Apple Cider Vinegar and Rosemary, which is then perfumed with essential oils.
So, what's good enough for Lush is good enough for me.
I've started my Water today. I simply placed a handful of Rosemary into a recycled jar and filled the jar with the vinegar. You could also use rosewater or witch hazel if you want to avoid the vinegar smell. I don't mind it, and I'll be scenting mine with Neroli essential oil and Jasmine Absolute anyway.
I'll leave it for two weeks, then check it, add more botanicals if I decide to get flash, and leave it for another two. Then I'll strain it and it'll be ready to use.
Now to find a suitable Mediaeval bottle in which to store it :)