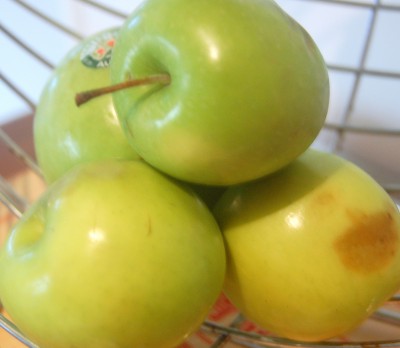 Turn these...
..into this...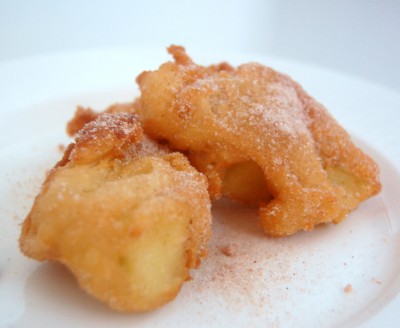 ...with a pancake recipe.
My daughter has taken these apples to school and back for the last two weeks. I guess I should take the hint. No apples in the lunch box. They're a bit battered and bruised, but still edible...sooooo....
Remember the budget busting eggless pancake recipe I posted a while back?
Well it turns out it works well for this too. A great lesson in adapting an old favourite, to make a new one. Just add the grated and chopped apple, some cinnamon, fry briefly in hot oil, more cinnamon sugar, icecream. Feast :)
Here's the recipe again...
1 1/2 cups plain flour
2 tablespoons milk powder
2 tablespoons sugar
3 teaspoons baking powder
1 1/4 cups water
2 tablespoons oil
1 tablespoon white vinegar
1 teaspoon vanilla essence
Combine the first four ingredients in one bowl, and add the next four. Mix well. Done.
For the fritters:
2-4 apples
1 teaspoon cinnamon
Cinnamon sugar made by combining 1/2 cup caster sugar and 2 teaspoons cinnamon in a small bowl
Vegetable oil for frying
Paper towels or clean teatowels for draining
Peel four apples (or however many you have). Grate two, and chop the other two into cubes. Mix the apple in to the batter. Add the cinnamon.
Let the batter rest for about 30 minutes in the refrigerator.
Heat the oil in a small saucepan over a medium high heat, until a bread cube dropped in browns in about 25 seconds.
Remove your batter from the fridge. Don't stir it!
Take tablespoons of batter, and drop them carefully in to the hot oil. Flip them regularly with kitchen tongs, until they are golden on all sides. Remove them to the paper towel to drain well.
Toss them in the cinnamon sugar, and serve immediately as is, or with ice cream, custard, cream or cinnamon yoghurt.
Yummmmmmeeeeeee :)