Many of us cook in bulk, and I find it's a challenge to turn those frozen dinners into something that looks different.
I don't know about your family, but my husband, in particular, has an aversion to anything that looks remotely like leftovers. This is possilbly a trauma left over (no pun intended!) from his childhood when his dear Mum would cook dinner at 9am and leave it warming in the oven until 5pm, which was 'teatime' back in the 60's. Of course in the 60's there were no microwaves, and good material on how to cook ahead, was probably a bit scarce on the ground, so I'll forgive her on that basis.
Nonetheless, this means that I cannot simply cook one humongous batch of the same thing and serve it up over a fortnight in it's original form. It would be eyed most suspiciously as leftovers, and pushed to one side, with complaints all round.
So, I've had to get a tad sneaky, and recycle these frozen meals as a completely new dish, to circumnavigate any whines and whinges.
Here's a lamb one I've come up with. I use lamb offcuts on the bone if I can get them, lamb neck chops or diced lamb when it's on special.
This idea gives me a Lamb Curry in round one, Middle Eastern Lamb and Rice in round two, and the big KO in round three, Lamb Pilaf.
These quantities will serve four adults for three incarnations.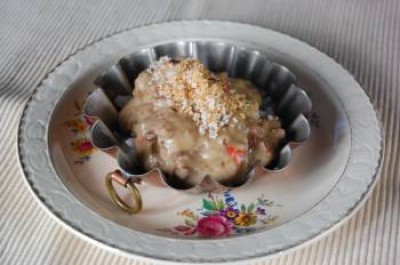 Round One
Lamb Coconut Curry
Equipment required:
Ziplock or freezer bag
Large non-stick frypan
Slow cooker or large casserole dish
Measuring cups
Sharp knife
Saucer
Microwave safe dish with lid or cling wrap to cover
Ingredients required:
2 kgs lamb offcuts, chops or cubes
2-3 tablespoons oil
3 tablespoons flour (I use cornflour for Gluten Free)
1 large onion, sliced (or you can use three tablespoons of my Onion Confit if you make it)
4 cloves garlic, crushed
1 heaped teaspoon of minced or grated ginger
1 red chilli, finely sliced
1/2 cup any curry paste, I used Massaman
1 cup water
4 stock cubes
1/2 teaspoon Cinnamon
3 bay leaves
1/2 cup dessicated coconut (optional)
1 cup coconut milk or see *note* below
* I make a reasonable coconut milk/coconut cream subsitute by mixing 1 cup milk powder with 1/2 cup warm water and 3 teaspoons of coconut essence. It's a little sweeter, but gives a lovely depth of flavour to the curry. Just use this amount to substitute the coconut milk if desired.
Method:
If you're using a casserole dish, preheat your oven to 170C and have your casserole dish ready on the bench. If you're using your slow cooker, plug it in, and have it ready to be filled close by.
You're also going to need some steamed rice and vegetables to serve this one with in a few hours, so check out what's going on in the fridge and use up some of those limp veg!
Put your meat and flour into your ziplock or freezer bag and shake it around until your meat is well coated.
Heat your non-stick pan over a hotplate heated to high, and add a tablespoon of your oil. Pan fry your meat in small batches until it's browned well, and remove each batch to your casserole dish or slow cooker.
Add your garlic, ginger and onion to the pan and cook, stirring until it's all brown and aromatic. Add the chilli and curry paste and stir the lot until it's fragrant. Add the stock cubes, cinnamon, bay leaves, and water and stir until it's bubbling merrily, then tip the whole mixture over your waiting browned meat in your dish or crockpot.
Allow your pan to cool, then wash it up, as you're going to need it again in a tic.
Pop your casserole into the oven or the lid onto your slow cooker. Cook until tender. For oven, you're probably looking at around 2-2 1/2 hours. In your slow cooker, an hour on high, then 3-4 hours on low will do the trick.
While that's simmering away to it's flavoursome conclusion, heat your cleaned non-stick pan over a hotplate heated to high, and toss in your dessicated coconut. Stir it around for a minute or so, until it's nicely browned, then tip it on to a saucer so it doesn't burn. This is going to garnish your Lamb Curry and give it an extra boost of flavour. Yum!
You've got plenty of time to steam your rice and veges, but don't leave it too late!
When the meat is all tender and soft, it's ready to serve, but remember, you're only removing a third of the quantity you've cooked. Remove the right amount to a microwave safe dish, along with a portion of the cooking liquid, and add your coconut milk or substitute.
That coconut milk will have cooled your curry a little, so while you're serving the rice and piping hot veges, pop your curry into the microwave and give it a quick zap for 60-90 seconds to restore it to a steaming serving temperature.
Dish up your mouthwatering cubes or pieces of meat with a good ladelling of sauce and garnish it all with the toasted coconut.
Resist the urge to go back for seconds or thirds or there goes your double and triple dinner....arrrrrgh!
Round Two
Middle Eastern Lamb with Silverbeet and Spiced Yoghurt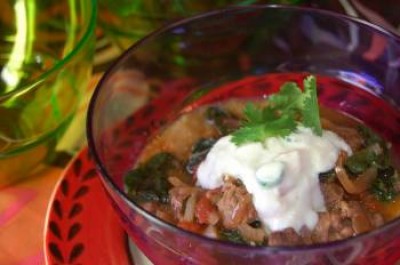 Equipment Required:
Large frypan, wok or saucepan with lid
Sharp knife
Tin opener
Measuring cups
Spoon for stirring
Brightly coloured bowls for serving if you like :)
Ingredients required:
1/3 of your quantity of Lamb Curry including some of the juices
1 large onion sliced or 1/2 cup Onion Confit if you make it
1 x 800gm tin Peeled Tomatoes
1 cup water
1 beef stock cube
4 leaves of silverbeet, spines removed and sliced, leaves torn into large pieces
Cous cous
...for the spiced yoghurt, you'll also need:
1 cup natural yoghurt
1 small onion, finely diced
1 small green chilli, finely sliced (replace with lemon zest if you prefer)
1 teaspoon mustard
1 medium tomato, finely diced
Pinch of salt
Method:
Prepare your spiced yoghurt first to give the flavours a chance to infuse. The day before is great if you think of it. Just mix the ingredients in a small bowl, and leave it covered in the refrigerator until you're ready to serve this one.
Heat your pan or saucepan over a medium-high hotplate and toss in your sliced onion or onion confit. Stir it all until it smells good, and add your lamb curry, along with the tinned tomatoes, water and stock cubes.
Turn down the heat, and simmer uncovered, until your liquid and juices have reduced by about half. This will take ten or fifteen minutes, and make your house smell like a Moroccan Kasbah. Toss in the silverbeet in the last few minutes and stir it until it wilts. Let it heat through before you serve.
While that's simmering, prepare your couscous according to the instructions on the packet. I like to prepare mine with chicken stock and toss in a few currants and slivered almonds for authenticity, but plain is fine too.
Get out your mismatched bowls and put on your jangly bangles, fling a colourful sarong or tablecloth on the table, and scoop some couscous, a big ladle of Lamb and Silverbeet and a blob of spiced yoghurt into your dishes.
Voila! Well, French is the second most common language spoken in Morocco you know.
Round Three
Lamb Pilaf
Equipment Required:
Microwave safe dish - Large
Large saucepan with lid
Wok or second large saucepan or frypa
Large flat platter and bowls for serving
Ingredients required:
2 cups long grain rice
2 beef stock cubes
1/2 cup slivered almonds
1/2 cup dried apricots, cut in half
3 carrots, peeled and chopped
1 onion, finely diced
2 teaspoons Turmeric
4 Cardamom seeds
Final third of your Lamb Curry
Fresh herbs for serving
Method:
If the last of your lamb is on the bone, remove it from it's juices and shred the meat, discarding the bones.
Peel and dice your carrots and onion, and cut your apricots in half.
Steam your rice in your large saucepan with lid, using your favourite method. I like to add 3 3/4 cups of water to my two cups of rice, along with a pinch of salt. Then it's just a matter of bringing it to the boil, covering it with a firm lid, and switching it off to let your stored heat do the rest. If you resist the temptation to peak, you'll have perfect, fluffy rice in about twenty minutes. Fluff it with your fork to loosen the grains.
Spoon your lamb curry and the remaining sauce in to your microwave safe dish. Add your apricots, cover your dish, and microwave on high in two minutes blasts, stirring between each blast, until it's piping hot.
While that's warming, add the oil to your second saucepan, wok or frypan, and get it heated well over a hotplate heated to high. Toss in your carrots and onion and stir them until they're browned, and add the Turmeric and Cardamom seeds. Stir this until it smells good. Add your steamed rice, and the hot Lamb and toss it all until it's well combined.
Tip the whole shebang onto your large serving platter, and garnish it with your almonds and fresh herbs. Coriander is our favourite, but parsley, mint and chives are all good as well.
Lay it out on the table with big serving spoons and colourful bowls. We love eating this from mulitcoloured bowls, rescued from the thrift shop along with our Splayds, also adopted from there. Splayds are a sort of combo fork and spoon with one bevelled edge for cutting softer meat and veg. Perfect for Pilaf!
Thus ends my tale. Thank goodness. My fingers are all typed out!
Enjoy!