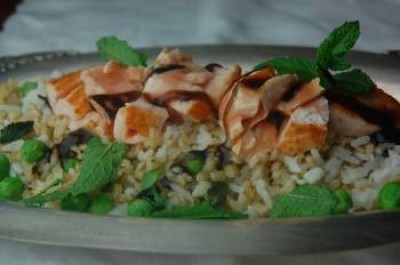 Confetti Rice with Salmon and Peas (serves 6)
The thing I love most about 'nude food' is that it's a great way to beat the heat! No, I'm not cooking in the buff. And neither are my kids, although my sons did go through a stage in the '90s of wearing their duds so far down their hips that parts of the human anatomy that do not belong in the kitchen were far too visible for my liking!
I'm using ingredients that are fresh, green and as close to their natural state as possible. I find that making the change to nude food is a great way to eat healthily, economically and sustainably. It also forces me to rethink my idea of 'convenience' and modify some of my favourite recipes to be a little more supportive of a green and healthy lifestyle. My first challenge in Nude Food Month has been to feed my sister and her family who I invited on impulse earlier this week.
I hadn't been shopping and found myself at 5pm staring fixedly at the refrigerator contents, wishing something would inspire me thus preventing a mercy dash to the local pizza haunt. The only good thing about the pizza haunt is that they boast the only palatable gluten-free pizza option for miles around. But the fact it comes with a hefty price tag was sufficient for me to remain focused on the open fridge!
A rummage in the freezer yielded one piece of salmon, purchased at a local seafood market last weekend, and half a packet of frozen peas. We also had a small handful of salad leaves and a green capsicum in the crisper, so I knew I had the makings of something. But it had to be a something to feed six, without the troops rolling their eyes and retreating to their phones to bemoan their misfortune on Facebook. After investigating the top shelf of my kitchen cupboard, I discovered some brown rice lurking from a previous venture into healthy eating. Suffice to say the family don't always share my food fads! The coriander was growing nicely in its pot this month, so a quick snip later and I've got a handful of fragrant herbs to add to the mix. Add to that a few garlic chives and a mint garnish and we're looking good.
The brown rice goes on to simmer while I prepare the other ingredients. I slice the salmon in half lengthwise and set it aside before prepping the green stuff and setting the table with earthy bowls and chopsticks. I defrost some precooked white rice from the freezer (my favourite strategy for a quick meal), pan-fry the salmon with a few special bits and it all comes together in a flash.
Steaming platters are brought to the table amongst sighs of 'yum', and nary a stray eye to Facebook in sight. Chopsticks have a way of negating any other activity with hands or brains!
Confetti Rice with Warmed Salmon, Greens and Honey Mustard Dressing
Equipment:
Large fry pan or wok
Large saucepan
Small saucepan
Extra large container or mixing bowl
2 large platters for serving
2 large spoons
6 bowls and 6 sets of chopsticks, if you have them, to add a bit of fun
Ingredients:
1 piece of fresh salmon
2 cups of brown rice, uncooked
2 cups of white rice, uncooked
1 cup brown, green or black lentils (NOT red ones)
2-4 cups of greens such as salad leaves, snow peas, frozen peas, zucchini, cucumber
A handful of fresh herbs of any kind
4 tsp seeded mustard
1/2 cup balsamic vinegar
1/4 cup honey
How to:
This dish is best with a bit of forward preparation, so earlier in the day, prepare the two different rices and the lentils. You could even do this the night before if you're organised. Cook the brown and white rice using your favourite method. Soak the lentils if you have time, and cook them according to the instructions on the packet. Toss the lentils with a bit of your favourite dressing while they're warm to give them a flavour boost, even lemon or lime juice is great. Allow it all to cool slightly before refrigerating until you're ready to assemble the dish.
Chop your fresh herbs, wash and prepare your other vegies. This may mean just steaming them lightly or perhaps washing them and patting them dry if you're using salad leaves. Set it all aside or refrigerate it if dinner is a little way off.
Finally, slice your salmon lengthwise, and refrigerate it until you're ready to eat. When dinner time rolls around, get all your ingredients out on the bench and line up your platters. Make sure the kids have left Facebook alone long enough to set the table properly! Set the wok or fry pan onto a medium high hotplate and give it a good spray with cooking oil. Get out your balsamic vinegar, honey, and seeded mustard and have them close to the fry pan.
Then it's a quick process, so get the troops away from the TV and the computer and make them help. Sure, they'll moan, but that's what kids do, don't go taking it personally! And remember to remind the darlings that health and hygiene laws in your kitchen dictate that they've washed their hands in the last 24 hours - and that soap is crucial to the process!
Get them to put both lots of rice, the chilled and flavoured lentils, the cold vegies and salad leaves and half of your herbs into your largest mixing bowl or container. Using clean hands and two large spoons, toss the lot together very gently until it's all well combined and colourful. Ask them nicely to divide it equally between the two big serving platters. Despatch them to the dinner table to debate who's to be eliminated from Big Brother or X-Factor or whatever reality TV is flavour of the month. At least they're speaking to one another. As a parent, be grateful for small mercies and the fact that there's no blood on the floor!
Panfry the salmon for 2-4 minutes each side, depending upon how thick the fillets are. At the last minute add your vinegar, honey and mustard and flip the salmon over in the sauce a few times to coat the fillets. Working quickly, flake the salmon with two forks and sprinkle the flaked bits over the top of your two platters of confetti rice. Garnish with the remaining fresh herbs and pour over the warmed dressing. Carry it all to the table and enjoy the blessed silence. See? Nude food is a good thing. And no bareing of flesh required!