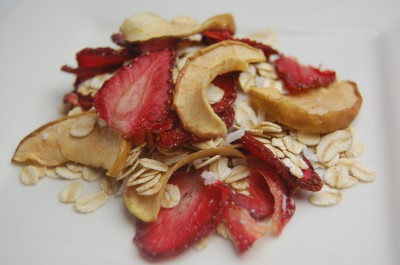 I find the trick with easy meal preparation is to have ingredients on hand that make the assembly easier. Things like home made chutneys and relishes, home simmered fruit, and even basics like yoghurt, can often perform the same flavouring tasks as packet mixes and flavoured butters and spices do far more for your palate than a feed of KFC.
Muesli is an overlooked ready made ingredient. It's often relegated to being served with milk, something to be chowed through mindlessly as part of a healthy eating plan.
For me, it's been a long time coming, but I finally figured out why I have a love-hate relationship with muesli.
First of all, the commercial stuff generally has gluten laden thingos in it like bran and stuff.
Secondly it has icky things like sultanas, which of all the dried fruit in the world, must be the dullest tasting ever. Commercial dried fruit also has creepy ingredients added to it to maintain it's colour and extend it's shelf life.
Thirdly, it just doesn't look nice. It doesn't. It's not in a pretty container, it's not colourful, and in fact, it looks downright unappetising. All greige (grey-beige is now apparently so termed) and brown and ordinary, and might I add, bland.
My muesli is different. It has colour. It has flavour. It has freshly dried fruit in it, straight from my own oven. It comes in a pretty jar. It can be added to breakfast parfaits, cookies, slices, bars, cakes, muffins and hotcakes. It can of course, be consumed au naturel with yoghurt, soy milk or other additives of your choosing. It's soft and moist and flavoursome and doesn't take longer to chew than it did to make.
It's also a great ingredient in at least six other things we really love to eat, and having it prepared makes quick work of scrummy breakfasts, snacks and desserts.
Best of all it costs less than those other so called designer mueslis, because it's made with my own fair hands.
Supermarket muesli tastes like the box it comes in, so if I were you, I'd toss both and give this one a try.
Mimi's Yumbolicious Muesli
Makes about 4 cups or 8 serves
3 cups Rolled Oats
1 apple, washed, dried, cored, quartered, and sliced as thin as possible
1 punnet strawberries, swirled in a sink full of water, gently patted dry, hulled and sliced thinly
1/2 cup moist coconut flakes (found in the baking aisle)
You need to start this muesli recipe the day before you want to make it, to give yourself time to oven dry your fruit.
So here's the method to dry the fruit:
Preheat the oven to it's lowest setting. For some this might be 'Keep Warm', for some it will be 100C or 120C. If you have a fan forced oven, put the fan on as this will speed up the drying considerably.
Line two baking trays with silicone paper, and lay the apple slices on one, and the strawberries on the other.
Place them in the oven and leave them there. Check the fruit pieces every hour and turn them over every two hours. You want them dry, but not brittle. If you have a fan forced oven, your fruit will be dry in 4-5 hours. If not, you may find it will take anything from 8-20 hours. The alternative if you are concerned about your power usage (although an oven on the low setting doesn't use much), is to simply buy your selection of dried fruit, but it's fun to do this at least once, even if it's just to see the difference in texture and flavour to the bought variety.
Once dried, put your fruit into a ziplock bag or freezer bag and freeze it overnight to kill any bacteria remaining. Some advice suggests that you then pop it into a large jar for a week, shaking it regularly to evenly distribute any remaining moisture in the fruit, but if you're going to eat it within a week or two, this isn't really necessary.
Then you just:
Add four cups of rolled oats to a large mixing bowl. Add your fruit and coconut flakes. Sometimes, I toast the coconut flakes first. If you don't like coconut, of course you can use any nuts or seeds you prefer, but this is a particularly yummy combination. Toss it all around to distribute it and store in a large sealed container.
To serve, add 1/2 cup of muesli to a breakfast bowl, along with your choice of any kind of milk or yoghurt. I love mine with thick sweet home made Greek yoghurt.
Not only does this taste delish on it's own, it's a perfect blend for Breakfast Parfaits, Muesli Muffins, Muesli Hotcakes and Muesli Slice.
I love it when one ingredient can form the base of so many other yummy treats!