This appeared in the March 2012 newsletter before the newsletter recipes were first on my SS blog.
I just thought I'd resurrect it as those recipes all seem to get lost :)
Spaghetti Pie (serves 6)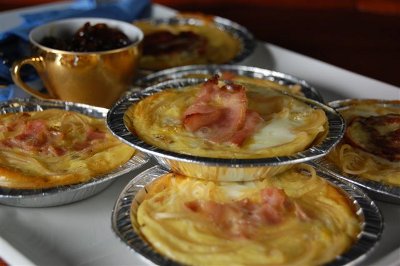 This tasty pie is one my mum used to serve for dinner when our family of seven would suddenly swell to 14 because we were all having friends stay overnight! She had a way of magically turning simple leftovers into a tasty feast and this was one of our favourites!
Equipment:
Large saucepan
Pie dish (or for snacks and lunches, use muffin pans or individual foil pie tins)
Cooking spray or oil to grease the pans
Mixing bowl
Whisk
Grater
Colander or strainer
Tongs
Ingredients:
A fistful of uncooked spaghetti. If you form your thumb and forefinger into a small 'O' shape, and measure your spaghetti in the 'O', that's about the right amount.
8 cups water
1/2 tsp salt
4 eggs
1 cup milk or cream (reconstituted powdered milk or evaporated milk are fine also)
1 cup cheese
Seasoning to taste
Leftovers such as sausage, bacon, roast meat, vegetables (optional)
Method:
Preheat your oven to 180°C. Pour water into the large saucepan with salt and bring to a rolling boil. Add the spaghetti and allow to cook until al dente. While the spaghetti is bubbling away, prepare your dish by spraying liberally with cooking spray or greasing with oil. If you're using foil tins, you'll need to place them on a baking tray for easier transfer to and from the oven.
Sprinkle the base of the dish or tins with cheese. This is going to bake into a lovely base for your 'pie'. Next it's time to mix the eggs with your choice of milk, cream, evaporated milk or powdered milk, and a little seasoning to taste. Your spaghetti should be ready now, so drain through your colander and allow it to cool slightly.
Using the tongs, pick up a few strands of cooked spaghetti at a time and arrange them neatly in the base of your dish or tins. Add in your odds and ends of deli meat, sausage, roast, vegies or any other leftovers. Finally, pour your egg and milk mixture over the lot, and pop your pie into the oven.
The smaller ones will cook in around 10 minutes, the larger single pie version in around 15 minutes. You only want the egg mixture to 'set'. So just bake them until the middles are firm to touch. Once done, remove your Spaghetti Pies from the oven and serve immediately, or store them in an airtight container in the refrigerator for lunches and snacks.
We'd often enjoy our Spaghetti Pie served with a yummy grown-up tasting relish or chutney but a generous crisp salad using leafy lettuce and juicy sun ripened tomatoes straight from the garden works wonderfully too. And of course, for anyone still hungry, there was always dessert :)
We like Vanilla Panna Cotta...recipe also in the forum :)