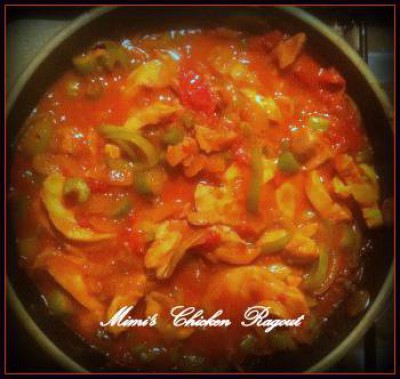 I made this one on holidays and it actually fed us twice.
The first time was as whole thigh fillets with an Italian inspired sauce, served with sautéed red cabbage and beans.
The second time, I sliced the cooked thigh fillets, heated the sauce with extra vegetables and served it on a bed of rice. Even the man of the house, who isn't always a fan of this type of wet dish, especially in Summer, asked for seconds.
These quantities serve 3-4 people for two meals.
For the first version, you'll need:
8-10 chicken thigh fillets
1 tin peeled diced tomatoes
2 cloves garlic, crushed
1 onion, peeled and diced
2 chicken stock cubes dissolved in half a cup of boiling water
Vegetables or sides to serve.
For the second version, you'll need:
3-4 of the thigh fillets and the leftover sauce....do make sure you save some!
1 green capsicum, cut into slivers
1 leek or 2 shallots (spring onions...the green things), sliced finely
More garlic if you like
Fresh basil or thyme, or dried equivalent
2/3 cup cream or evaporated milk or a tin of reduced fat cream
Grated cheese and sides to serve.
Then just:
Preheat the oven to 190C.
Lay the chicken fillets across the base.
Combine all other ingredients in a pan or microwave safe bowl, and warm through thoroughly. This just shortens the cooking time a little.
Pour this over the chicken fillets, and bake for 30-40 minutes until cooked through.
Serve as desired with preferred sides.
Allow the excess chicken and sauce to cool, then decant into a sealed container and refrigerate for up to 48 hours. The flavours will really develop over that time and the dish will have a whole new dimension to it, second time around.
For the second meal, slice the chicken fillets finely and return them to the sauce.
Pan fry the additional vegetables in a pan sprayed with cooking spray until they're al dente, then add the chicken and the sauce and allow it to heat through thoroughly. If you're using dried herbs, add them now to allow them to release their flavour.
While that's heating through, prepare your sides. I suggest pasta or rice to be topped with the chicken and sauce and a little grated cheese or parmesan. A crisp green salad is a nice addition if you want, but this really is a great one bowl meal in itself.
Add the cream at the last minute, stir it through and reheat it to bring it up to temperature but don't let it boil or the cream will curdle. Add the fresh herbs if you're using them.
Serve the chicken and sauce over the rice or pasta, and serve immediately.
A really easy meal, twice over :)