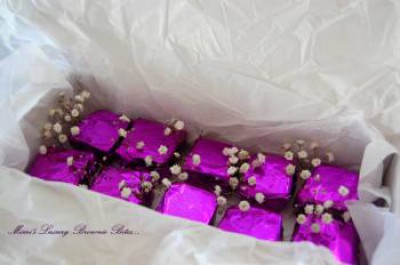 These luxurious brownies are perfect for wrapping in foil and gifting for any time of year. They're especially cute and frugal for Easter, but I give them all year round for any special occasion. 'Special' being a loosely interpreted word...lol!
I recently saw a similar idea for 'Luxury Brownies' in little foil parcels and they were $6 each for a 5cm cube! Honestly!
These are quick and easy and inexpensive and you could easily whip up several batches in an afternoon. They're intensely sweet and delectably fudgy and consuming more than one in a sitting is almost impossible!
Luxury Microwave Chocolate Brownies
Makes 12
1/4 cup unsalted butter, chopped
200gm bar of dark chocolate (Lindt chocolate or couverture chocolate if you can get it, makes these truly special)
1 1/4 cups brown sugar
3 eggs
3/4 cup plain flour (GF is fine too)
Plain fondant for decorating if you wish
Coloured foil squares from craft or haberdashery stores or just use plain silver cooking foil and tie with a bow
Then just:
Place the butter and chocolate into a microwave safe mixing bowl, and microwave on 50% power for about three minutes. Stir every 60 seconds until smooth.
Add sugar, eggs and flour and stir to combine.
Pour in to a 20cm square dish or plastic container and cover with cling wrap.
Put a dinner plate upside down on your microwave turntable and place the dish on top.
Cook on 50% power for five minutes, covered with cling wrap, then remove the cling wrap and cook for another 5-7 minutes until just barely firm to touch in the centre.
Allow to cool in the container, then use a sharp knife to cut into neat cubes.
Dust with icing sugar or top with squares of fondant stamped with small Easter themed images and wrap in foil. Decorate with slim satin ribbon and little Easter Chicks if you wish.
Looks great, tastes awesome, and very budget friendly!
Picture coming as soon as mine have cooled ;0)