I have a granddaughter, just turned two, who is Peppa Pig mad. It seems like there are lots of other Peppa fans out there too.
I had a request from my daughter-in-law for a Peppa themed cake and cookies for my little darlings' second birthday and thought I'd share my efforts to assist any other Peppa mad families.
I've only started cake decorating with any sort of enthusiasm since my little granddaughter came along. Prior to that, my efforts stretched to an iced chocolate cake or icecream cake with shards of chocolate speared into the top. Not bad, but not very girly.
Last years effort for her first birthday was the Princess themed one, which was my first attempt at a fondant covered cake...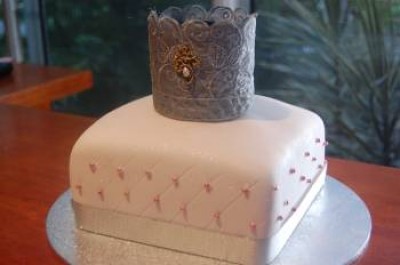 Then I did this one for my daughters 14th birthday last month. She had a fifties glamour theme, and wanted an Ombre` effect in the icing...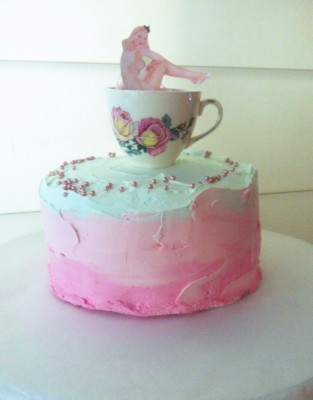 Then came the Peppa Pig. I scoured the internet and Pinterest for ideas and eventually decided to do a base cake with a Peppa 'hill' on top. I got the idea from a blog called Bronnie Bakes, and she uses a sort of home LCM bar mixture to make the 'hill' and also has a great tutorial on the Peppa figures.
I made the Peppa figure and the one of my granddaughter myself, forming them and then setting them aside on baking paper to dry out a little.
The cookie toppers were made by pressing pink fondant in to a Play Dough shape cutter in a set purchased from the ABC shop and then hand painting the features, forming little white fondant pearls for the eyes. Fiddly, but fun.
Here's the result...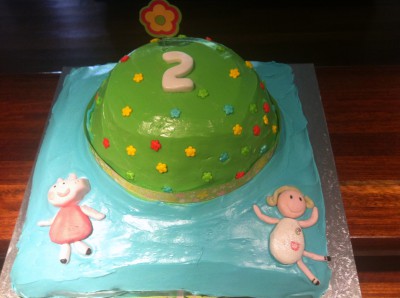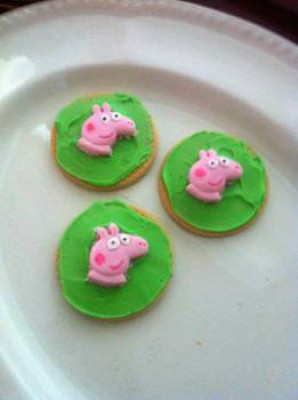 It's just a chocolate cake (the "fantastic chocolate cake" posted in the forum), iced with buttercream tinted blue. The LCM mixture was set in a salad bowl and iced in buttercream tinted green. The little flowers were out of a packet (sorry...I'll pipe them myself when I get braver), and I used a number cookie cutter to make the '2' in fondant. I added ribbons around the base of the hill and the cake, but only to pretty them up. They weren't necessary in the end.
The cake and the cookies were a huge hit, and I'm inspired to keep trying with the fondant and more complicated cakes. I have to say thankyou to the ladies on the cake decorating thread, who I didn't ask for assistance this time, but who are always wonderfully supportive when I do have a query.
I just wanted to show you, that you can make anything if you set your mind to it. Have fun :)