Well this being May, the month of turning off the telly, saving energy, and rethinking how we entertain ourselves, we've made a decision to glamp.
Glamping is the new 'camping'. It's essentially camping for wusses like us..he-he!
Glamping is sleeping outdoors, but in a beautiful space. It's having a comfortable bed, a warm soft rug under your feet, fairy lights and snuggly blankets.
We'll be glamping in our daughters' old cubby house, built for her by my clever husband when she was just a wee dot. She played happily in it for years, but it hasn't seen any playtime for a long while now, as you can see by the exercise equipment and toys for my grandaughter now housed within.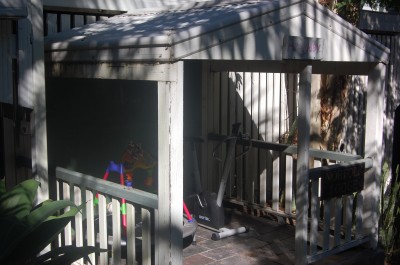 So my aim for May, is to turn this weary cubby, into a Glamp. I presume Glamp is the noun derived from the verb Glamping ;0)
Actually maybe hubby and I won't glamp. Maybe the girl child can glamp with a friend and we'll supervise from upstairs where it's more comfortable! And then again...maybe we won't be able to resist!
Of course we'll need glamping food too, so there'll be a few ideas on that as we go along as well.
Who else wants to come glamping this month?