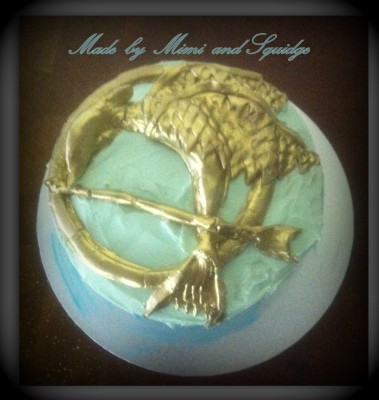 My daughter who is nearly 15, is quite the arty type. She's forever scrounging in the craft cupboard for a new project.
So when her friend, just turned 14, requested a Hunger Games themed cake for her birthday, I knew it wasn't going to be me making the Mockingjay topper for it.
Using nothing more than a picture, she fashioned this in white fondant over a couple of hours on Friday night, and painted it with edible gold dust liquefied with glycerine on Saturday morning. Not ideal, as it hadn't hardened, but it worked. Transferring it to the top of the cake was tricky and it would have been a heck of a lot easier, if she'd assembled it in layers to be transferred one by one, but we got there.
I baked the cake and iced in it blue, ombre` fashion, as requested by the birthday girl. She loved it.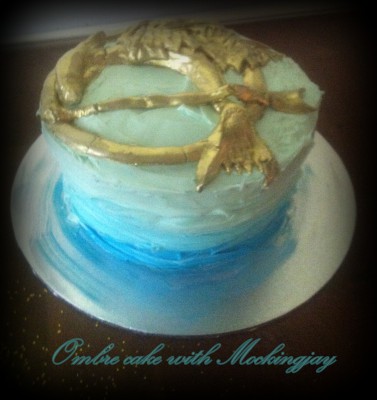 Now we are pretty much novices at this. I'm self taught, and just use Youtube as a reference, and my daughter had never done anything like this before, but with patience and a bit of time and effort, it's not a bad result.
Cakes like this are expensive, and deserve to be, as the work involved is time consuming and detailed.
Ours is not perfect by any stretch of the imagination, but it just goes to show what you can do.
I'm very proud of her :)