Last year I bought 6kgs of Butchers Paper.
You know, the white stuff that the local butcher used to wrap your meat in or the stuff that the Fish and Chip shop wraps your $3 worth of hot chips in.
My husband thought I'd gone mad when I told him I'd be using it for gift wrap for the next several years, and that at under $20 for several years worth of gift wrap, he'd be patting me on the back soon enough!
He just couldn't see the possibilities. He saw butchers paper ready for sausages or battered fish.
I saw a blank canvas ready for anything I wanted to embellish it with.
This Christmas I'm scribing it with festive messages, written diagonally in thick marker pen, and tying the parcels with latte' coloured double faced satin ribbon bought in bulk from a florist supplier.
I'll add little glittered twigs, leaves and bunya nuts or pine cones as toppers and I think they'll look lovely.
Of course I haven't got to that stage with my Christmas preparations yet, but I had to wrap a birthday gift for a friend of my daughters' yesterday, so I can share photos of that to give you ideas.
So here's the plain scribed paper, encasing yesterdays gift. As you can see, I didn't use my best handwriting, I just wrote it BIG, diagonally across the entire sheet of paper, trying to keep it straight and evenly spaced.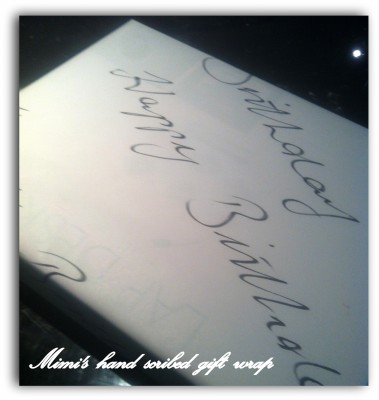 Then I added the Latte' coloured double satin ribbon, not even tying a bow as that can use up a lot of ribbon if you're wrapping quite a few gifts. Instead I cut a 10cm piece of white feather boa, and tied it around the middle of the knot.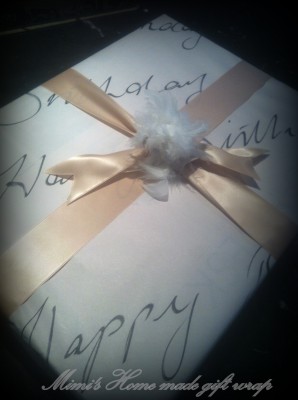 Then I dug out some baby pink glossy cards and envelopes I'd bought at the discount store for $2 for 8 (if I recall correctly), and using a heart shaped cookie cutter as a guide, spread glue inside the shape, sprinkling it liberally with white glitter. After allowing it to dry for a few moments, I tipped the excess glitter back into the container. My daughter wrote her own heartfelt message with a friendship quote, inside.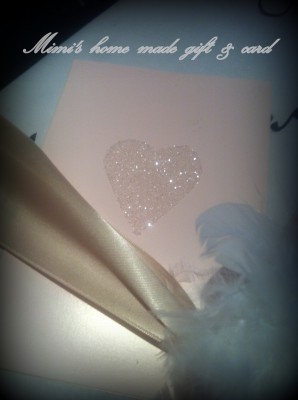 All up, wrapping, feather and card, cost about -50c, as opposed to traditional wrap, gift ribbon and card which would usually be anything from $4 done on the cheap, to $15 if you do something special with a Hallmark card and lavish gift bow and paper. In the past, I've actually spent more on the card, ribbon and paper, than I have on the gift!
So yes, a little outlay upfront on butchers paper and ribbon, but the possibilities beyond that are limitless.
Butchers paper can be sourced through Packaging suppliers, some party supply outlets, and even your local fish and chip shop might be willing to sell you some if you're nice :)
I bought mine here, but you do need to pick it up as postage would be ridiculous....lol! But this gives you the general idea of the type of supplier you need to source.
http://www.packagingdirect.com.au/?subcats=Y&status=A&pshort=Y&pfull=Y&pname=Y&pkeywords=Y&search_performed=Y&q=butchers+paper&dispatch=products.search
I bought my double faced satin ribbon from here....
http://www.koch.com.au/satin-ribbons
Organza and tulle ribbon looks lovely too.
For a saving of up to $15 on card, wrap and ribbon, it's well worth your while :)