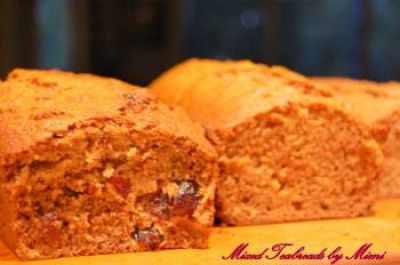 Next month is Power Cooking month on the Simple Savings calendar, so I'm getting started now.
I was Power Cooking years before anyone thought to name it as such.
I've just always thought that if you're going to be baking, bake several things. It saves dragging all that stuff out again on another day.
If you're going to peel spuds and mash them, why wouldn't you do a bag full and save some for another meal?
If you're going to be in the kitchen, baking cakes and mashing spuds, why not have a casserole simmering while you're at it?
It just makes sense to me.
I did a little Power Cooking session today.
In ninety minutes, I made three teabreads, a bean hotpot for dinner, steamed brown rice for lunches, and threw together a creamy tomato sauce to go with the gnocchi I plan to make tomorrow in my Power Cooking session. I also prepped and marinated a tray of steak, and prepared some meatballs and browned them before cooling and freezing them so that they simply cook in a creamy sauce later in the week. That then gives me about five days of quick and easy meals, and we'll be well fed despite being on a budget and being short of time in the evenings with the to and fro of activities of family life.
Now it crossed my mind to make a teabread base, dividing it and adding different ingredients to vary it, but honestly, it's just as easy to do the three different batches. I don't even wash the mixing bowl in between batches.
I love this particular recipe as all it requires is a bowl, a fork, a cup measure and a couple of loaf pans. I got one teabread in to the oven, and by the time I'd got the second lot of batter done and got the hotpot and rice steaming, the first one was done, allowing me to reuse the loaf pan for the third teabread.
So the basic ingredients are similar for each teabread:
You'll need:
For each teabread
3/4 - 1 cup of fruit, mashed or grated (this equates to three bananas mashed, or three pears or apples, grated) OR one cup marmalade or jam
3 tablespoons oil
1 cup sugar (omit if using marmalade or jam)
1 egg, beaten
1 teaspoon Bicarb Soda
Pinch of salt
1 1/2 - 2 cups Plain flour
Cooking Spray
Other ingredients (see instructions for details on use)
Ground ginger
Ground Cinnamon
Ground Nutmeg
3/4 cup dried Cranberries (Craisins)
Zest of one orange
3 Earl Grey teabags and 1/4 teaspoon Cardamom seeds steeped in 3 tablespoons of boiling water for five minutes
1 cup marmalade (as listed above, not an additional amount)
Then just:
Preheat the oven to 180C.
Add the fruit or marmalade or jam to a mixing bowl and add the other ingredients one at a time in the order listed, stirring after each ingredient is added.
Add any desired spices or flavourings with the flour and combine well. Start by adding 1 1/2 cups flour, and add another half cup if necessary. You need a thick batter, and the amount of flour you need will vary according to the type of fruit you're using. So trust yourself and know that you can't really make a mistake. Your teabread might just be firmer, or more or less moist when baked.
For the Banana bread, add 1/2 teaspoon each Ground Ginger, Nutmeg and Cinnamon.
For the Pear & Craisin bread, add 3/4 cup Craisins and the zest of one orange.
For the Marmalade and Earl Grey Tea bread, replace the sugar and fruit with the orange marmalade, and add the liquid from the steeped teabags and Cardamom seeds.
Spoon in to your loaf pans and bake as ready. Make sure you note down what time you put each one into the oven and on which shelf, so you know which one is which. I actually have different loaf pans, one metal and one silicone to help me remember which is which. I usually set my timer on my phone, and note down that I put Teabread number 2 in ten minutes later and reset the timer for another ten minutes when it goes off.
Bake each loaf for about 45 minutes. If it springs back when lightly touched in the centre, it's done.
Remove from the oven, allow to cool, and slice in to thick slices before freezing in ziplock bags or freezer bags.
To serve, just toast or microwave from frozen or allow to thaw on the bench. Eat warm with spread if you wish. We're a bit partial to Passionfruit Curd on Banana Bread, and a whisper of butter on the Marmalade and Earl Grey Tea one. The Pear and Craisin is our favourite and is so moist and delicious, it needs no spread or topping at all.
Now while those are baking, I've steamed some brown rice using my no fail absorption method. 1 cup rice to 1 1/2 of water, brought to the boil, lid on, then switched off. Now if you don't peek, in 20-30 minutes, you'll have perfectly steamed rice. If you're using brown rice, I've found that a second blast of heat after about 15 minutes of sitting, will work well. Just bring it back up to the boil with whatever liquid remains in the pan, switch off again, replacing the lid, and be patient. The stored heat will do it's job, I promise.
The meatball recipe is here...
http://www.simplesavings.com.au/fora/3363251
The Bean Hot Pot is here....
http://www.simplesavings.com.au/fora/2363690
Meat prep...
I prepped my meat by cutting into pieces about half the size of my palm, and bashing it paper thin with a meat mallet. I then added it to a few ziplock bags, about 15-18 slices per bag, and added several drizzles of sesame oil and soy sauce. That's it. These pan fry in the wok in mere seconds and are so delicious and so economical that we can have our fix of steak fairly often, without breaking the budget.
Creamy Tomato Sauce for Pasta...
Simmer two tins of diced and peeled tomatoes for 15 minutes, with 2 onions, peeled and diced and 2 crushed garlic cloves. I actually use dried garlic (1 teaspoon) and dehydrated onion flakes (1 dessertspoon) just because it's quicker and easier. Add a chicken or beef stock cube and some freshly ground pepper. Remove from the heat and allow to cool. Store in the fridge until ready for use. To add to pasta, mix with one 300ml bottle of cream or 1 cup of evaporated milk. Stir through some fresh basil and shallots, heat through and toss with your pasta. Do not boil the sauce! Add some freshly grated parmesan. Yum.
So for just 90 minutes of effort, I've made enough teabread for 2 weeks, dinners for three nights, and rice for a week of lunches.
It's well worth it :)