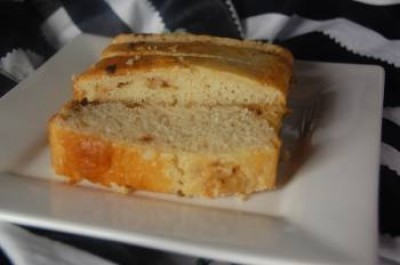 I've been invited to one of those 'bring something' meetings today.
This little gathering is to discuss a fundraising fete, and I'm running a food stall. I did some baking yesterday but as it's all gluten free and earmarked for DD12's lunchboxes, I thought I'd whip up something different.
My Coffee cake took just 5 minutes to assemble, and 30 minutes later I had this lush, moist cake to take along to my meeting.
Those fete and crafty-type ladies are a hard lot to impress, so we'll see what mark I get for this one!
Quick and Easy Coffee Cake
Equipment required:
Large mixing bowl
Measuring cups
2 teacups
Dessertspoon
Sifter
Mixing spoon
Two loaf tins
Baking paper
Ingredients required:
2 cups flour
4 teaspoons baking powder
1 cup sugar + 3 dessertspoons sugar, extra
1/2 cup hot water + 1 dessertspoon hot water extra
4 teaspoons instant coffee
2 eggs
1 cup natural yoghurt or sour cream or milk
1/2 cup vegetable oil
Method:
Preheat your oven to 180C for about seven minutes.
Line your two loaf pans with baking paper.
Mix two teaspoons of your instant coffee with your hot water in your teacup, until it's dissolved and set aside for a minute.
Mix the other two teaspoons of coffee with the extra three dessertspoons of sugar and the extra water in your other teacup, to form a thick paste.
Into your large mixing bowl, sift the flour and baking powder. Add the cup of sugar, your eggs and yoghurt, and your oil and the coffee mixed with water. Give it all a good stir with your mixing spoon, and beat it for about thirty seconds until it's smooth.
Divide your cake batter evenly between your two loaf tins, then take scoop out clumps of the coffee-and-sugar paste and drop small blobs of it onto the surface of your cakes. You should have enough for about a dozen blobs on each cake.
Whip them into your waiting preheated oven, and bake for 25-35 minutes, or until they spring back in the middle when pressed.
Remove and cool on the bench before storing in an airtight container.
I'll be serving both of these with thick, sweetened coffee flavoured Easiyo yoghurt, but they're delicious just plain too.
Fingers crossed that the Fete Committee give me the nod ;0)
Note: For true espresso lovers, you can double, triple or quadruple the coffee crystal crumble. My husbands only gripe was that there wasn't enough of it!