This recipe appeared in the SS newsletter ages ago, before SS blogs meant that recipes were on my blog first.
I thought it was worth resurrecting as it's a cheap, easy, inexpensive dessert :)
Vanilla Panna Cotta (serves 6)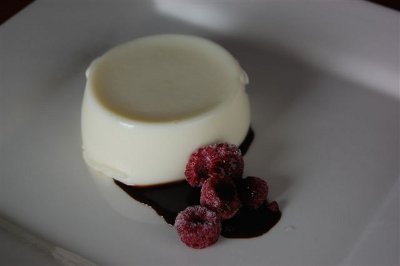 Mum never called these by their posh name of Panna Cotta. She called them Vanilla Puddings. We were lucky to have the luxury of having a mum who knew that with a bit of kitchen magic, and very few ingredients, a restaurant worthy dessert was just a blink of an eye away!
These delectable morsels need a few hours to set. But they're almost as easy as whipping up a packet jelly and taste so much better. Once you realise how simple they really are, you'll want to keep them in the fridge for an anytime snack or replacement for an instant dessert
Equipment:
Medium saucepan
Medium mixing bowl
Small bowls or ramekins
Whisk
Measuring cups
Small plates or saucers for serving
Pointed knife for unmoulding
Ingredients:
2 1/4 cups milk or cream (or a combination of both)
1/4 cup extra milk
1 tsp vanilla essence or extract
1 heaped dessertspoon of gelatine
1/2 cup sugar
Cooking spray or oil
Method:
Lightly spray or grease your ramekins or dishes and line them up along the bench. Pour your ¼ cup of milk into the bottom of the medium mixing bowl, and sprinkle the gelatine on the surface. Leave the gelatine to sit and soften.
Put your 2¼ cups of milk or cream into the saucepan along with the sugar and vanilla and stir over a medium heat just until the sugar has dissolved. Remove from the heat and pour over the gelatine and milk mixture. Whisk well. Pour into your prepared ramekins and refrigerate for a few hours. When they're set like jellies, they're ready.
Line up your small plates or saucers along your bench. Run a pointed knife around the edges and shake the panna cottas gently onto the plates. If you prefer, you can just serve them in the ramekins.
Homemade chocolate syrup is a great partner for this too. A drizzle of this over the Panna Cotta is a bit of heaven.