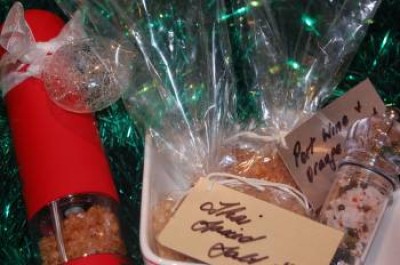 So it's the day before Christmas Eve, and you suddenly realise you haven't bought Uncle George or Aunty Myrtle a gift. Ahhhhrrrgh! And of course the reason you haven't is because they're so dashed difficult to buy for. Most homemade gifts are greeted with a cursory 'Hmmm…nice' before being cast aside in favour of something far more interesting and shiny. Just like two year olds, are Uncle George and Aunty Myrtle. And every family has at least one of each.
I think I might have a solution for you…
I first saw little flavour-infused salts when I was nosing around in a deli near the beach. Those places always have the best and most interesting things, and I'm not kidding when I say 'nosing around' because they're such an assault on the senses, it's hard to know what to look at next!
They caught my eye because they were so pretty (most things I buy on impulse are purchased because I like the colour or scent of them… eek!), and it wasn't until I looked more closely that I was able to determine that they actually had a practical use.
Some had herbs and spices enclosed in the salt, some had flower buds and other flavourings, and some were just plain weird. I mean, who wants lavender and rosebud flavoured salt on their Sunday roast, I ask you! Clearly creativity had outweighed practicality in someone's kitchen!
Nonetheless, I was so taken by how decorative they looked and how good some of the flavours sounded, that I was inspired to try making my own. I mean, how hard can it be to pop some rock salt and pretty spices in a grinder, for goodness sake? It certainly wasn't going to cost me $49.99 either, now was it?
These are so super simple and keep indefinitely, so they're a great gift to have on standby. If you have a George or Myrtle that falls into that 'difficult to buy for' category, or one that appreciates one spectacular or unusual gift over several so-so ones, then this could be the elusive DIY solution. The grinders are available online, in specialty stores and discount stores. Some are definitely better than others, so beware. Alternatively, these look just as pretty packaged in clear cellophane gift bags, where the lucky recipient can then pop them into their own grinder. Easy!
I try to infuse mine with better-known flavour combos. Lavender and rosebud would not be top of my gourmet list, nor, I suspect, on George and Myrtle's.
Equipment:
Cellophane bags, little clear jars or clear acrylic salt mills for presentation
Small bowl for mixing
Spoon for stirring
Baking trays for moist combinations
Ingredients:
Bags of rock salt or sea salt flakes
Whole herbs and spices of your choosing, ideas below
Suggested flavour combinations
Moroccan: 2 whole cloves, ½ whole nutmeg, cinnamon stick, juniper berries.
Use on lamb, chicken, beef or vegetables.
Italian: Dried rosemary, basil, oregano, sundried tomato (must be the dried version, not in oil).
Use in any Italian inspired dish.
Thai: Dried lime peel, dried coriander leaves, dried sliced chilli, ginger.
Use as seasoning in rice, meat or vegetable dishes.
Asian: Star Anise, dried onion and garlic, peppercorns, dried mushroom.
Great over fried rice, noodles, fish or chicken.
Citrus: Dried orange, lime and lemon peel.
Fantastic over fresh fish.
Mexican Chocolate: Chilli, cocoa.
Try this one over steak, chilli con carne or slow roasted beef. A surprisingly good combo.
Port wine and orange zest:
Gotta have it over steak, sausages or caramelised onion.
Balsamic Vinegar: Balsamic vinegar and black peppercorns.
Yummy over avocado or other salad ingredients
Method:
If you choose a combo that has freely available dry ingredients, then all you really have to do is crush them slightly to allow the flavours to release, and add them to a quantity of salt, combining them well in your bowl. One quarter of a cup of flavourings, to each cup of salt is about right.
They're then ready to be spooned into your bags or grinders for instant gift giving.
If you've chosen something that has peel, fresh chilli, ginger or moist ingredients like port, then you'll have to spread these ingredients on a lined baking tray once combined with your salt, and allow them to dry in a low oven for several hours. I find that 1 1/2 - 2 hours on 140°C, will usually do the trick.
To make the port or vinegar infused variety, simply add a quarter of a cup of port, red wine, or any vinegar to a cup of salt and combine well. Then you just spread your infused salt on a lined baking tray and allow it to dry in the oven. This is particularly lush used on steamed vegetables, roast or steak. Yumbo!
So, now that you've worked out what to give Uncle George and Aunty Myrtle to keep them happy, maybe they'll stop giving you tea-towels, and invest in a nice gift voucher or two for you. One can only hope!