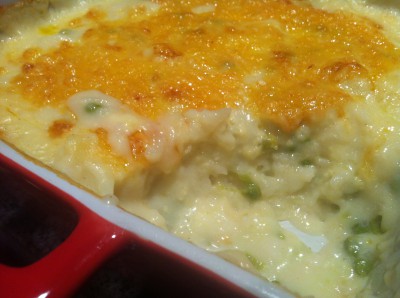 This month I'm falling back on a few old favourites, and giving them a makeover.
Well, I give myself a makeover, and I've just made over the bathroom, so why not our meals?
I want to take those meals that we can just about cook with our eyes closed, and zhoosh them up.
Last nights effort was this scrummy bake. It got a big thumbs up :)
So here's how...
You'll need:
1/2 head cauliflower, chopped in to bite sized florets
4 cups water
1 chicken stock cube
Pinch salt (optional)
Ground pepper (optional)
1/4 cup powdered milk
4 dessertspoons flour, mixed to a paste in 2/3 cup warm water
1 cup frozen peas
2/3 cup uncooked white rice
2 cups tasty cheese, grated
Then just:
Preheat the oven to 180C. Lightly grease a large casserole dish.
Bring the water to the boil in a large saucepan, and add the cauliflower florets, the chicken stock cube and the milk powder. Allow it to return to a simmer, until the cauliflower is tender. Add the frozen peas, and the uncooked rice, and the seasoning if desired.
Add the flour and water paste, and stir until it all thickens.
Pour the lot into your greased casserole dish, and top it with your grated cheese.
Bake at 180C until bubbly golden brown, about 45 minutes.
Remove from the oven, and allow the bake to rest for 15 minutes to firm up.
Scoop into generous portions onto serving plates and arrange a side salad alongside.
Alternatively, serve as a side dish with meat, chicken or fish.