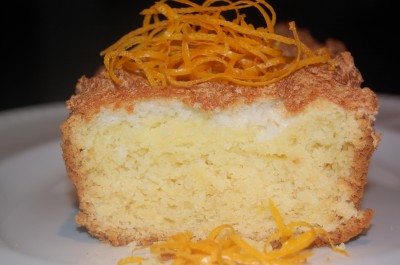 This pretty Daisy Cake earns it's name from the yellow of the cake, contrasted by the white of the macaroon topping, and is absolutely scrumptious!
This is a super yummy, inexpensive-to-prepare cake for any occasion. The macaroon topping eliminates the need for icing so it travels well too.
We don't need any special reason to enjoy this one!
Daisy Cake
125gms (about 1/2 cup or just over) butter or marg
1/2 cup sugar
2 eggs, separated. You'll use the yolks for the cake and reserve the whites for the topping
1 1/4 cups SR flour, sifted (GF is fine)
Grated rind and juice of 1 orange
2 tablespoons milk
For the topping:
2 egg whites
1 tablespoon sugar
3/4 cup coconut (toasting it in a dry frypan first gives an extra yummy flavour)
Preheat the oven to 180C.
Line a loaf tin with baking paper. You can't unfortunately just grease and flour the tin for this one. It'll stick and be a mess.
Beat the butter and sugar until pale and creamy. Add the egg yolks, one by one, beating well to combine. Stir in the flour, milk, juice and orange rind. Mix thoroughly. Pour into your prepared tin, and smooth the surface.
To make the macaroon topping, whip the egg whites until stiff, add the sugar, beating well, then fold in the coconut. Spread this evenly over the uncooked cake.
Bake for 50-60 minutes. Test with a skewer inserted into the middle of the cake. If the skewer comes out clean, it's cooked.
Allow the cake to rest for five minutes, before very carefully, turning out.
Yummy...you'll love it :)