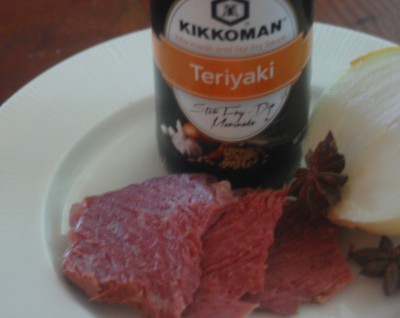 Here's my latest version of melt-in-the-mouth corned beef. It's mouth-wateringly tender without being 'mush' and you will love it, I promise :)
It has a lovely subtle earthy flavour and is extremely moreish, as you see by the sad remnants from last nights dinner. That is literally all that's left of a fairly substantial piece of beef. My husband and daughter both had second helpings and took more for lunch today!
Here's how to make it.
Teriyaki Corned Beef
You'll need:
1 piece Corned Beef
1 Large pot with a firm fitting lid
2 star anise
1/4 cup teriyaki sauce
1 onion, peeled and quartered
1 heaped teaspoon minced ginger
2 dessertspoons of sugar
1 dried or fresh chilli
For the Sweet Soy Rice:
1-2 cups cooked rice (we like brown)
2 tablespoons bottled lime juice
2 teaspoons minced lemongrass
2 teaspoons minced ginger
2 tablespoons Kecap Manis (Sweet Soy)
2 green shallots, sliced finely
Then just:
Place the corned beef in the pot and cover with water. Add the other ingredients, and bring to a low boil. Immediately turn the heat down to one quarter, and cover firmly with the lid. Allow to simmer very gently for 3-4 hours, turning the piece of meat over half way through.
If using your slow cooker, cook on low for 6-8 hours.
Once cooked, slice along the grain and serve with the Sweet Soy Rice and a salad or veges of your choice.
To make the sweet soy rice, place the cooked rice in a microwave safe dish, and add the flavouring ingredients. Stir well to combine and microwave until heated through.
Yum, yum and yum!