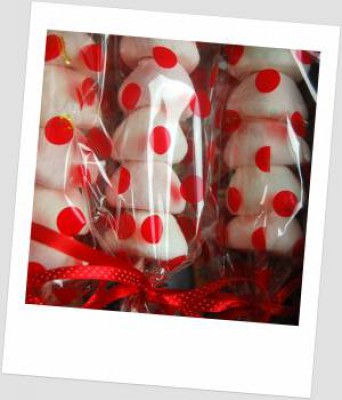 I'm always a bit iffy about threading sweets onto skewers for kids. Something about sharp points and lollies make me nervous.
So when the shape of these generic giant marshmallows said 'Christmas Tree' to me, I had a bit of a dilemma.
Eventually I realised that the marshmallows are soft enough for a straw to go through and so that's what I did.
Each packet of Giant Marshmallows makes 3 trees.
I bought the cellophane bags, and matching red and white striped straws and spotted ribbon at one of the many discount stores. A yellow jube on top represents the Christmas tree topper and I later did some brushed with edible glitter dust from cake decorating supplier and that looked super cute. I'll post a photo of that very soon :)
So you need:
Giant pink and white Marshmallows in the right shape.
Jubes for the Tree Topper.
Spray cooking oil.
Colourful striped or spotted paper straws. The discount stores and party supply places all seem to have these for very reasonable prices now.
Co-ordinating cellophane bags or clear ones are fine too.
Ribbon.
Then just:
Spray the straw very lightly with cooking spray so the marshmallows slide on easily.
Thread three, four or five marshmallows on to each straw.
Skewer a hole in the jube to make it easier to thread and carefully (because the jubes are harder) skewer it onto the top.
Brush with edible pearl dust, edible glitter or gold leaf, or dip into melted white chocolate tinted green or red if you like.
Slide into a cellophane bag, and tie at the base with some cute ribbon. Add a jingle bell if you like.
Done! Super easy and really inexpensive and great for stocking stuffers or for the kids to give to school friends.
Yum :)