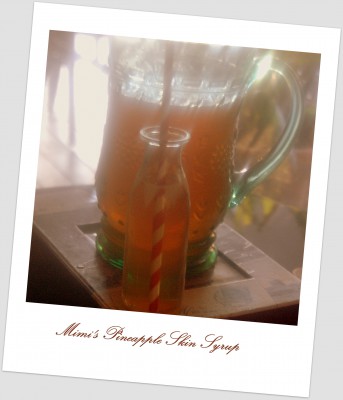 This recipe was the result of my wondering what the heck I could do with pineapple skins.
I'd bought some lovely sweet pineapples but of course, the skin always has so much fruit and sweet pineapple scent clinging to it, it's a shame to toss it.
I've made fruit syrups before for Limoncello and cordial, so I thought I'd just use a similar idea and see what happened.
What I got is a sweetly scented and delicately flavoured syrup that is going to make the most lush Summer treats from liqueurs to cordials for drinks or frozen into iceblocks or as a syrup to add to semolina or polenta cake.
The pineapple flesh has been used for my daughters lunch and to make Pineapple Chutney for Christmas gift giving. So I feel like I've got real bang for my buck!
Here's how:
Mimi's Frugal Pineapple SkinSyrup
Makes 1 litre
2 medium pineapples, tops and bottoms removed and flesh set aside for other uses
4 cups sugar
5 cups water
Then just:
Put the skins into a large saucepan and pour over the water.
Bring to the boil and simmer slowly until the skins are softened, about 30-40 minutes.
Remove the pan from the heat and allow to steep for up to an hour to intensify the pineapple flavour.
Remove the skins and strain the liquid to remove any spiky pith.
Return the liquid to the saucepan and add the sugar. Bring to the heat and stir until the sugar dissolves.
Simmer for a further 30-40 minutes, then allow to cool.
Bottle and use as a syrup for liqueur base like a Limoncello, as a cordial, added to tea, or poured over a cake while warm to create a syrup cake.
A really delicious treat from something you'd normally throw away.
Love it :)