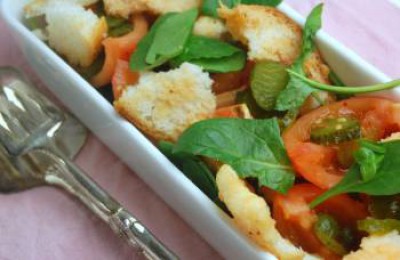 We'd been away for a couple of days, and I did the usual lingering vacant stare into the refrigerator upon our arrival home, hoping I wouldn't have to go shopping.
There was a bit of gluten free bread, two tomatoes, the end of a packet of baby spinach and not much else.
I remembered this salad that I used to make regularly but hadn't attempted since we'd all been eating a gluten free diet, mainly due to the bread content. Stale gluten free bread is just not like Ciabatta or Sourdough. But here was the moment to find out whether we could add this one to our menu again.
It's an old Italian favourite and many Mammas from the Continent would be familiar with this one. This is my version.
The end result is pretty scrummy, and once again, a needless trip to the stupidmarket has been averted!
Even better, DD13 now knows that you can make a meal out of stale bread...he-he!
We used:
4 slices of gluten free bread (you'd use whatever you have on hand) torn into irregular pieces and put under a low grill to dry out for about ten minutes. Check regularly so they don't burn or toast all on one side. You actually want them dry, not toasted.
2 tomatoes
1 small teaspoon of capers (leave them out if you don't like them, but they add a zing to this dish and we love them with smoked salmon for brekky on Sundays so we always have them)
2 gherkins thinly sliced (if you don't have these, use olives or pickled onions or sundried tomatoes)
1 handful of green leafy stuff. This could be Baby Spinach like I had, or basil leaves, sliced shallots or any other herb or leafy veg.
1/2 teaspoon garlic and chilli paste or 1 sliced chilli and one clove garlic, crushed
3 tablespoons olive oil
3 tablespoons vinegar (any kind)
Salt and pepper
Then just:
Cut a cross in the bottom of the tomatoes and put them in a deep bowl. Pour boiling water over them and leave them for about a minute. Remove them with a fork, and discard the water. Have two small bowls ready. Peel the tomatoes (the skin will come away easily), and discard the skins. Cut the tomatoes into quarters. Scoop the seeds and membrane into one bowl, and put the outer quarters into the other bowl.
Put the seeds and membrane through a garlic press or sieve to liquefy them.
Add the capers and sliced gherkins, olives or pickles to the outer tomato quarters and toss them to combine.
Add the garlic and chilli paste, olive oil, vinegar and seasoning to taste, to the liquefied tomato seeds. This is your dressing.
Spread the dried/lightly toasted bread onto a platter and using a spoon, sprinkle with half of the dressing and toss to coat the bread well.
To a larger bowl or platter like mine, add the tomato and pickle mixture, then the bread flavoured with dressing and toss with the greens.
That's it. Dinner is ready. We're having ours outside on the verandah, with big glasses of water scented with lemon slices.
Oh....and Crepe Cake for dessert. That one's coming soon ;0)