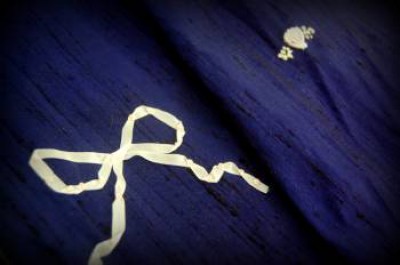 I have scraps of fabric and bits of embroidery thread and ribbon everywhere.
It's a luxury (or a curse) of having a lifelong love affair with making pretty things.
Over the years, I've toyed with lots of crafts, but frankly, of all of them, embroidery yields the prettiest result for the least amount of money.
These are silk exfoliating mitts that I'm in the middle of making as Christmas gifts. They're used when your skin is dry, and the little nubby lines in the Dupion silk, are a lovely gentle way of ridding arms, legs and upper chest, from dry skin flakes before showering.
They're just a simple strip of fabric long enough to double over lengthwise to form a tube into which to insert your hand like a mitt. No thumb hole necessary. I'm just threading elastic into a simple channel at the end of the stitched tube, to keep them on your hand.
Embellished like this with a little Bullion Rose or a Couched silk ribbon Bow, they look really lovely.
The silk is a remnant bought for under $5 at Spotlight and it will yield about 14 exfoliating mitts. The embroidery floss and nylon embroidery ribbon cost about the same. So $10 for 14 really pretty girly gifts.
Not bad.
Of all crafts, embroidery is one of the easiest to learn, the most portable and compact to take along with you to work or on the train or bus, and can be done anywhere. Projects like this take under 30 minutes to complete even for a novice. Imagine how many pretties you could make on the trip to and from work between now and Christmas.
Theres a Bullion rose tutorial here....
https://www.youtube.com/watch?v=tDDk_cW4hNU
And the Couched Bow, is just a sliver of ribbon, tied into a bow, and held in random spots with French Knots...
French Knot tutorial here....
https://www.youtube.com/watch?v=Dj_s1Ao6Ct8
Have fun :)