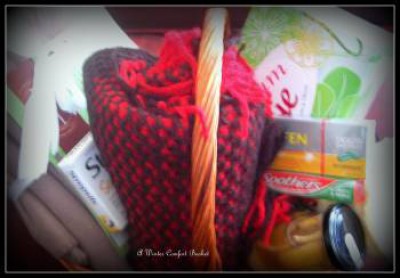 Winter can be truly miserable when you live alone.
No-one to snuggle to at night. No-one to make warming drinks for you when the ills and chills hit.
I have three friends who are single parents, and I'm making up these Comfort Baskets to deliver to them this weekend.
As a Mum and Wife with my own family, I can't be there to make them warming drinks when they're not well, nor would they want to snuggle up to me at night. But I can give them the gift of not having to dash out to the expensive late night pharmacy when they're not feeling the best.
If you make your own versions of each of the items, this can be a really inexpensive gift. Just about everything can be made at home or sourced frugally from the supermarket or discount stores.
This basket is for my own living room, where I keep one next to each chair. It contains the following items:
* Polar fleece throw rug for snuggling under
* Woolly bedsocks for chilly feet
* Massage Oil for aches and pains
* Chest rub
* Lip balm
* Throat lozenges
* Cold Sore cream
* Tissues
* Hand cream
* A favourite book
* Heat wheat
It's a small compact basket and takes up very little room and is such a luxurious thing to have sitting nearby on a chilly evening.
For my friends I'll add a jar of my Lemon Ginger Honey to add to tea or hot lemon drinks, and some home made Lemon Ginger and Chilli Barley Water.
I can't volunteer to rub Euccy Rub on their chests, but I can give them some Mummy Love with my Comfort Baskets!
Lemon Ginger Honey
Makes one large jar
2 lemons, scrubbed well, and cut into thin wedges
4 teaspoons grated ginger or minced ginger or a thumb sized knob of fresh ginger, peeled and sliced
1-1 1/2 cups honey
Recycled or new jar, about 500 mls capacity
Then just:
Put the lemon wedges and ginger into the jar. Heat the honey for about 20 seconds in the microwave to warm it and make it runny, and pour over the lemon and ginger. Cover the lemons entirely. Refrigerate immediately and use as required. This can be added to tea or hot water or juiced lemons and boiling water to make a soothing drink any time. It will store well for several months.
Lemon Ginger and Chilli Barley Water
3/4 cup Pearl Barley, rinsed in a sieve until the water runs clear
6 cups water
1 small red chilli, deseeded and sliced
Juice and zest of 3 lemons
3/4 cup honey
2 teaspoons minced ginger
Then just:
Bring the barley, chilli and water to the boil. Simmer for ten minutes. Strain and pour into a bowl.
Add the other ingredients and stir well.
Pour into recycled and sterilised bottles or jars, and use as a cordial.
This potion is purported to be a great way to boost your immunity. On that I remain uncertain, but it sure does taste good!