Here are some lovely and different ideas for wrapping gifts that don't entail much effort or expense.
I love really dressing up my gifts and making them look tempting and exciting. After all, the anticipation is half the fun....lol!
First of all, my favourite paper for wrapping is Butchers Paper. That creamy stuff that kids use for art paper at Prep and Kindy. Last year, I took the plunge and bought 5kgs of it (it's always sold by weight) from a local Party and Packaging Warehouse. The sheets are huge...about 750mm by 600mm, and they're a fantastic blank canvas for any occasion. This cost me $45, and I must have about 250-300 sheets. Or at least it looks like that many. A lot anyway! So I estimate it costs about -15c a sheet.
We use this plain, or embellish it with script, marbling, finger painting, potato stamping, or printed with acrylic paint and all sorts of shapes and tools like feathers, cookie cutters, scrunched up balls of wadding or whatever else we can lay our hands on. It always looks good no matter what we do to it, really. The ultimate canvas :)
So here's one done with a Belly Band. These are just a sheet of paper, embellished with whatever you wish, and cut long enough to wrap around the middle of your gift (or it's 'belly'). We made ours by marbling it with water and blobs of acrylic and metallic paint on coloured A4 paper, and there are lots of techniques for that online. Super easy. So we just cut the marbled A4 paper in half lengthwise and stuck it together with sticky tape to allow it sufficient length to wrap around the box, and tied it with toning slim satin ribbon.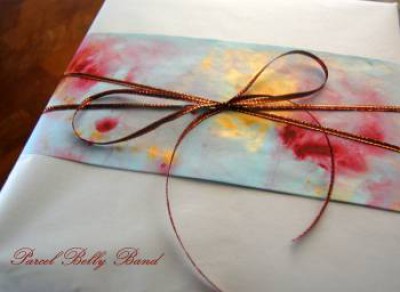 Another idea is to use the marbled paper either alone or as a sort of lining for cellophane wrapped gifts. I did this one this morning for a gift for one of my daughters friends, using the marbled paper, then clear cellophane, and finishing with a piece of organza ribbon and a Christmas ornament that cost me under $3 at Big W.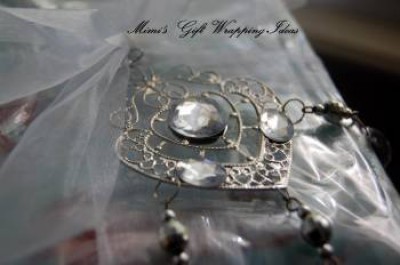 Christmas ornaments like this one make beautiful gift wrapping embellishments all year round, not just at Christmas, and can be had for next to nothing at the Post Christmas sales. And at that price, they cost less than gift ribbons and bow type toppers.
Then there's an idea I came up with last year, of cutting a sheet of black project cardboard into large gift tags, decorating the edges with copper glitter, and pasting a French Seasonal phrase I'd typed and copied and pasted several times, onto the centre. Google translate can be used for any language and any seasonal or celebration phrase you like, and of course in your choice of font once copied and pasted into Word or similar.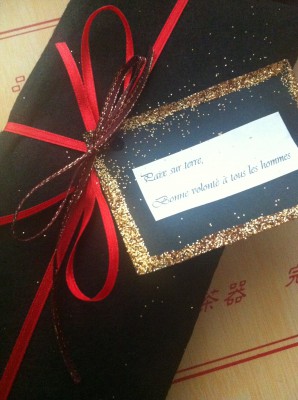 These were just Lindt chocolate bars I'd bought on sale, wrapped in felt squares and embellished with ribbon and the tag. These were teacher gifts last year :)
I have more to come, but I just need to photograph them.
Hope these help you to view your Gift wrapping a little differently this year :)