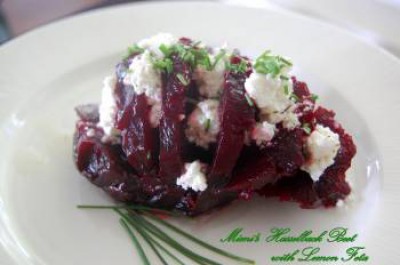 Does anyone else remember Hasselback Potatoes?
They were made by peeling the potato, slicing a bit off one long side so it had something to stand up on, and cutting thin slices, but not quite slicing all the way through. You then dotted them with oil or butter, sprinkled with seasoning, and baked. It meant that each mouthful of the potato had those crisp edges, and a heavenly soft centre. Droolworthy....
Anyhow, I roasted this bunch of beets the other day as we just love home roasted beet served simply with a little salt and lots of pepper, and here was this one lonely beetroot left in the fridge. Something about the shape of the beet reminded me of these Hasselback potatoes just as I was slicing into it to eat it for lunch, and an idea was born.
So that and some Feta I'd marinated with lemon oil and peppercorns, and I've had one yummy lunch. And how gorgeous are those colours for a festive entrée`?
This is a super easy 3 or 4 ingredient dish, that has maximum yummmmmm factor.
You'll need:
One whole fresh beet per person
About a tablespoon of crumbled feta per person (mine was marinated in oil, lemon oil and peppercorns, but plain old feta is fine)
Fresh chives, mint or any other fresh garden herb
Olive oil and seasoning
Then just:
Preheat the oven to 180C.
Line a baking tray with baking paper or foil.
Place the unpeeled beetroots on the tray, sprinkle lightly with olive oil and season well with salt and pepper. Bake until a skewer inserted in the middle of each goes in, and is removed easily. Usually this will be around 60-90 minutes.
Allow them to cool, then peel the skin off. It will come away easily, much like steamed potatoes in the jacket yield their skins easily.
Set out a bread and butter sized plate for each serve.
Cut a tiny sliver from one of the long sides of each beet to give it a 'stand' to sit upon so it doesn't roll.
Then cut as if to slice the beetroot, but don't cut all the way through, allowing the slices to part, but remain attached at the base.
Carefully spoon or sprinkle the feta into each space between the beet slices.
Garnish with a few chopped herbs, a little extra olive oil (or oil from the feta marinade), and serve.
These are scrummy hot or cold, so you could do the roasting ahead, and have a really impressive lunch or entrée` on the table in just minutes.
This costs around $1.20 per serve.
Enjoy!