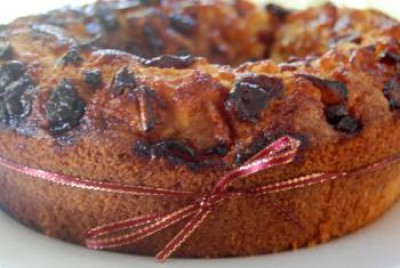 This is a cake that many French children learn to make at their Mothers knee. I've seen various versions of this, but most of them miss the point that this is a cake that anyone can bake without measuring cups or measuring spoons, because you use the yoghurt pot to measure nearly all of the ingredients.
This year I've used it as a base for my Aussie style Christmas Cake. I used Mango yoghurt and topped the cake with a mixture of brown sugar, butter, nectarines and craisins and it's delish!
The size of the yoghurt pot doesn't matter, so long as you retain the proportions of each ingredient.
This makes one 25cm cake and 4-6 large muffin sized cakes. We gift the smaller ones to friends and family.
You need:
1 pot yoghurt (I used Mango)
1 pot vegetable oil
2 pots sugar, 2 eggs and 1 teaspoon vanilla essence, whisked together until fluffy
3 pots plain flour sifted with 4 teaspoons baking powder
For the topping:
3 tablespoons brown sugar and 2 tablespoons butter, melted together in a small saucepan
3 nectarines, chopped
1/2 cup Craisins (dried cranberries)
Then just:
Preheat the oven to 180C and line a 25cm round tin with baking paper. This makes a lot of batter, so line 4-6 muffin pan holes with baking paper or cupcake papers to use the excess batter.
Combine the yoghurt, and egg mixture.
Add the flour in three parts, combining well after each addition.
Add the oil in two parts, combining well after each addition.
Add the nectarines and craisins to the melted butter and brown sugar and stir over a low heat until the liquid thickens and reduces and the fruit is well coated. Spoon the mixture carefully over the top of the cake and muffins.
Bake in the middle of the oven for 30-35 minutes until golden and slightly risen for the muffins sized ones, and up to 1 1/2 hours for the larger cake. A skewer inserted into the centre should come out clean.
Cool slightly before turning out onto a serving plate.
Serve warm or cold with cream or ice cream on the side if you wish.
This tastes even better the next day. Store in the refrigerator covered in foil for up to a week, and bring to room temperature for up to an hour before serving.
Yum!