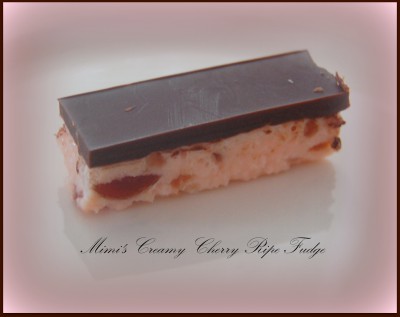 Yummy.
Gooey,
Creamy.
Fudge.
Here's how...
You'll need:
125 gms white chocolate buttons or squares
125 gms dark chocolate buttons or squares
75 gms Copha
1/2 cup glace cherries, roughly chopped
3/4 cup sweetened condensed milk
3/4 cup dessicated coconut
Red or pink food colouring
20cm slice tin or cake tin, lined with baking paper, allowing some to overhang the edges so you can use it to lift the fudge from the pan.
Then just:
Put the white chocolate in a small microwave safe bowl, and microwave on 50% power for up to 2 minutes, stirring every 30 seconds. Remove when some lumps remain, and stir until smooth. This tempers the chocolate.
Add the chopped cherries, condensed milk and coconut. Stick a toothpick, skewer or corn cob holder into the food colouring to impart just the tiniest amount of colour, then immerse the skewer into the mixture and combine to get the most delicate shade of pink. Add more if you want it darker.
Pour the mixture into the lined pan, and refrigerate.
Put the dark chocolate and the Copha into another small bowl and microwave on 75% power for up to 4 minutes or until just small lumps remain. As with the white chocolate, stir until the final small lumps dissolve.
Pour this over the fudge mixture carefully, and refrigerate for at least an hour before serving.
To serve, lift the fudge out using the long overhanging edges of paper, and set it on the bench.
Run a large sharp knife under very hot water for several seconds to heat it, and dry it well with a clean teatowel.
Rest the edge of the heated knife where you wish to cut, and without actually applying pressure, allow the heat to gently melt the chocolate surface so that you don't crack the neat smooth chocolate. Once the hot knife has sunk through the chocolate topping, you can apply pressure to cut through the fudge. Reheat and dry the knife for each cut.
Cut into large squares to serve as a dessert, or into smaller ones to serve as a sweet treat.
This is ultra creamy and gooey, and a bit different to normal solid fudge, so it does need to be refrigerated well prior to serving. Eating with a dainty fork is ladylike, but eating with sticky fingers is also acceptable ;-)
This also makes a lovely slice if used as a topping over a crumbed biscuit base. We eat gluten free here so we like it without.
Enjoy!