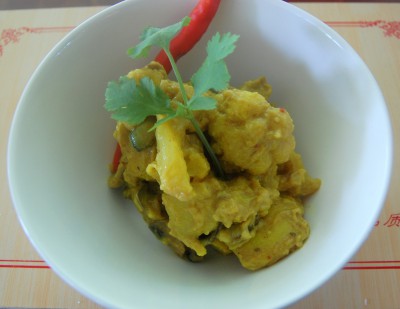 A super cheap, super tasty, super satisfying meal that feeds a crowd for next to nothing.
At least eight serves for under eight dollars.
You'll need:
6 large potatoes, peeled and cut into large chunks
1 cauliflower, cut into florets
1 onion, peeled and diced
2 tablespoons oil
2 cloves garlic, peeled and sliced
1 teaspoon each Ground Cumin, Ground Coriander, Ground Ginger, and Turmeric
Chilli flakes or powder to taste. We like ours hot, so I use 1/2 teaspoon of chilli flakes to this quantity
2-3 cups of water depending upon how much sauce you like
1/2 cup milk
2-3 tablespoons cornflour mixed to a paste with a tablespoon of water (1 tablespoon per cup of water added)
Coriander leaves to garnish if desired
Then just:
Steam the potatoes until tender.
Pan fry the diced onion in the oil added to a large saucepan or wok, until it's translucent.
Add the potato and the cauliflower, and the water and spices. Simmer until the cauliflower is tender.
Add the milk and the cornflour paste and stir until the sauce bubbles and thickens.
Serve immediately, on it's own or with steamed rice and/or pappadums.