We have never had any luck with capsicums ever & have relied on growing the smaller sweet chilies instead... This year we had a couple of Feral/Volonteer capsicums pop up behind the Tahitian Lime tree... They were powerhouses of production but unfortunatly every fruit was blown by some sort of pest & filled with grubs by the time they got as big as a golf ball...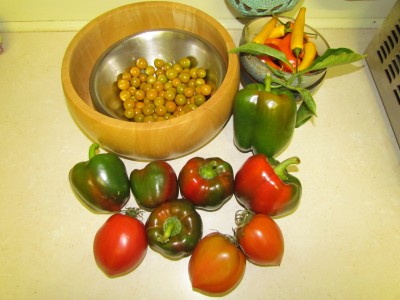 Today we picked 6 that are just starting to turn.... **Does happy dance** Will leave them in a bowl for a few days to ripen up & before enjoying them in salads & a curry or 2 next week..... : ) We have also started to pick the Amish Paste Tomatoes & are still getting heaps of Caped Gooseberries...
Have also been busy getting some other beds & bits cleaned up for spring planting... Made a list that I MUST follow or will be behind the 8 ball for the spring plantings... Top of the list is the large Aquaponic system... Had a bit of a set back with the barrel system... Had to remove the goldfish & treat them in a hospital tank for a fungus infection... Lost 3 but the remaining 8 look well & truly on the road to recovery...
A bit more detail on whats been going on can be found here,
http://bitsouttheback.blogspot.com/2011/08/off-to-flying-start.html

Would like to give a BIG THANKYOU to the Simple Savings team for the Blog Award... Many thanks as the prize mony has gone straight into the klity for more Aquaponic bit's 'n' bob's that are needed to finish off the tanks....
Have a great one all....
: )