What's the best thing growing in your garden?
Came across a great thread from Little Miss Wonka on the forum called "What's the best thing growing in your garden? " where she asked what other members were passionate about growing, so thought I'd run through some of the favourites we like to grow here.
As it's Winter at the moment I thought I'd start with some of our cool weather plants.
Brassicas would have to be one of my favourite veggies to grow but we can only plant out some of them here in the cooler months due to our subtropical climate.
From this broad family I would have to pick broccoli as my all time favourite for a few reasons.
First of all nearly all of the plant can be eaten, depending on when it's harvested. The stem, cut thinly, makes an excellent addition to stir fries & salads just like the head.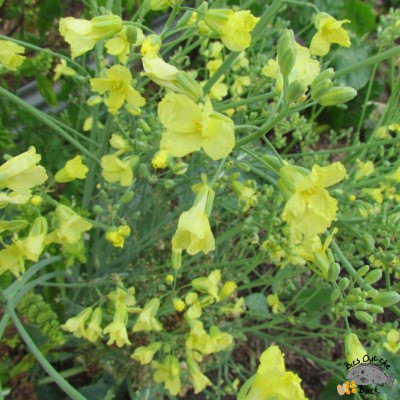 The flowers make a great addition to salads & the seeds they produce can be sprouted then added to salads, stir fries or juiced. The leaves can also be eaten raw, cooked or juiced. We don't eat a lot of the leaves here but have added them to juices & veggie smoothies a few times. I think the chickens would get jealous if we ate too many ;-)
My favourite part of this glorious plant, like most folks, would have to be the crunchy mass of underdeveloped flower buds referred to as the head.
I really like the small raw florets added into a Thai style curry or have hot wonton soup poured over them just before serving. My favourite way to eat this glorious plant would have to be raw in salads with other seasonal veggies like cauliflower, beetroot, peas & garnish with some flowers if available.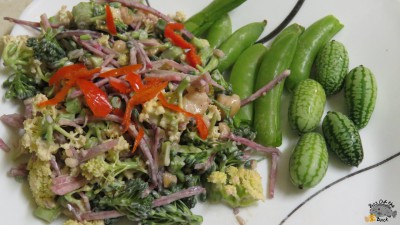 I also like to add some lightly toasted macadamias or pine nuts & a honey mustard dressing. Mmmm, hungry now.
Second place would have to go to Wombok/Chinese cabbage.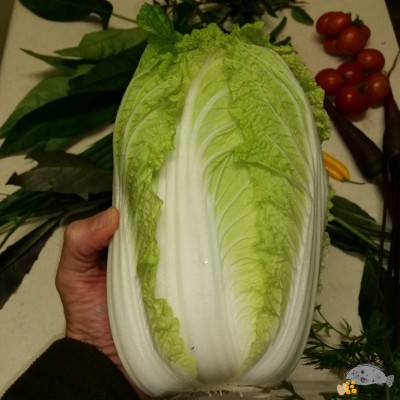 I think the only way you can truly do justice to this vegetable is to use it raw in salads. I like to shred ½ a cabbage then toss with thinly sliced or julienned veggies, shredded greens, toss in a few roasted cashews then dress with a soy, honey, vinegar & sesame oil mix.
We eat this either as a standalone salad or topped with some roasted pork belly or chicken stir fried in garlic, ginger & chilli.

Sweet potatoes are another crop I love to grow. We're very lucky that our climate allows them to grow as a perennial, allowing us to bandicoot out small harvests year round.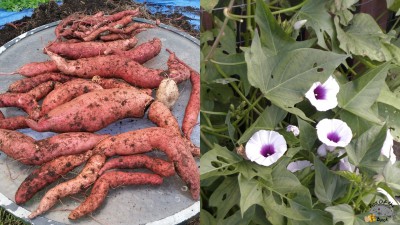 Sweet potatoes are a plant you can eat from the roots all the way up the plant to the flowers. We mainly eat the leaves in salads but can also add them to stir fries & am interested to see how they would go in a palak curry. We have only just started to use the flowers in salads & find them to have a mild sweet taste.
I love the root roasted, mashed, pan fried & dehydrated as chips, but my favourite way to eat it would have to be in a Japanese sunshine curry. Something about the sauce makes it a perfect pairing to the sweet potato I think.
One thing I like about growing sweet potato is that they grow really well in containers & the vines will happily grow up a trellis, making them a great plant to grow in small spaces.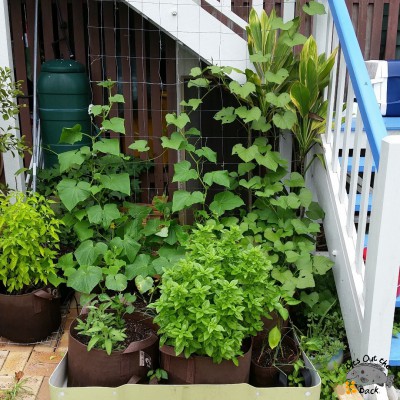 We grew 3 slips in a 100+L container at the base of our back stairs & allowed it to grow up a wire trellis onto the hand rail. This made it very easy to quickly collect greens when we needed some extras to fill out salads. Only 2 of the slips we planted produced a decent amount of tubers (3.5kg/7.7lb all up) but when you add in the many salad greens we picked they actually provided us with a great deal of home grown food. For those that are interested in a closer look at how the plants grew & the harvest we got, you can see a clip of it here on our YouTube channel.
One of our favourite greens & a great warm climate spinach substitutes would have to be Warragul greens/New Zealand spinach (Tetragonia tetragonioides).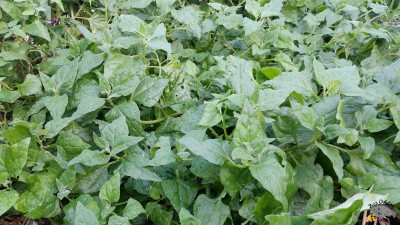 This awesome looking & tasting native ground cover is found growing wild on the coastlines of Australia & New Zealand. Have found it to be very hardy here & will bounce back well if allowed to die off from lack of water. *tries to look innocent*
A few years ago the bed in the picture above was planted out with a single plant. It's slowly taken over the bed with the help of dozen of self sown progeny.The plant can become quite invasive with runners stretching out quite a distance from the mother plant, so it is a good idea to keep an eye on it & prune back when necessary.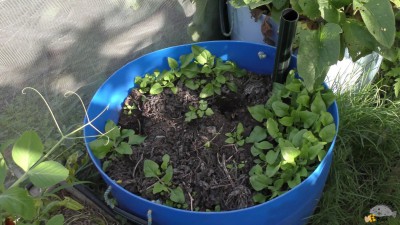 We didn't & now there are dozens of young plants sprouting up in a barrel a few feet away from the main bed. The greens do contain high levels of oxalic acid so it is suggested that you steam or blanch the leaves before consuming. I like to always pick too much when we're after some for dinner. Once blanched I like to add the excess into a container in the freezer so we have some on hand to help fill out a meal quickly.

My favourite plant at the moment would have to be Okinawan spinach (Gynura crepioides).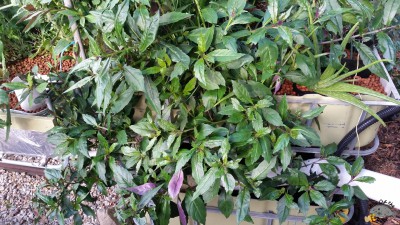 This plant is said to be a native of Indonesia & as a tropical plant it does love the warmer subtropical & tropical regions. Apparently it will also grow in warmer temperate regions, as long as it's kept in a nice warm position.
We purchased a small plant & had it growing in a wicking barrel over last Winter & weren't really impressed with the slow growth rate. As soon as things started to warm up last Spring the plant exploded into life sending out new branches every which way.
Propagation is really easy. All I've done is pop in the left over stems we've picked the leaves off for dinner, straight into either jars of water or the grow beds in the aquaponics.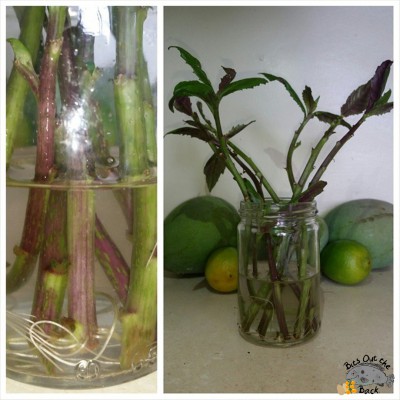 They set out roots within a few days & have leaves ready for harvesting within a few weeks. For folks with aquaponics systems I would recommend setting some grow bed space aside as we've found it grows extremely well in our system, giving us much faster growing plants with larger leaves than their mother plant growing in soil. Nearly everyone that has come to see our garden & aquaponics has left with at least a few cuttings to plant out in their own patch ;-)
Like most veggies, I prefer to eat it raw but have added it to a few stir fries, as well as curries. I find it tastes like a cross between a lettuce & carrot with different undertones (no, I'm not a hipster foodie) depending on how mature the leaves are. I find the flavour very refreshing & would quite happily replace all our salad greens with this one plant, but Bianca won't let me. ;-)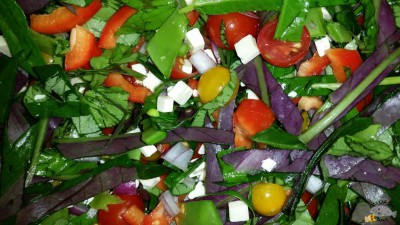 My favourite meal with it would have to be a basic salad filled with fresh picked herbs, veg, olives & diced fetta mixed through. I personally don't dress mine but Bianca & the girls like to add some red balsamic vinegar onto theirs at times.
I must say that this plant has exceeded our expectations & gone on to provide us with so many meals that it now will be a permanent fixture in the patch.
We do have a few more favourites like the gingers, asparagus, eggplants & water chestnuts to name a few but if I don't stop now I will be here for hours ;-) Bianca would slap me if I forgot to mention honey pod peas. This is one of Bianca's Wintery demands & I always ensure there is space for a few plants in the patch.
Happy harvests.
Thought I'd leave you with a bit of a look at what we're picking from our early Winter patch.
The large tomatoes have been coming in thick & fasts with a few being picked every other day.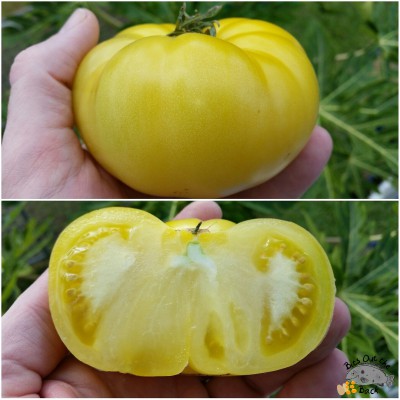 So far my favourites, flavour wise, would have to be the Summer Time Gold Dwarf tomatoes. We have only taken the 2 off so far but have been very impressed with their sweet flavour & the amount of flesh.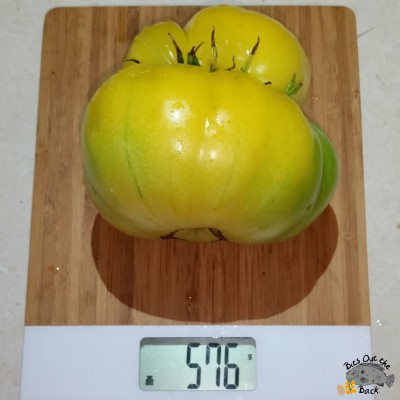 This was the second one to come off the plant (after I knocked it & cracked the skin) & is one of the largest tomatoes we've grown. There are many more fruit to come off of that plant & on the other one we have growing in a wicking bed.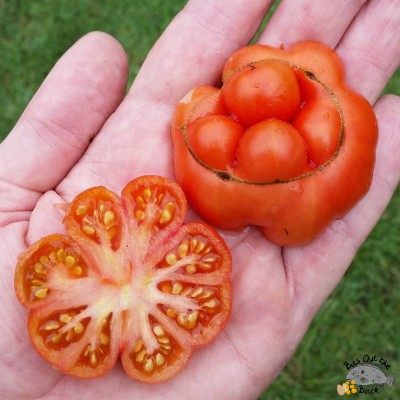 Have also been picking a few of these interesting looking "Brain" tomatoes. They do have a nice rich flavour but the plant isn't in the best position. I have started to save some seeds from a few fruit & will definitely be trying this variety again.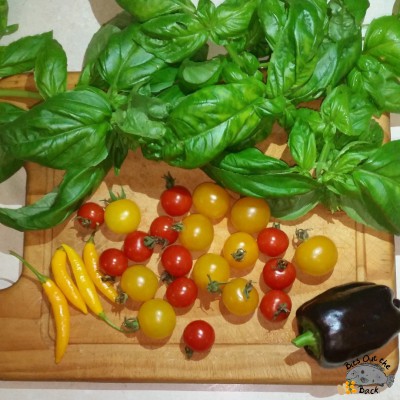 We're still picking loads of the small yellow currents & red cherry tom's at the moment too. This lot were very tasty alongside some chocolate capsicum, chillies & basil on a pizza made by the girls & Bianca.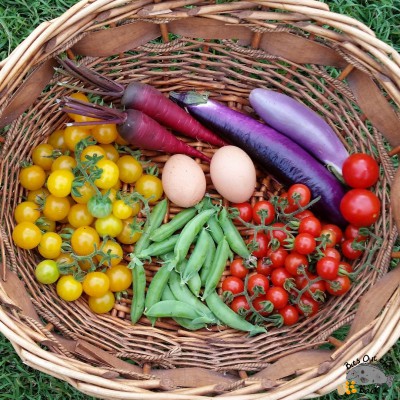 The eggplant has slowed down a lot with the cooler weather but we're still managing to pick a fruit here or there. I did notice it's has some more flowers developing but am unsure if they will stay on the bush & form fruit, as we are expecting the temperature to drop a bit over the next few weeks. Bianca's honey pod snap peas are also producing a nice little harvest every few days. Most have been eaten as late night snacks if they make it into the house. I think we've only had 2 small lots chopped up & added to salads so far ;-)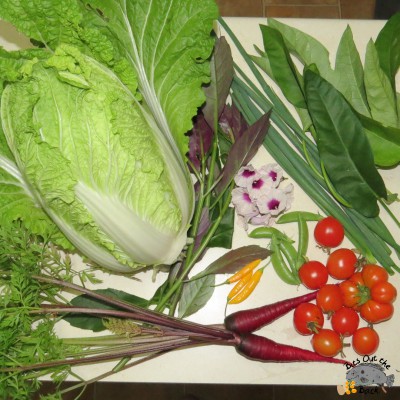 The carrots in the wicking barrel are being harvested as we need them. These & the couple in the picture above were grown from seeds we saved ourselves, so it makes them all the tastier in my book ;-) We have also harvested our first round of Chinese/wombok cabbage. I do have one small plant left to pick & if I can beat the grubs to it, I might harvest it tomorrow. The next lot were only just planted into the aquaponics yesterday, so it might be a while before we have another wombok salad :-/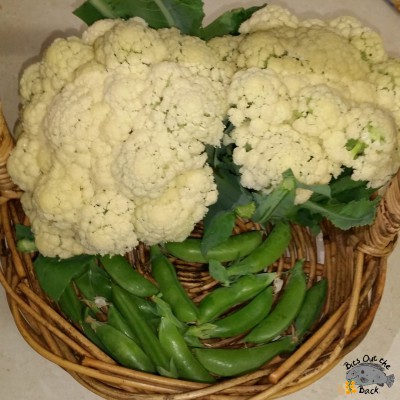 These are the first cauliflower we picked from this year's crop. They had just started to open up to go to flower which makes them great for grilling cheese on I think. You get a nice crispy cheese top with gooey cheese coated branches inside the head J
That's about it for this month's blog folks. Next time I'll include a bit of a walk around the garden clip for those interested in a wander through the patch & aquaponics.
Hope everyone is enjoying the cooler weather & that you're lucky enough to be getting some great harvests from the patch.
Have a great one all.
Rob.