Well, another week down & it feels like my jobbies list grew… Was able to knock over a few items on the list so I suppose that's a bonus..
Aquaponics..
The backup air pump for the aquaponics was installed on Monday after a small set back but appears to be running fine now..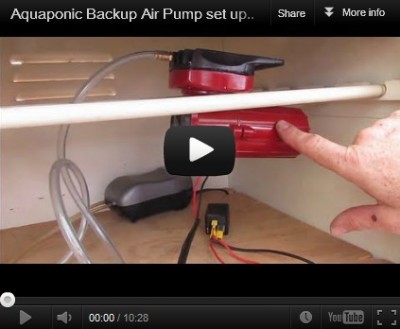 I am very happy with the way it has worked out but think I may be revisiting this aspect of the AP system in the future..
The fish have also had a change of diet during the week.. We started to feed them bits of lettuce from the patch & it appears to be a big hit with them.. It has been entertaining to see the flashes of green in the tank as they all attempt to have a go at the leaves.. They were all far too quick this week for pictures but shall keep trying to get more than a grey green blur..
One lesson I did learn this week was not to flash the torch at the tank when checking out the system at night.. One little feller decided that it was full moon & went for a bit of a fly straight into the side of a wicking bed.. I stood there in disbelief watching it fly gracefully (NOT) through the air in almost slow motion.. It took no time at all to calm it down & return it to the tank.. I think it was in as much shock as I.. As soon as I awoke the next morning I went straight down to the tank expecting to see a "floater" but was pleasantly surprised to find none.. I think it may have learnt its lesson, well I hope it has..
Community Garden..
Made a trip down to the community garden to take a bit of "film" to give you an idea of what it looks like..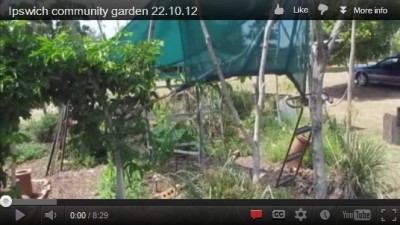 On Wednesday we were lucky enough to have a garden bed donated by a local hardware "Big Box Store"..
They sent a few people out to help us put it all together & supplied all the soils, mulch & gravel needed to build up the bed..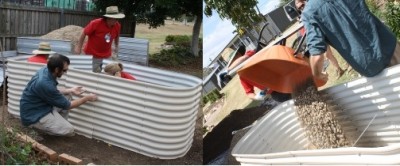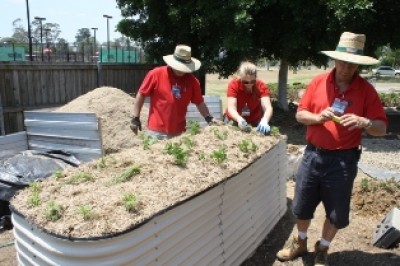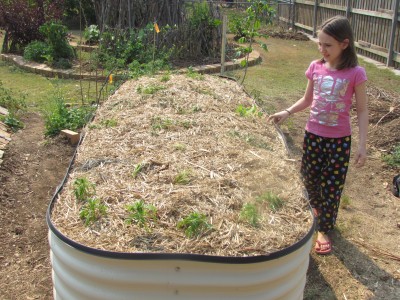 They also planted it out with a few seedlings but I think the high temp's from the past few days have taken its toll on them.. Might have to rig up a small shade shelter for the bed as it gets 10 hours + worth of sun a day & is only watered twice a week at the most..
Sue P posted a great thread along the lines of community gardening on Thursday night that I thought was fantastic.. It was called "(Growing) Food for the neighborhood"
I would love to be able to share with people as they walk by our house & might be able to incorporate an aspect of that in the new front yard design we are planning..
Planting out in the Patch…
As hard as I tried to give away some tomatillo seedlings over the past few weeks I am still left with 3 each of red & purple variety.. Both lots were planted out this week into the top 2 beds..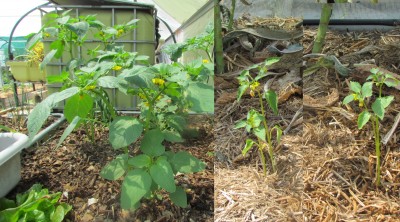 The others that were planted out a few weeks ago (Left) look so much healthier, but I think these guys will pick up with a bit of TLC..
I did notice that I have a great germination rate with the Dragon carrots sown out last Tuesday with most of them germinating in under a week.. They are doing a lot better than the little finger variety that was used in the seed tape.. I shall be sowing a few of the little fingers out by themselves just to see if it is the paper & glue slowing down the germination or if it is just the variety..
The coco peat pellets that were sown out last week have seen varied results so far but that is to be expected..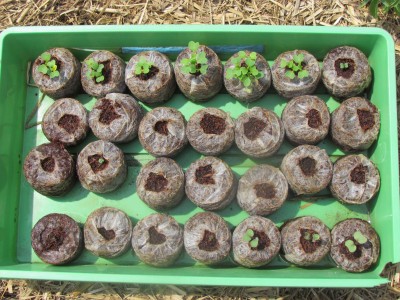 All the bok choi pellets have sprouted with 4 of the kohlrabi & 2 of the mustards also making an appearance.. Most pleased with this & am looking forward to planting some out in the aquaponics as we have eaten out some plant sized gaps in the grow beds..
Weekly Pickings…
Had a fairly good harvest this week with a few decent meals coming from the patch..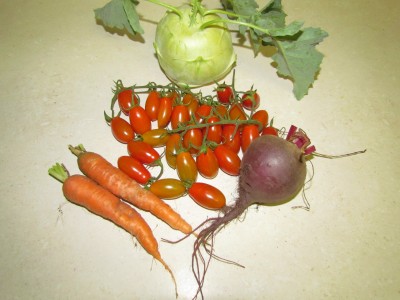 Last Saturday we got enough for a great chopped salad with some mini romas on the side as well as some fresh picked leafy greens..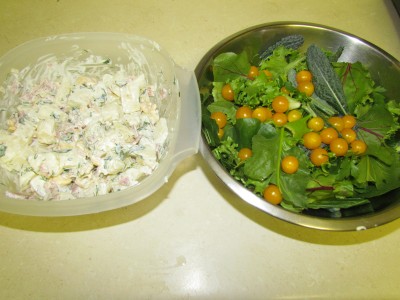 Sunday was another leafy green salad from the patch as well as a potato salad Koo made from fresh picked herbs & potatoes from the community gardens.. The only add ins were sour cream, mayo & some raw cashews… Was very tasty & Koo will be posting the recipe for those that were asking on Facebook…
On Tuesday we decided to harvest the onions..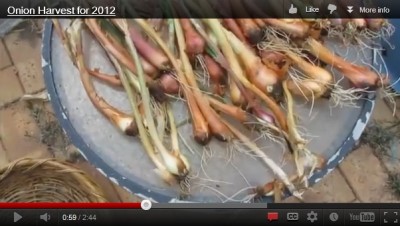 Wasn't the greatest harvest so not sure if we will try them as a major crop for a while..
½ of the the brown onions went straight into the pot with,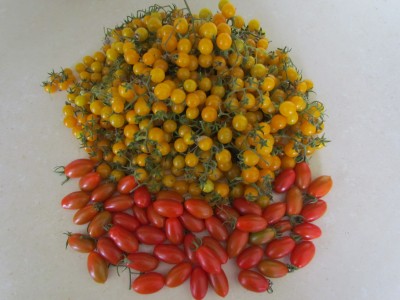 1.5kg of yellow cherries & ½ a kg of mini Romas as well as 4 yellow zucchini & a small bulb of our garlic..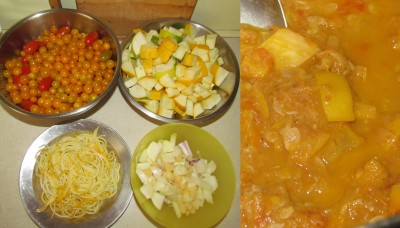 This made an excellent veggie sauce that went very nicely over some raw zucchini spaghetti… We have at least 4 more meals worth of this sauce in the freezer so am very happy with that..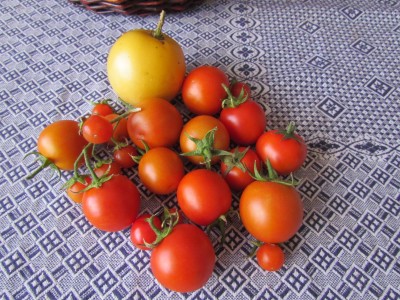 These tomatoes come from a feral/volunteer tomato that shot in an eggplant barrel.. Not the tastiest fruit but shall do until others mature.. The pepinos were scoffed down quick smart by the youngest.. Still hanging out for the next few to ripen up..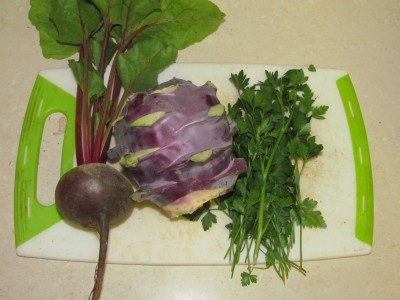 Wednesday saw us picking another monster kohlrabi from the aquaponics.. Really hope the plants in the peat pellets come on quickly as I am enjoying the chopped salad made with them & the beetroot..
WE WON SOMETHING!!
A few weeks ago Lynne posted that she had won a Seasol prize pack for posting a picture of her garden beds on the Garden Gurus Facebook page so thought I would give it a shot as well.. Well WE WON !!!! Most surprised & happy about this..
Bellow is the picture that was posted to the Garden Gurus Facebook page..



We were very happy to receive the prize pack this week as we had just used up the last of the Seasol in the aquaponics..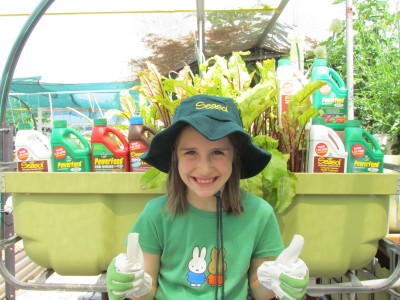 This is the Picture we sent back to thank the people at Garden Gurus.. Got to be in it to win it so I encourage any backyard farmer out there to post a pic to their page.. You never know..

That's about it for this week..
Have a great one all..
: )»