A trip away...
A bit late with the blog this week as we spent last week away visiting the Port Macquarie region, catching up with family & visiting the old family farms.. Was great to take Bianca & the girls to see the 2 farms they had heard so much about & see the new residents..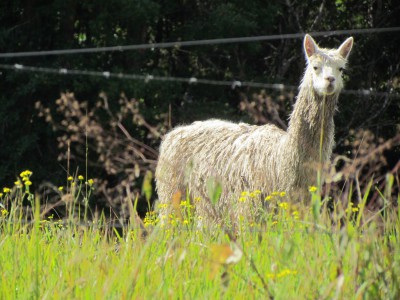 Also got to meet up with an online friend, Dave, on the way down to have a bit of a swap meet.. We dropped off some dragon fruit seedlings & some seeds that we had saved from the patch & in return we got some,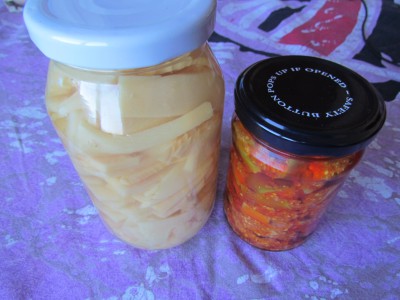 green mango chutney & some of his home grown/processed bamboo shoots.. These will go great in either a stir fry or curry methinks..
Dave was also kind enough to give us a selection of seeds..

We got some root stock citrus seeds, rocket seeds, yellow & red Trinidad Scorpion chilli seeds (some of the hottest chillies in the world :/» ) as well as a selection of fresh chillies to save seeds from.. He also roasts his own coffee & made us up a great cuppa while we were there.. Was great to catch up with another keen gardener & hope to make a trip there just to check out his small permaculture farm in greater detail at a later date.. It was pouring rain when we were there.
We decided that while we were away we would try & make the trip as "SS" as possible by taking as much food as we could for the main meals... We took 1½doz eggs from the girls, home made curry paste, some home grown veggies as well as a few tins of bean & the like.. As much as I like going out & having other people cook for me I think the best 2 meals we had were made in the unit from a cauliflower we had grown :)» The first meal we made was a basic cauliflower & bacon soup but the second was my favourite..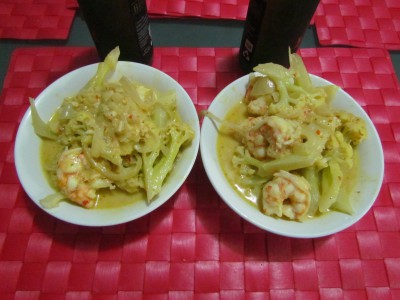 Bianca made up a prawn & cauliflower Thai curry using all our own ingredients except for some locally caught prawns & a small tin of coconut cream... Would have to be the best meal we ate while we were away I think **nods**..
The fish that I mentioned harvesting in the last blog, was cooked up for my parents & some of my uncles & aunts while we were down there.. Don, an ace on the BBQ, fried up the fish & they were shared around the family.. Everyone said that they were most impressed & thought it was some of the best tasting fresh water fish they had eaten, so I was most chuffed about that.. Think we might harvest a few more in a couple of weeks so we can cook them up fresh on the BBQ here with some friends.. Makes it all worth the effort when we can share them around with friends & family..
Back to the patch & reality..
While it was great to spend a week away it was just as great to get home to find the girls & fish all happy & cared for by 2 lovely people, thanks Adie & Mark.. There was a bit of an issue with the large chook feeder clogging up & not allowing feed through but the girls were supplemented with fresh greens from the patch & had their green feeder so all was well.. All that was needed was the clumps of diatomaceous earth & grain cleared away from the feeder on the inside & the girls were all happy..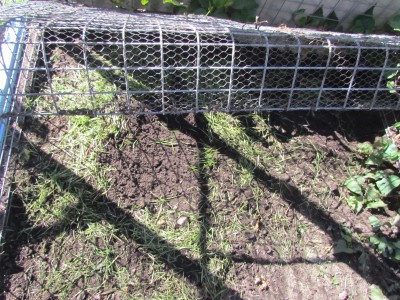 As a treat I raised the grate from the top of the green feeder & they got stuck right into wheat grass..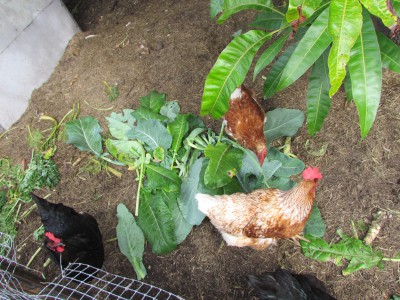 They have also been feed a few cauliflower & broccoli leaves over the past few days so are very happy chooks at the moment..
We also came home to a cauliflower that had started to go to flower..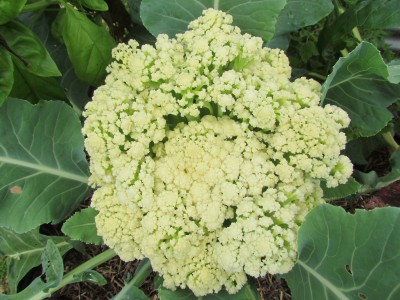 I could of chopped & eaten the head but have decided to leave it go to seed.. I am really impressed with this "60 Day Cauliflower" variety.. They have a nice size head & didn't bolt eventhough they were planted while it was still too warm..
The Aquaponics have given us a few suprises on our return..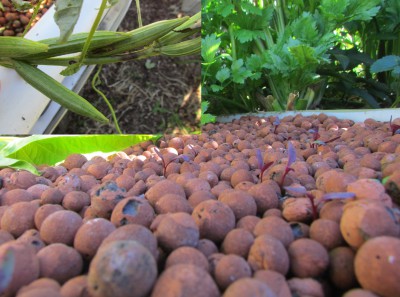 We have some more beetroot sprouting & the Egyption spinach has set some seed pods (top left).. I am really looking forward to getting the spinach seeds, as they were one green we really liked but didn't get to grow enough of.. These beeetoot are in a sunnier position in the system so I wont be suprised if they out preform some that were planted over a month ago in a bed that is being shaded by celery..

Comfrey tea...
I have a load of jobbies on the list to do this week but I think the first one I should get to is giving the beds a good liquid feed.. I have been making up comfrey green manure tea over the past month or so using the waste water from the aquaponics solids filter that is full of extra fishy nutrients.. Green manure teas can be made up with almost any green leafy materials from the patch.. It makes for a very cheap/"SS" nutrient rich fertiliser.. It is probably best not to use leaves from trees like gums due to their volatile oils or others like oleanders that are poisonous.. I like to stick to common garden weeds, leaves from plants that have been pruned & comfrey.. I have a preference for comfrey & dandelion plants as they are both "dynamic/bio accumulators".. This means that their long roots bring up extra nutrients from deep in the soil..
To go about making your own all you need to do is shred up some leaves & let them steep in some water for a few weeks.. It helps to give the brew a mix every day with a stick just to get some oxygen in there to help feed the aerobic bacteria.. I like to stir ours every time I walk by it but once or twice a day is fine I think.. After 2 or so weeks it is ready to use... I like to strain out the organic matter then add 1L of the brew to a 9-10L watering can then give the patch a good feed with that..
WARNING, while brewing, keep away from yours & neighbours dwellings as the odour can become rather offensive depending on what you add ;)»
Below is a quick look at how I make ours up & then mix it up for application to the garden..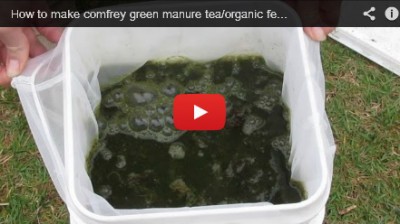 Some I have spoken to also like to add molasses as well as an aquarium air pump with air stones to theirs.. This is to add some extra oxygen/sugars that help feed the bacteria that work in the brew..
I can really see the change it has made in a few of the plants like the chillies, garlic & brassicas as they all look healthier & put on a bit of a growth spurt a few days after adding this stinky homemade fertiliser..
Happy Harvests...
Didn't really get to harvest much from the patch last week but was most happy to came home to find a few plants ready for harvest..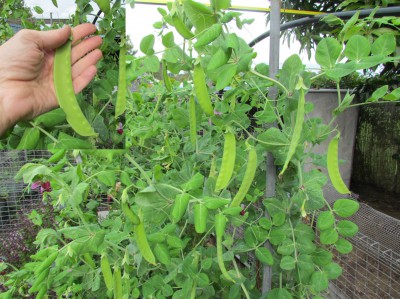 The snow pea plants were loaded with pods so was able to harvest a few meals from them straight up.. I love the Roi de Carouby snow peas as they have very nice long pods & are a very prolific fruiter..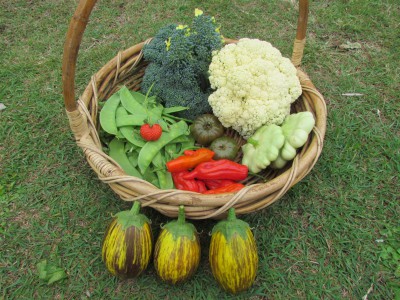 We also got to take the last head of cauliflower from the current crop.. Was very happy to get our first 2 Black Russian tomatoes from the plant that had been struggling down the back of the patch :D» I have a few bits of fruit that have been ½ eaten by some unknown pest that I will be saving seeds from tomorrow.. I really want to have a better attempt at growing this variety so will be planting the saved seeds into the hoop house in Spring..
Also started to pick the generous side shoots from the broccoli plants..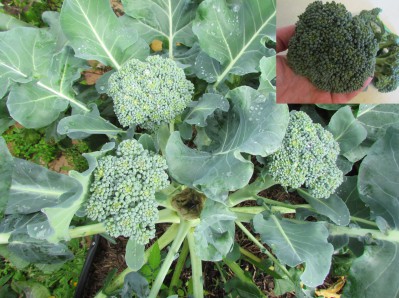 These are the largest side shoots I have seen with some over 15cm/6" accross.. It really does pay to leave your broccoli in for a second or third harvest of side shoots methinks..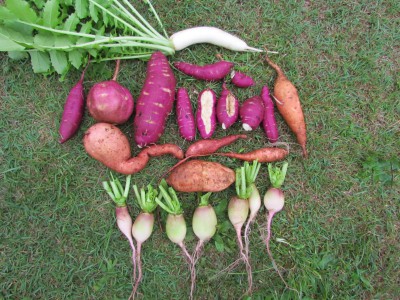 Decided to harvest all the watermellon raddishes from the aquaponics & some of the voluenteer sweet potatoes from around the patch on Saturday & got a great haul I think..Some of the sweet potato was roasted on Saturday night along with a shoulder of lamb.. Our eldest used some more to make up a warm lamb salad made with the left over roast last night.. Got to have roast lamb & sweet potato 2 nights in a row :D» Was most pleased **nods**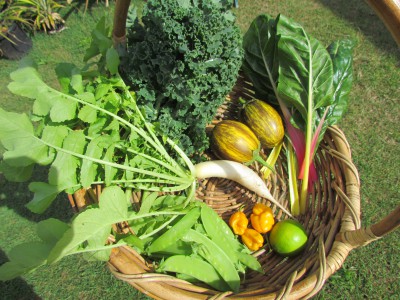 This little basket of goodies was harvested for some visitors on the weekend.. They were game enough to take some 7pot/pod chillies so it will be interesting to see what they make out of them..
Well that's it for now, better late than never I suppose ;)»
Have a load of jobbies I want to get to this week while B is on holidays so will hopefully have a load to post on next week..
Hope you all have a great week..
Rob..