Free food that you didn't know you had…
Just a quick word of caution, it is best that you only pick these plants from areas where, you know for certain that, they haven't been sprayed with any herbicides… Your own yard is always the safest as you know what has been applied to the garden & lawns..
Have been thinking a lot about cutting back the budget this year & was reminded of a talk I went to at a permaculture fair in the 90's.. The talk was on edible weeds & ways to use them in the kitchen.. The 2 that we have an abundance of are Purslane & Cobblers pegs/Farmers friends..

Purslane (Portulaca oleracea), also known as pigweed, is a small "weed" plant we have been removing from the patch for many years..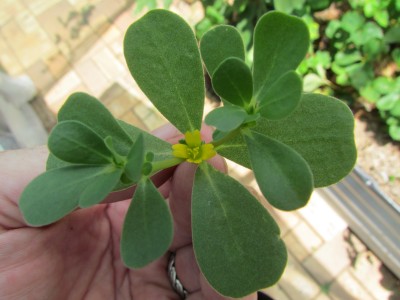 It is said to be reasonably good source of vitamins A and C, iron, calcium, potassium and magnesium according to some sources***.. Another bonus to this "weed" is that it is reported to have some very high levels of omega 3 fatty acids which is rare amongst many cultivated plants.. Only after having my memory jogged by a post on FB did I decided to snack on some while wandering the garden..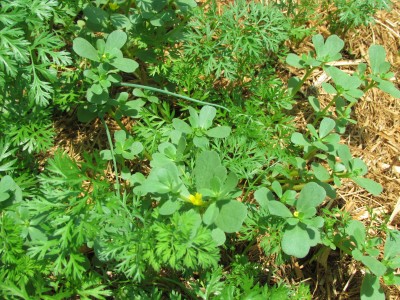 Was most pleased with the light lettuce like flavour it had so have let some establish itself in the current carrot bed..
Another variety called "Golden purslane" is cultivated & used as a commercially grown salad green..
I thought I would also buy some seed to plant & compare it to the wild variety.. It is said to have a leaf about double the size of the wild variety, so will help fill out the salads nicely I think..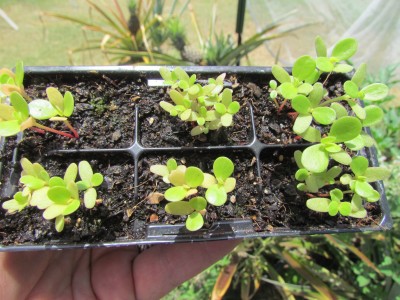 I planted out a punnet of it this week only to have the plants in the soil garden dug up by the chooks : (» I did manage to save 4 of the plants & they appear to have survived OK.. The plants that are in the aquaponics are booming at the moment so will definitely be able to compare the 2 varieties soon enough..

Cobblers Pegs/Farmers Friends (Bidens pilosa), is one plant that many people who have walked through paddocks on farms would have encountered.. This plant, that is native to the Americas & has spread to every continent except for Antarctica…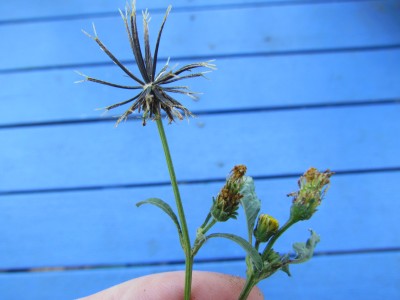 The common names for this plant offer a very accurate description of its very clingy seeds.. I have spent hours picking these seeds from pants & socks during my short **coughs** time on this world..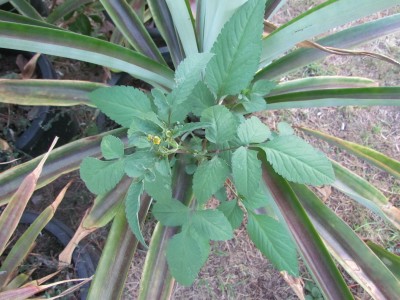 It is the leaves that are used, being added to salads, steamed or added to stews.. They have been used in a few healing traditions, being brewed up to make medicinal herbal teas.. They are said to be a great source of vitamin C, calcium, iron, potassium and magnesium***..
It is the young leaves that are used the most & they have a slightly bitter flavour.. I have been adding them to the salads with no one picking their presence up at all.. I don't really think we will need to cultivate this plant as both neighbour's yards are full of them ;)»
Planting out & odd jobbies in the patch…
I have taken advantage of the cooler weather this week by getting stuck into a few projects, including making up some Wood mulch & cleaning out a few of the garden beds & barrels..
The cucumbers have been removed from their bed near the chook yard.. The bed will be top dressed with some organic fertiliser, the mulch topped up & then given a rest for a little while.. I think this bed deserves it as it has been rather productive over the past few seasons..
2 lots of Gympie Gold cucumbers have been planted out in the patch to replace the removed plants, 1 in the top IBC wicking beds & another in the aquaponics..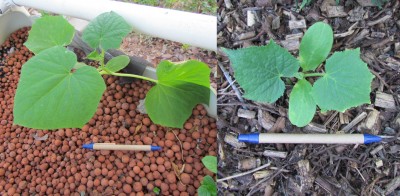 I must say that the aquaponic plant is already more than double the size of the other..
As mentioned above, 4 lots of golden purslane were planted out only to be scratched up by the chooks..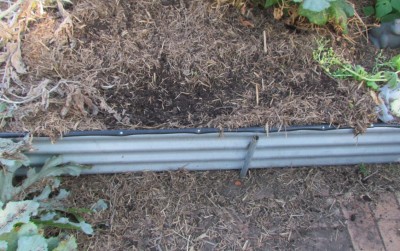 "Yes dad, we closed the chook gate properly" **giggles**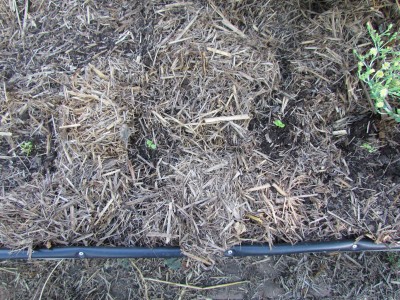 Looks like at least 4 little plants have survived after they were replanted.. They are not much to look at, at the moment :(» .. 2 lots were also planted out in the aquaponics & they appear to be thriving in the at the moment..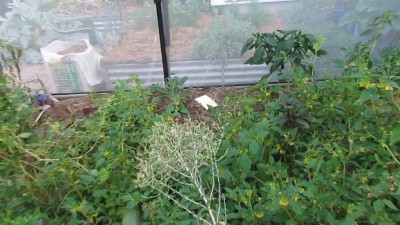 The remaining kale & the red tomatillos were removed from the small wicking bed in the hoop house & 2 poorly producing capsicums were removed from the larger bed..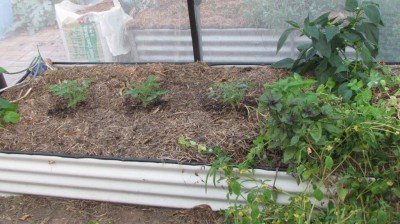 I must say that it does look a lot neater in there now.. 3 x KY1 determinate paste tomatoes were planted after the soil was amended with some worm castings & organic fertiliser.. Just quickly, a determinate tomato will only have 1 or 2 flushes of fruit unlike an indeterminate variety that just keep on vining out & producing fruit as it grows.. I have great hopes for these as it appears that the hoop house **crosses fingers & toes** looks to be fruit fly proof at the moment..
7 burgundy okra have also been planted out to give us a total of 12 okra plants.. Hopefully we will get a bumper crop from all these plants & will be able to share the fruit with a few friends that have found it hard to source them.. : )»
The rest of the perpetual spinach was planted out into the patch as well.. These fast growing greens went into the aquaponics & one plant going into a wicking barrel..
My big success of the week has to be striking the Kang Kong that we bought from the Yandina markets a few weeks back.. Kang Kong (also known as Kang Kung, Chinese water spinach & Pok Bung) is a versatile plant that can be found growing alongside waterways in South East Asia.. The stems & leaves are both eaten raw in salads or added to stir fries & curries.. Bianca & I both agree that it taste a bit like a mild lettuce so think that it will make a great addition to our veggie & fruit smoothies.. We came home & placed the bunch into a jug of water hoping that it would sprout shoots & we were far from disappointed..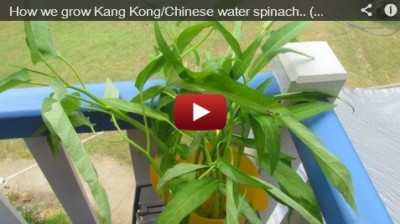 As this plant is a fast grower it should hopefully remove any excess nutrient from the aquaponic system..

This week's harvest…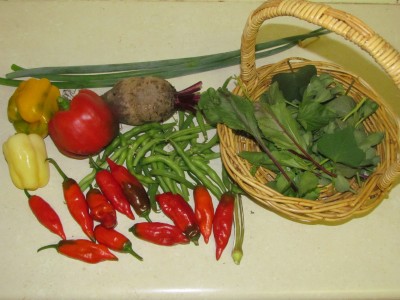 We have continued to enjoy the beetroot chopped salads this week & have started to harvest the carrots from the barrel at the front of the patch..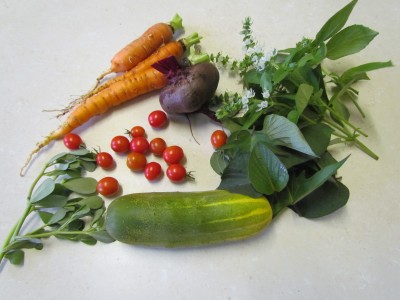 Was also a sad day when we picked the last of the cucumbers before pulling the vines but can't complain really as we have had our biggest yield of cucumbers to date with these plants..
While I was watering the patch on Friday morning I decided that I was going to try to make some green mango chutney with any ½ decent mangoes that I could find on the tree..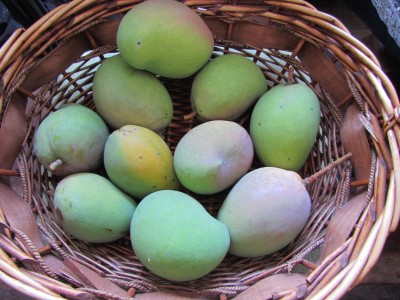 To my surprise I found a number that don't appear to be affected by fruit fly, so decided to pick the ripest looking unaffected fruit.. I found one that was ripe on the tree & took great joy in calling the girls to the back door so they could watch me devour it ;)» I now have 10 fruit I will be trying to ripen up in a box with a few ripening bananas.. The bananas release ethylene gas which helps in the ripening process so it will be interesting to see how it goes..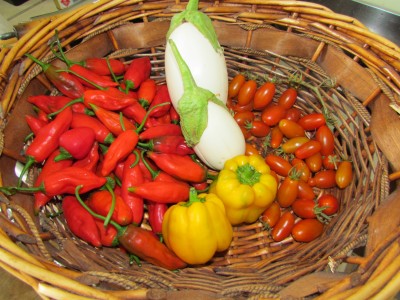 Picked the first of the white eggplants that decided to grow all by themselves in the strawberry bed.. They hitch hiked into the bed in some worm castings methinks.. Have also been picking a LOAD of chillies & think I now have enough to make up some chilli paste as well as some more Thai curry paste…
Methinks that's enough for now.. I could keep rambling on but I have some jobbies to do before it gets too hot this afternoon :)»
Hope you all have a great weekend in the patch..

*** http://herbsarespecial.com.au/self-sufficiency/getting-to-know-and-use-edible-weeds.html