Home made seed raising mix for some early Spring sowings...
I decided to save a bit of coin & make up some seed raising mix for the seedlings that were going in.. As the soil from most of the garden beds could potentially contain the nematode beasties, mentioned below in the blog, I decided to use some soil mix left over from the asparagus barrels.. Asparagus are not affected by the nematodes so have left a lot of the soil aside for this purpose..

As there were a lot of roots & pebbles in the mix I thought it best to make up a small makeshift screen to remove them.. To add some nutrient & water holding capacity to the soil I decided to add some compressed coconut coir/coco peat.. Compost or worm castings would work just as well.. Unfortunately both of ours are full of various veggie seeds & we wouldn't really know if the plants we are growing would be what we actually planted.. To hydrate the coco peat I used water from the solids filter in the aquaponics so there would be some added fishy nutrients in there.. In the past I have used compost/wormcast teas & liquid seaweed/fish emulsions to hydrate the coco peat & found it worked really well..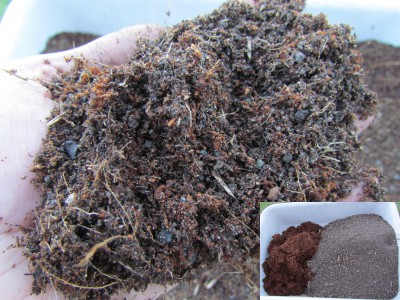 To make up the see raising mix I added 1 part hydrated coco peat & 2 parts screened soil then mixed it together well.. I think this will be a great blend for the seeds that will be going into them..
The seeds I decided to plant out this weekend included some small white egg eggplants, bulls horn capsicum, some black Russian, KY1, Tigerella & some mini yellow egg tomatoes..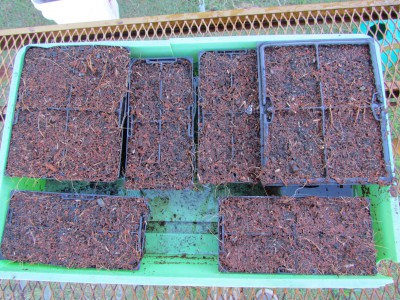 These will sit in a tray that will have a bit of water added to base of it every few days to keep them well hydrated..
Has been a while since I have sown carrots so thought I better put a few rows down.. 4 rows were sown into the top two beds in the patch yesterday.. 3 rows of the mixed colour heirloom (below) in the top bed & 1 row of the Kuroda short carrot in the next..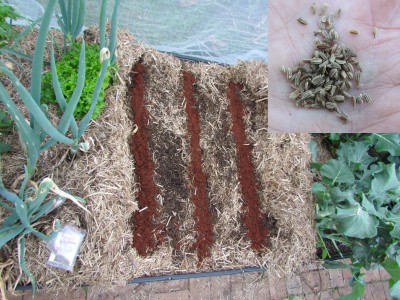 As they are such small seeds I decided to sow them directly on top of the beds then sprinkle some moist coconut coir/peat over them to help keep them damp.. 2 more rows will be sown when these have sprouted their second sets of leaves.. 2 rows of beetroot shall be planted out tomorrow hopefully.. I hope to have a continual supply of carrots & beetroot from now on by planting out a couple of rows every few weeks..
Hope to have the rest of the warm month crops seeds organised & ready to go over the next few weeks.. Couldn't help myself & put in another order with a small seed company this morning that will hopefully contain a few interesting varieties ;)»
Nuking the nematodes..
I have mentioned in previous blogs that we have a few beds infested with root knot nematodes.. They are not a problem in all parts of Australia but are rather "fond" of our warm subtropical climate.. The nematodes burrow into the root of your plants creating the knobbly galls you only see once it is pulled from the ground.. They stay hold up in there feeding off the nutrients the plant & provide nothing in return..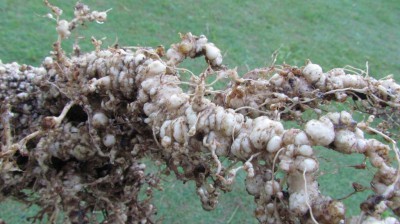 Once they mate the female will release her eggs to hatch on the outside of the root for the process to start all over again.. These little pests have destroyed more than their fair share of crops for us & I have tried a few different methods of controlling them but none have worked terribly well.. I have finally decided to heed the advice of more experienced gardeners & plant out French marigolds along with some mustard greens to try & eradicate them.. Both plants contain chemical constituents that are toxic to the nematodes once they are released into the soil.. The best way to do this is to grow the plants to about 30cm/1foot in height then chop them up & dig the green mulch through the soil.. As the plant matter decomposes they release their chemicals, Alph terthional for the French marigolds & the mustard releases the chemical that gives it its kick, Allyl isothiocyanate..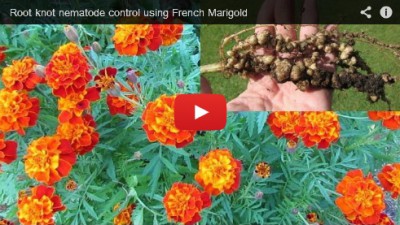 Another bonus with using this "chop & dig" method is that it will also help add organic matter back into the soil which I think the compost worms in there will love.. So far I have only dug through the marigolds in the blue barrel shown in the clip.. The mustard in the bed down the back needs another week of growth I think.. By the end of the week I hope to have cleared out another bed & planted some "Stinking Rodger", which is also a member of the marigold family, that was gifted to us by a generous local, thanks Deb :)» Jerry Colby-Williams (Gardening Australia) recommended its use for controlling root knot nematodes on his Facebook page so thought I'd give it a crack.. It is known as Black mint in some parts of South America & used as a culinary herb.. I have seen a recipe for Black mint sauce that I wouldn't mind trying, so will be saving some for the kitchen..

Pickings from the patch...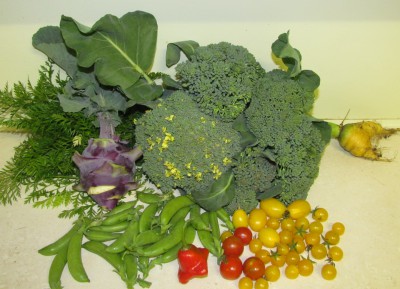 The last of the broccoli heads went into a chopped salad last Monday along with a volunteer carrot I thought was going to be a lot more impressive than it was :D» Have been very pleased with the taste of the mini yellow egg tomatoes growing in the compost heap out the front.. It was seeds from 2 of these that were sown out earlier today..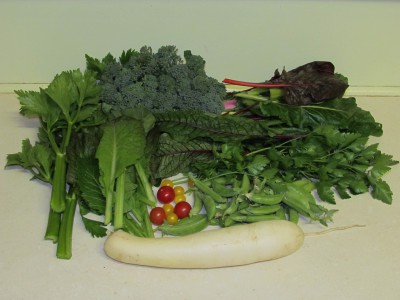 We have found that the mature daikon radish have a nice mushroom like flavour to them & not much bite.. We have been adding them shaved to green salads.. I am really enjoying it matched up with the mustard greens.. A few daikons are starting to go to seed so shall be trying to collect as much as we can to share around..
Bianca & I snuck around the garden yesterday afternoon picking off these little beauties.. Was nice to get to them before the girls but did divide them up later, B & I got to share the larger berries this time :D»
Am sorry that the Biochar post didn't make it into this week's blog but unfortunately my sinus decided to attack me this week & I think I deleted all the pictures that were taken while in a foggy haze.. Was not a happy camper when I couldn't find them I can assure you.. Have another batch soaking in some wormcast tea that is brewing at the moment so shall try again next week.. This lot is going in with the Stinking Rodger this week so shall snap some pictures then..
Hope you have all had a great weekend in the patch & managed to get some dirt under your nails ;)»
Have a great one all..
Rob..