Sad happenings with a very happy ending...
Got a bit of a shock when I went to check up on the aquaponic system Monday morning.. I found 2 of the goldfish lying on the bottom of the tank.. After I had done a quick walk around the patch & checked the chooks I went back to remove them from the system.. They looked extremely healthy with no sign of parasites, infections or any other damage.. I ended up taking a few pictures, hopped online & tried to work out what might of caused their demise.. I couldn't find any ailments that corresponded with how the fish looked so was at a bit of a loss.. I ended up posting a clip on YouTube to see what others thought as an autopsy at the vets was out of the question..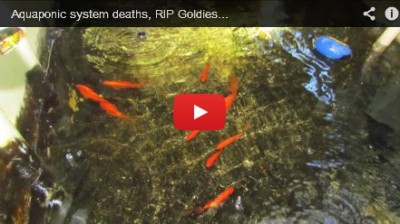 The most plausible reason that was put forward, & made sense to me, was that the quick drop in temperature chilled the water too fast, which shocked them.. The night time temps dropped from around 5°C to 0.6°C in 2 days & think this had a lot to do with it.. This made the water temp drop from 16°C to around 6°C in under 12 hours, which I think was just too fast for some of the fish to handle..
No more fish were lost during the week but as a precaution we decided to find a new home for them...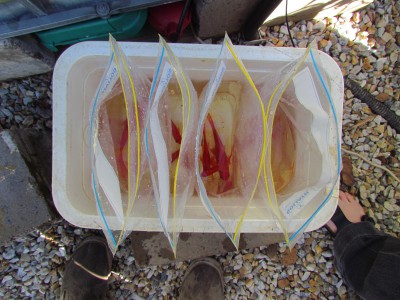 So today they were packed up in bags filled with water from the system, popped in an esky & shipped off to one of Bianca's friends..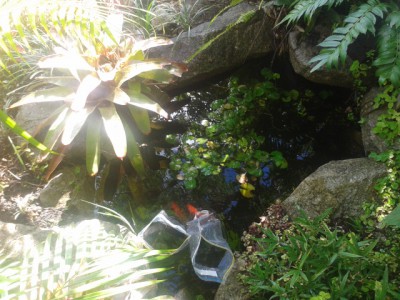 They are now set up nicely in a pond that is situated in a nice sunny position where I think they will be more than happy..
The Jade perch all looked to be happy & unaffected although they did go off their food for a few days.. I think that as they are larger fish, they tend not to be as affected by the drop in temperature.. Although we don't really have a cold winter here I thought I would spoil the Jades & spring for a water heater..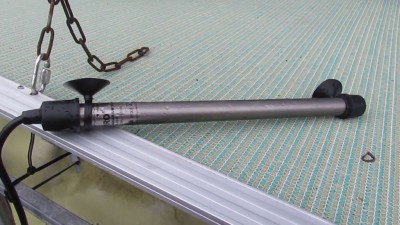 I ended up buying a 500w heater that is now set up in the fish tank.. I think that it was well worth the investment as the water temperature was 16.6°c this morning when I checked..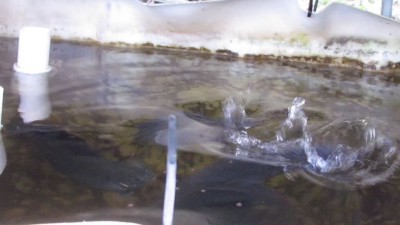 This afternoon I tossed in some food a bit at a time & was happy to see that they finished off a normal daily portion in less than 5 min..
In other exciting news from the aquaponics (well I think it is) we have seen about a dozen fruit set on the pepino plant..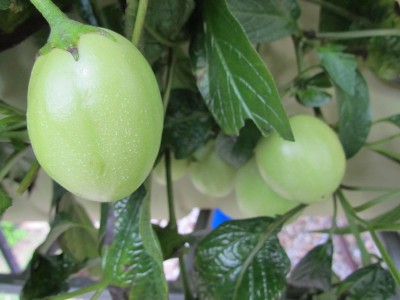 Hope to be pulling a few of these off in about a months time..
Blooming Berries...
I found Koo hovering around one of the strawberry barrels down the back so I went to investigate & this is what I found her looking at..

I am sure she was trying to hide some fruit under the leaves so she could raid them later.. Both the barrels are producing a fair amount of flowers & small fruit on at the moment.. I think we will be harvesting a handful or 2 within a few weeks,if we can keep the girls away from them, that is..
Also noticed that the blueberries have started to set flowers..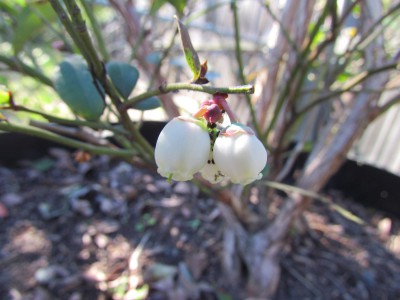 Blueberries are my favourite berry we grow in the patch so am a tad chuffed about that.. I will be trying to keep these guys under my hat for as long as possible..That way I can get to raid them first : )»
Some long awaited harvests...
Was rather busy harvesting a few different crops from the patch today.. The first crop to come out was the yacon from the barrel..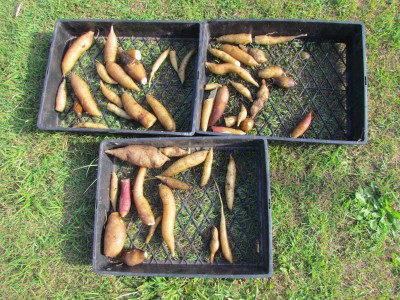 Ended up getting 4.6kg of tubers from the one plant, so we have more than we need to play around with.. I am thinking we will also share some with family & friends to see what they think of them.. They are a great sweet tasting tuber that, to me, taste like pear & baby carrot when eaten raw.. I am looking at dehydrating a fair amount into chips, some will be cooked up to see how they go & a fair amount will be eaten raw.. The girls are impressed with the flavour & I can hear Moo crunching on one as I type :D»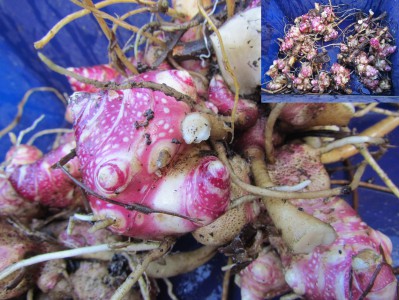 These pink rhizomes make up the crown that the stalks grow from.. They are also the material used for propagating new plants, as the tubers only act as energy storage for the plant.. I have already planted out 5 in the barrel this plant came from & another 6 in some 5L pots.. I think I have more than enough for our needs & will be sharing the rest out with a few locals & others that want to give growing yacon a shot.. Will be a while before it warms up enough for them to shoot, so I will have some time to prepare the large beds that they will be going into..
Shirley (VIC) started up a thread this week called "Fantastic YACON" which has some info & cooking ideas for anyone that is interested..
Decided to also harvest the turmeric & ginger from the spice bed next to the chook pen.. I wasn't counting on getting much of a harvest because the bed has been taken over by roots from the mango tree a few meters away..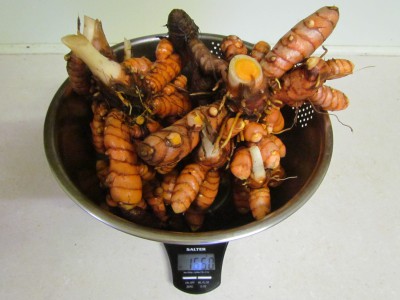 This turmeric was grown from just 2 pieces of root & I must say that I was rather impressed by the 1.6kg that was taken out.. Most of this will be processed for storage, while the central "mother" section of the root planted out into pots for next seasons crop..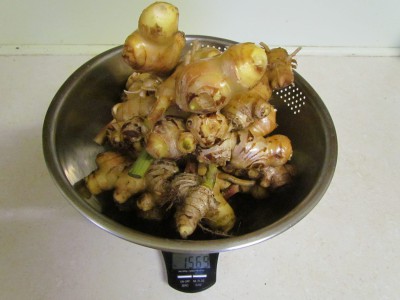 The ginger wasn't as successful unfortunately.. I got just over ½kg from the spice bed which wasn't surprising due to the amount of mango roots I found around the ginger.. I decided to pull the ginger plant that has been growing in the bed next to the lemon tree as well.. I knew this plant had been growing with more vigour than the others, yet I still got a very pleasant surprise when I unearthed a rhizome that weighed just under 1kg, which took the total harvest to 1½kg..
Some of the turmeric & ginger will be frozen with a few of the older bits being dehydrated to make up some powder.. I am also going to make up some ginger paste using some coconut vinegar & another batch using vodka, just to see which works best.. Will also be brewing up some lacto ginger beer using the fresh ginger root.. Think I might also experiment by adding some fresh lemongrass & galangal just to see how it goes..
Other pickings from the patch...
Harvested the last of the broccoli from the first crop that was planted out..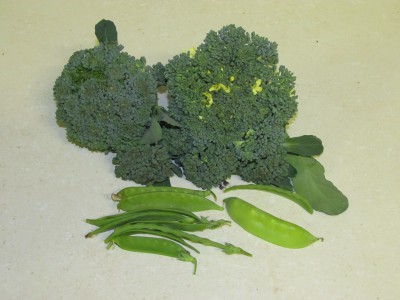 The plants just aren't sending up the side shoots like previous crops have, which is a bit of a disappointment.. Not to fear, we have round 2 just starting to form heads & a punnet of seedlings that should be ready to be planted out in a few weeks time..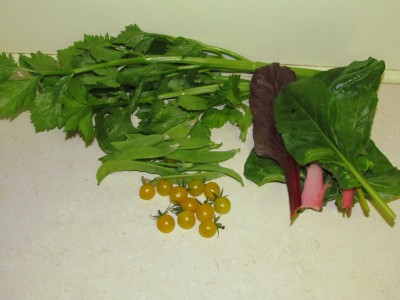 The snow peas are still being picked everyday which is great however the plants are slowing down.. I think one of the reasons they're slowing down is because there are a few dozen pods maturing on the plants for seed saving purposes.. Is not a big deal as some of the honey pod peas have just started to set flower this week..
Didn't quite get all the jobbies done that I wanted to during the week because I have been a tad crook.. Think I should be able to knock a few jobbies off over the next few weeks as the girls are on school holidays.. Might even rope them into giving me a hand with a few of them ;)»
Have a great one..
Rob : )»