Potato beetles LOVE molasses…
It appears that I may have misidentified the beetles that have been munching on our caped gooseberries & tomatillos… I have been calling them Colorado potato beetles up to now but have learned in the past week that they are actually called "3 striped potato beetles".. That really doesn't change the amount of damage that these little blighters have been causing on the plants & the fact that the molasses didn't work at all in deterring them as I had hoped it would, only made the leaves tastier I fear..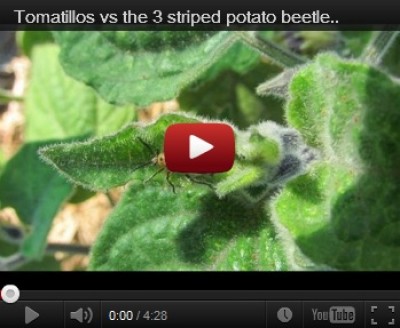 Over the past few days we have seen some of the purple tomatillos stripped of all their leaves.. I really hadn't been paying attention to them during my morning walks & now the plants are suffering for it :(» 2 of the 3 plants were pulled this morning as I think the damage was too extensive for them to recover.. There is another lot of the plants in the insect proof hoop house of both the red & purple varieties.. I am still hoping to see a decent harvest from these plants as long as the beetle don't find a way in there.. Shall be using my old friend Neem to try & tackle these guys..
Queensland Fruit Fly...
Just a quick mention & clip on identifying/controlling of these little pests now that fruits are forming on plants in the patch..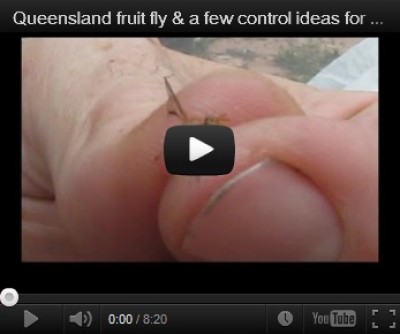 We have been battling these guys on & off for a while now.. I think we have them licked with the insect proof hoop house as I haven't seen any sign of infestation in there up to now.. This is great as we now have some beef steak tomatoes & capsicums coming on in there.. We got our netting from a mob called Net Pro in Stanthorpe.. They are ok with dealing directly with the public through their Ebay store or over the phone.. http://www.netprocanopies.com/pest-protection.html They were a lot cheaper than buying from their distributors for the length of netting we bought.. I think I will be relying on the insect netting as my primary line of defence & may be adding some "eco-naturalure" bait to our arsenal.. I have had a first hand recommendation for this product from a local grower I spoke to at a seed swap.. He found the product very effective at reducing the amount of fly strike..
Preserving the harvests..
As you may have seen from previous posts, we have had an excellent crop of zucchinis so far.. Most of the fruit have been made into zucchini & veggie sauce for the freezer..
It is a fairly basic sauce with no real accurate measurements or added herbs/spices so we can adapt it to whatever cuisine takes our fancy..
Basic zucchini & veggie sauce
1 heaped dessert spoon of butter
1 tsp of rice bran oil or oil of choice (helps stop the butter from burning)
5 cloves of garlic finely diced or 1 heaped dessert spoon of crushed garlic
1 extra large or 2 medium onions diced
1 large or 4 small zucchini, sliced & then quartered if need be
1 large capsicum, chopped
1-1½kg of chopped tomatoes or 2-3 x 400g tins of diced tomatoes (all depends on how strong you like the tomato flavour)
We also add eggplants but haven't had any to harvest of late..
Heat the butter & oil in a large pot the add onion & garlic stirring until nicely caramelised.
Add the zucc's, capsicum & fry off for a few minutes until you can smell the flavour releasing & the veggies start to brown slightly.
Add the tomatoes & bring to the boil then simmer until about ½ of the liquid has boiled off..
It is as easy as that..
What makes most of this year's sauce slightly different is that we have used the yellow cherry tomatoes & have ended up with a sweeter flavoured yellow sauce.. You can add a bit of sugar if you like it sweet but we find it is fine how it is.. The sweetness can be adjusted when using the sauce in other dishes later.. We love this sauce because it acts as a base for many different meals.. Defrost, add some Mexican spice, mince (diced chook thighs are nice too), lentils, beans & you have a great sauce for tacos or nachos.. Add a curry spice blend, some root veggies, pumpkin, greens, lentils, beans & you have a dhal.. Then there is always one of the girls favourites, Worms in Mud (spaghetti bolognaise) using spiralised zucchini as pasta..
This week I decided to use 4 of the larger zucchinis differently & loaded up the dehydrator.. I made some savoury zucchini "chips" & some plain dehydrated zucchini to try in other dishes later in the year.. The chips were coated in a nice savoury soy & garlic sauce our eldest daughter whipped up..
Garlic soy zucchini "chips"
2 large zucchini sliced into 5mm thick rounds
2 heaped tsp of crushed garlic
¼ cup of soy sauce..
The garlic & soy were mixed together then poured over the zucchini slices.
Mix by hand until the slices are all coated.
Lay them onto the trays & place them into the dehydrator for 8 hours on 49-57°C..



They weren't quite done by the next morning so they were given another 4 hours just to crisp them up.. Last night I added the left over zucchini rounds & some kale to make kale chips from..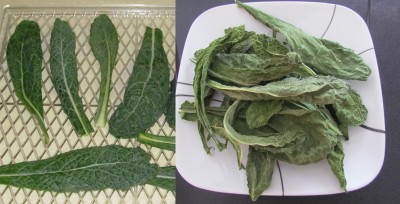 The kale chips could use a bit of added flavour so might try the soy & garlic on them as well next time..
So over all we are most happy with the outcome & think we will be making more "chips" like this in the future.. Can't wait to try some sweet potato chips in there too...
Pickings from the patch...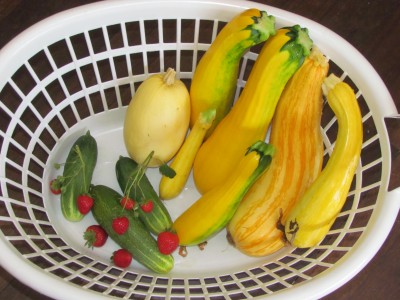 As mentioned above we are still getting some nice zucchinis from the patch..
Had a few "first" harvests for the seasons this week as well.. We picked our first spaghetti squash, first long purple eggplant, first few bell chillies, first tomatillo, first beefsteak tomato, as well as our first ½ a dozen cucumbers..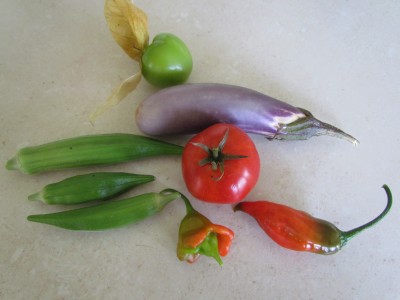 Very happy with these firsts & also quite chuffed that we now have a small stockpile of okra in the fridge.. I think I see another veggie & cheese stir fry in our very near future :D»
That's about it for this week.. School has all finished here for us except for some end of year arts/crafts so I hope to get stuck into a few more projects in & around the yard in the coming weeks..
Have a great one all & will catch you next weekend...
: )»