Shade House…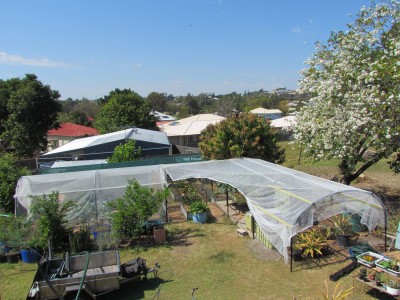 Had a bit of a busy weekend & week here.. Spent most of last weekend putting up the shade hoop house to take the sting out of the summer sun… I read that this summer could well be the hottest summer for 3 years so felt we should get prepared early.. I am also working on the idea that "Fruits & roots" need sun & leafy greens need shade so most of the patch was covered with the insect netting as it offers 30% shading from the sun.. The green cloth we have been using was 50% & we fear it made some plants like capsicums a bit too "leggy" as they stretched out trying to find more sunlight.. 1 length of 50% cloth was put up over a few beds so we can try to grow some leafy plants like mustard greens & mixed lettuce during summer.. We decided to keep the insect proof section intact as I think it should keep the fruit fly out.. We plan on planting out the tomatoes, capsicum & chillies in there to try & reduce the amount of fruit strike.. Will also be including some Cera fruit fly traps in there just in case some get through the netting..
A few extra hoops were also added so the shade area could be extended to protect a few new beds in front of the Aquaponic set up, & another section of cloth added over the new IBC bed right down the back.. A temporary shade cover was put on the 2 IBC beds up near the house with a more permanent one going up at a later date if we think it is needed…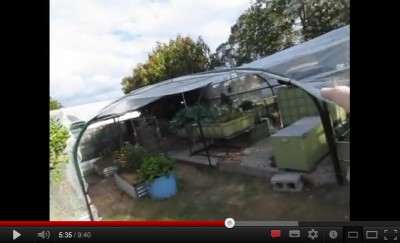 << To see how different bits were set up you can check out the clip..
Propagating gifts that keep on giving..
Pepinos..
Decided to take a few cuttings this week to make the gift giving season a bit easier on the hip pocket.. Normally we plan out elaborate healthy treats made from cocoa, nuts & dried fruit with the odd additional sugary treat thrown in.. Unfortunately we always leave the making of said treats to the night before we see family & friends so this year I thought we would do it a bit differently..
Pepinos were the plants that I really wanted to gift as they look great, provide a lot of fruit & the kids will love eating them.. 23 cuttings of pepinos were taken & I have tried 2 different ways to propagate these guys.. The first way was by taking cuttings & trying to root them in a soil mix..
12-15cm long new growth branches were taken from the plant trying to avoid any with flower buds..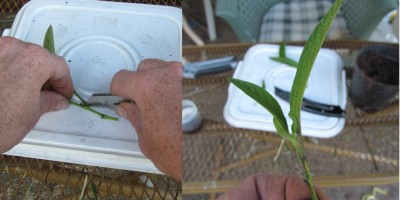 First step in the process was to remove all but the top 3 leaves from the 12cm/5" cuttings using a sharp knife.. I used a fresh Stanley knife blade that had been cleaned well with soap..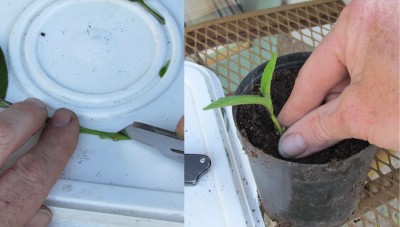 The next step was to make a diagonal cut at the base of the stem, then dip it in raw honey & firmly place it into the soil mixture.. Rooting gel & powder could be used but I was wanting to try the honey to see how it goes.. The amino acids & enzymes in the honey are said to give the cuttings a helping hand at setting roots.. The cuttings will be kept in partial sun for the next few weeks & misted with water twice daily to keep the soil moist..
The other method of propagation method I used was to just take the cuttings & sit them in a jar of water (Right side off picture)..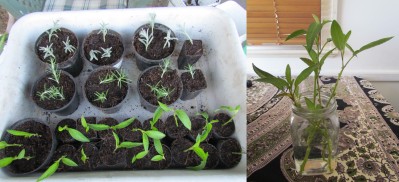 Can't get much simpler than that I think..
I really hope this method works as it is a lot simpler & I there is no sitting around waiting & guessing if the process has worked as the roots are clearly visible.. 10 cuttings each of rosemary & lavender were also taken so people can have a choice of what plants they would like to have..

Carrot tape..
Another great gift idea for people that like to grow veggies was one that was mentioned again recently on the SS veggie patch thread by Janlo, carrot seed tape.. Carrots can be a bit fiddly to thin (or maybe I just keep putting it off until it's too late) so using carrot seed tape can make thinning them out a breeze.. It is a really easy project that the kids can get involved in that costs nothing more than a packet of carrot seeds, a strip of toilet paper from the loo & flour from the pantry..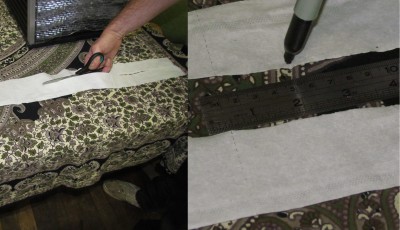 For this batch I used 8 squares of toilet paper that was cut down the center then marked out in 5cm increments..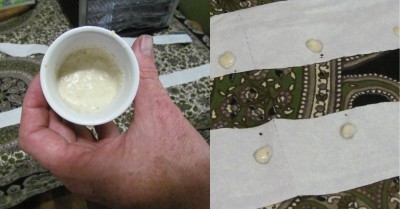 Next about 1tsp of flour was mixed with enough water to make a thick paste.. A small amount of the paste was dabbed onto the paper next to the marks to one side of the strip..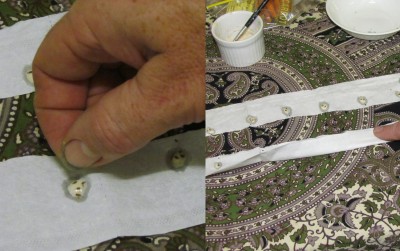 3-4 seeds were added to the blobs of paste then the paper was folded over using the excess paste to stick the tape together…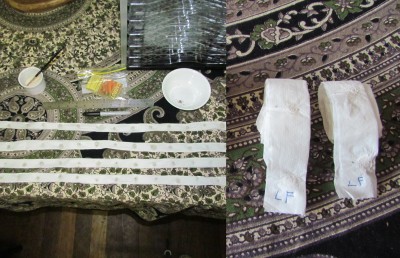 Labeling the rolls can also be handy if you are preparing a few different varieties at a time..
These tapes can just be laid out onto a prepared bed & covered with a thin layer of soil or sand… We have made these tapes up before for ourselves as well as for gifts & they are always appreciated.. The lettuce & spring onion tapes we made up didn't do any good at all so we just stick to carrot tape now…
Pickings from the patch..
While we haven't got a lot of plants producing at the moment we are still able to find enough greens & yellow cherry tomatoes to give us a salad every couple of days..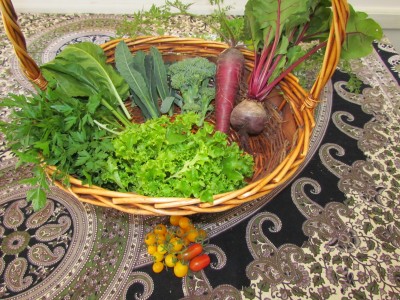 We are having some family over today & think we will use the last of the small broccoli heads as well as a beetroot & carrots to make up a chopped salad to have with lunch along with a green salad made from coral lettuce, mangle, beetroot leaves with a few yellow cherry tom's thrown in as well..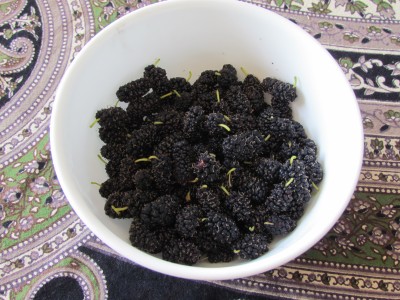 We have been picking a dessert bowl of mulberries from our small tree every few days with just over 1kg being harvested already.. This lot are destined to go into a dessert made by our eldest today..
Garden tour..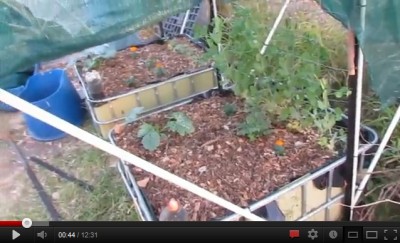 << If interested in a tour of the patch a walk around clip was posted yesterday…
That's about it for now…
Hope you all have a great weekend in the patch if you get the chance…
: )»