Hi there…
Has been a while since I have posted a garden blog on SS, but now as my motivation button has been pushed (thanks Fiona & team) I am grateful for the opportunity to do so again... I am looking forward to sharing our garden, tips, idea's & hopefully, we can pick up some pointers from each other…
The Veggie Patch...
The winter veggie patch here has become a rather lazy time for us to tell you the truth… Once the plants are in there is not a lot to do other than a liquid feed every few weeks, harvest the produce & feed the chooks any unwanted grubs/grasshoppers… Just as a catch up, here is the last garden walk through clip we posted to You Tube a few weeks ago
http://www.youtube.com/watch?v=QNnFwqbMofE
There has been one big event in the patch this week, the semi annual weeding & mending of the paths…
*rubs sore back*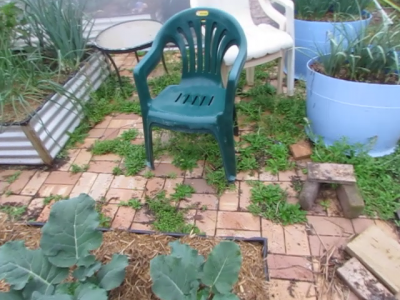 May, before the weeding...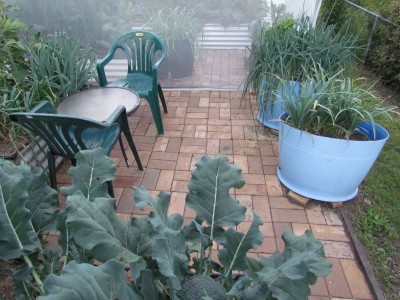 Now in July...
The mini makeover has made the patch look a lot neater and the chooks got some extra greens out of the deal. It is now a more enjoyable place to sit with Bianca & have a warm beverage in the Winter sun.. **Puts out tray of coffee for all**
On the veggie front we have been lucky enough to be harvesting a meals worth of snow peas every day or so. They also make a tasty passing snack while walking around the garden each day... The mescal salad bed has been a tad neglected for a little while now even though we have been picking bits here & there for salads... Some of the plants have started to flower so we are looking forward to having our own little self sown salad bar in the months to come... The Tuscan kale & tatsoi are not plants that we normally grow, but they have been faced with minimal resistance when served to our spawn.. So far they have been added to stir fries & steamed veg, but we are also looking for new exciting ways to present them as a tasty dish.. A few baby carrots have been harvested from a crowded row that was overlooked earlier in the season on the "Great Day of Carrot Thinning"… Some carrots from the thinned rows are a lot more advanced than the others, so that's a lesson learned for the next sowing.. Mind you, nice tender baby carrots are rather tasty… They went down a treat with some lightly steamed broccoli & snow peas for Thursday nights dinner..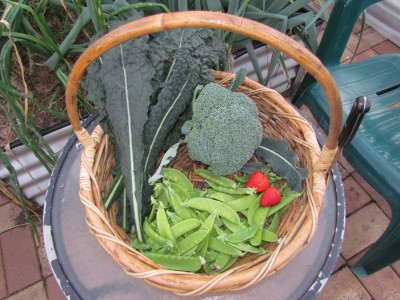 Friday's harvest of broccoli, kale and snowpeas (not the strawberries) went great lightly steamed with some "ring in" cauliflower as a side for some beautifully roasted pork.. The 2 strawberries were too tempting for the girls & didn't make it to desert as planned..
The plants I have been most impressed with would have to be the broccoli… I tried planting a few of them slightly differently this year after seeing a You Tube clip by a chap in the UK called DALE, who grows show vegetables.. He said he likes to really firm down the soil around the roots of his brassica seedlings (cauliflower, kale, cabbage, broccoli, etc) as they prefer to grow in firm, compacted soil. I must say, I will be doing the same from now on.. The heads of our broccoli have grown larger & the plants appear to be healthier than any others we have grown.. We did the same to the cauliflowers & have seen the same results.. The first of these should be ready to harvest mid week.. We have some purple headed broccoli & cauliflower seedlings that were sown in coconut peat pots that we sourced from the Share the Seed group. These will be ready to replace the harvested plants over the next month or so..
Projects for the patch..
Our youngest & I saw a link Kara posted on DIY eggshell seedling pots... (Thanks Kara) We thought we would give it a shot & make up some for ourselves... They are a really simple project for the kids, as long as someone can make some drainage hole in the base for them with a sharp pin...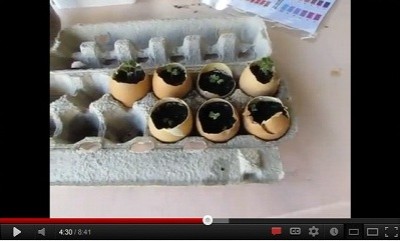 Click on the picture for the link to our clip on how we made them...
We have a second batch of rainbow chard & kohlrabi in eggshells that are waiting patiently for the new Aquaponic grow beds to be plumbed into the system so they can move in… Hopefully I can show you that next blog..
If you have any questions or if you would like me to look into a topic, feel free to ask..
I would also like to thank the SS team again for letting me rabbit on about our patch :D»
Well that's about it for now so I shall leave you with an up to date shot of our veggie garden...


Have a great one all...
Rob
: )»