Saving seeds for our future..
I have been busy this week collecting a selection of heirloom seeds from the patch & I have also received some chillies gifted we received to us on our trip.. Heirloom seeds are sort after for varying reasons. Some due to their shape, colour, flavour, nutrient value or medicinal properties.. Many varieties are also favoured for their ability to grow in harsh environments.. This makes them all the more valuable & needed to be preserved for future generations to grow & enjoy.. There are actually some moves by the European Union to stop the sharing of these seeds in a Bill that is going before their parliament very soon.. This really concerns me & many of the friends I have made in the gardening communities in the UK, Ireland & continental Europe.. Reading about this Bill has made me more motivated than ever to save seeds from as many seed varieties as I can so they can be shared with other interested gardeners..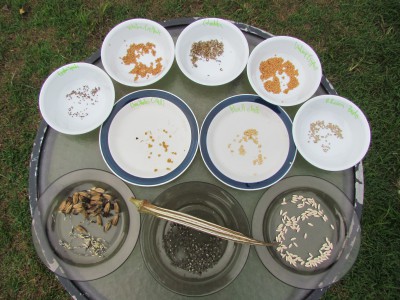 The seeds collected & saved this week were,
(Bowls from left to right) Egyptian spinach (also known as Salad/Jews Mallow), white eggplant, Calendula, Udumalpet eggplant & Black Russian tomatoes..
(Blue edged plates left to right) Chocolate Habanero chilli & ball chilli..
(Brown plates Left to Right) French marigolds, Burgundy okra & Gympie Gold cucumber..
The easiest seeds to collect were the Egyptian spinach, Calendula, French marigolds & Burgundy okra as they all were taken from dry pods/flower heads & could be bagged up straight away.. The best thing is that some have already been spoken for :)»

Germination tests & saving some tomato seeds..
One thing I like to do with some seeds is a germination test.. I like to make sure that the people who will receive them will have a good chance at getting the same results from them that we did.. It's a fairly easy process where you sow a number of seeds & then count how many of them germinate.. This will help give others an idea on how many seeds they will need to sow for their needs..
With the last test carried out I did a bit of a comparison on different seed saving techniques for tomatoes to see which methods germinated the best.. The 3 methods of seed saving I tested were fermentation, drying the seed on a plate & squeezing some seed into the soil from a fresh picked fruit.. Some of the individual seeds took a while to germinate but in the end I got a 100% germination rate for all methods.. It is interesting to note that the seeds saved using the fermentation method look to be the healthiest & most advanced of the lot, with the other seedlings still trying to catch up in size..
I did a clip on the process that goes into a bit more detail & so people could see the results for themselves..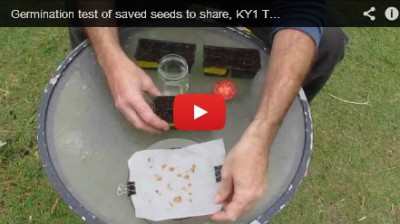 A few of these have been planted out in the aquaponic system with others destined to go to a few local backyard growers & the community garden..
Happenings around the patch...
Finely got around to planting out the Dwarf Red pawpaw into a larger pot this week..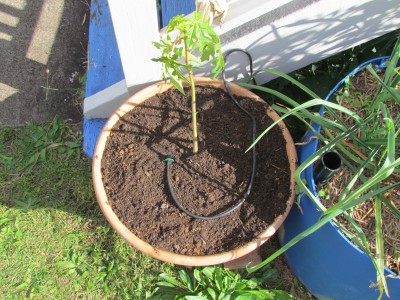 This is only a stop gap measure as I would like to eventually have it planted out into a wicking barrel & later into a prepared patch in the yard.. This dwarf pawpaw variety is said to yield fruit within 8-12 months.. It has been grown from a cutting so it is slightly more advanced than by growing from a seed in that respect.. I would like to take cuttings & see if I could propagate more to give to family & friends.. This variety is said to be a bit sweeter than the orange flesh ones so hopefully the girls will enjoy the fruit more as a result..

Started off some more Blue Scotch curl kale seeds this week.. My mother has recently started juicing & has been pinching a few leaves of our plants every time she visits, so thought I would start off some plants for her garden.. Along with the Blue Scotch I also sowed out some Tuscan kale & Di Ciccio broccoli.. I will also plant out some "60 day" cauliflower seeds as well & hopefully today if the rain lets up..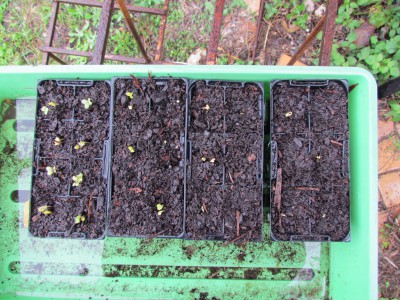 Some of these will take the place of the broccoli we have harvested from bed #1 & some of the gaps we have in other beds now that the okra plants have been pulled & the cauliflower have nearly all been harvested..
Slim Pickings...
Not really much in the way of harvests for us this week..
I did manage a few small harvest of leaves for salads & mum's kale raids when she come over..
Early on in the week I harvested a few water chestnuts, snow peas, Thai basil & galangal for a prawn curry..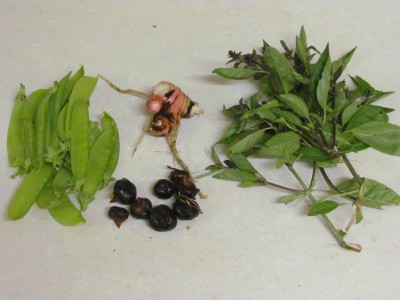 And later in the week harvested a few more lots of galangal & snow peas for a Thai chicken curry that was we shared with some visiting friends :D
Tasting the water chestnuts in the curry got me motivated to harvest the rest of them.. It was one job I had been putting off until we got back from our trip..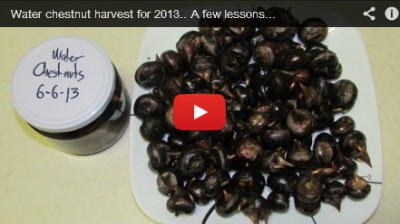 Was great to get to share some with friends on the weekend & have given others a rain check so they can try them later.. Although we didn't have a huge harvest, we have enough small corms to plant out a few barrels worth next season & hopefully it will give us a bumper harvest.. Also have another lot to harvest in the aquaponics but we might just leave them in there as long as we can to see how they go..
Picked a few eggplants, snow peas, limes & a small bit of galangal for a chap who came to see the aquaponic system but he escaped without me getting to take a snap of the produce.. He is actually the reason this blog didn't get posted on Sunday.. He arrived just after 9 in the morning & stayed chatting about aquaponics & gardening in general until after 4 in the afternoon... Was a great day though & it was nice to meet someone with so much enthusiasm for gardening & self sufficiency..
Well it's a wet & grey day here & not much is going on. So I might catch up on some You Tube gardening channels..
Hope you all have a great week :)»