Had a bit of a sad day yesterday so thought we would treat the family to a few favourite dishes, Short soup, Fried Wontons & Rocky Road...
Wontons...
250g minced pork
250g Green Prawn meat
1Tbsp Soy sauce
1Tbsp Chinese rice wine
1Tbsp Oyster sauce
1 tsp Sesame oil
2 Shallot whites
50 Square Wonton wrappers
Place all but the Wonton wrappers into a food processor on high until combined
Place a small tsp of mixture into a wrapper then wet the edge of half the wrapper, fold & seal the edges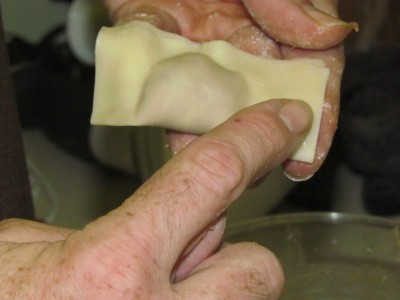 Wet one corner of the folded edge then wrap the opposite edge to seal on the moistened corner to form what B calls a "Belly button"... (A video link will be added at the end of this post to show the steps...)
Place the finished Wonton onto a tray until ready to cook in boiling water for 5 minutes or fry in a HOT Wok/deep fryer until golden brown...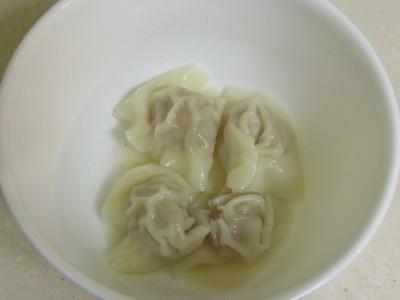 Left, Boiled... Right, Fried...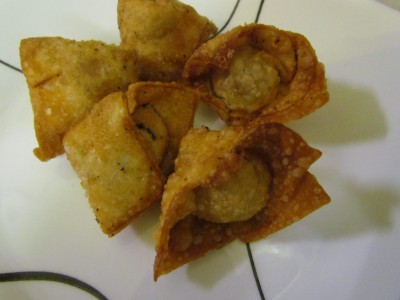 Short Soup...
Tonight I made the easiest of soups...
1litre Campbells Chicken stock
1litre water
1 Tbsp soy sauce
1-2 tsp Sesame oil
3 stalks of Celery, sliced finely
12 large Snow Peas, sliced finely
1 large Kohlrabi, julienned
2 med Banana Chillies quartered lengthways & sliced thinly...
Bring stock, water & Soy sauce to the boil in a pot
Place desired amount of boiled Wontons into bowl & cover with prepared Veggies
Just before serving, stir the Sesame oil through soup then ladle over veggies & Wontons
I like to add the sliced greens of shallots over the top as well....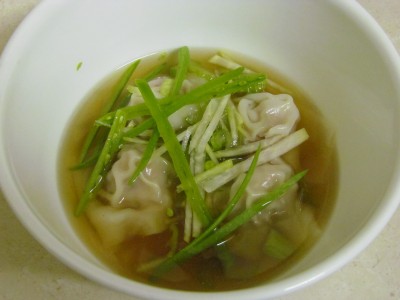 This was the tastiest Wontons/Short soup combination we have made & is just as good, if not better than any we have bought at a restaurant Me thinks...
The Rocky road was made from a block & a half of melted Whittaker's toasted coconut chocolate, 1 cup of Jelly Beans & 1 1/2 cup of Cashews...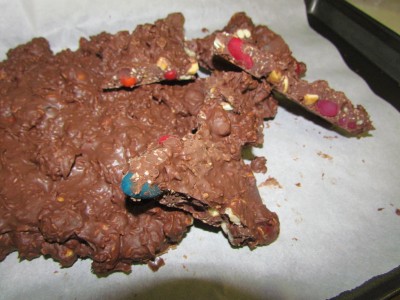 The Video on how the Wontons are made can be found here....
http://bitsaroundthehouse.blogspot.com/
Have a great one all.....
: )