Aquaponic jobbies & update..
Have been putting off cleaning up the aquaponic beds while I waited for some seeds to set on the flat leaf parsley..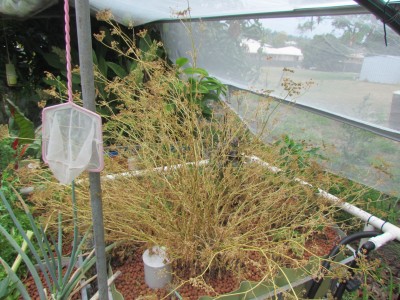 As mentioned in last week's blog, the Bulls Horn capsicum was removed because we now have a few capsicums ripening up in the hoop house & it was just shading out the small bed at the back a bit too much..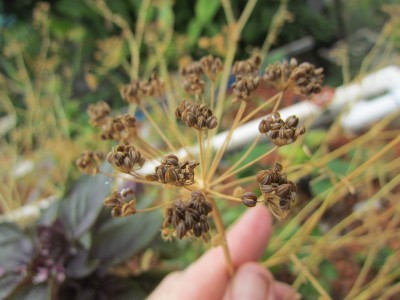 About a dozen seed heads were set aside from the parsley for the crop to be planted out .. I will be doing a germination test on these guy as soon as I can to see how viable they are..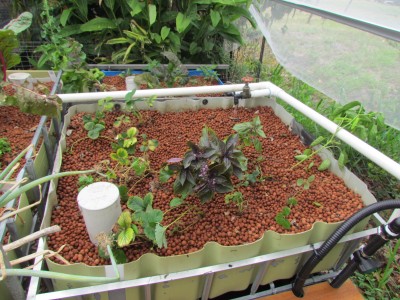 As you can see, the removal of the parsley has freed up a lot of space.. The opal basil, capsicum plant & strawberries have been left but I think the strawberries will be moving on out as soon as I can find a new home for them.. About 50mm of the clay balls were also removed & they may come in handy for future projects like making up some strawberry grow tubes... I'll have to see what I can come up with..
The remaining kohlrabi was also removed from the bed.. I think the caterpillar attack, while I used them as guinea pigs for my molasses spray experiment, just robbed them of too much vitality.. They were replaced with a punnet of rainbow chard/silverbeet on Wednesday.. They are a quick grow crop that will help stop the nutrient load from spiking & harming the fish.. Some more water chestnuts were also planted out as the existing corms died back from being shaded by the Bulls Horn..
Some seeds were gifted to us from a very kind person that we went & saw do a talk a while back.. She sent me a few greens & other plants that do well here in the subtropics & a few of these will be going into the grow beds in the coming days.. One of the gifted seeds that will be planted out in the system, once they germinate, are Egyptian Spinach.. From all report, this is another plant that is a great culinary all-rounder, but we will only plant a few to start with just to see what they're like..
Some newly purchased seeds that went into the grow beds this week were a carrot called "Short Kuroda" as well as Kang Kong (water spinach).. I am really looking forward to the Kang Kong as it is said it grows like a weed in wet conditions & should provide us with loads of greens for juicing, salads & stir fries..
It was also the week to post an update on the system to You Tube..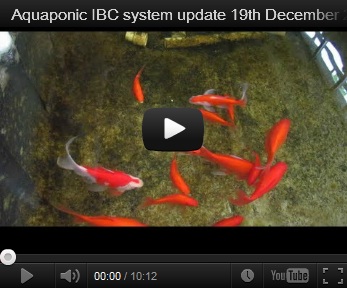 I won't get to have my perch for Christmas day lunch but a few of the gold fish are looking rather large ;)»
Happy plants & odd jobbies..
This week, like most, has seen a bit of maintenance around the patch.. A bit of weeding here, powdery mildew spraying there & chasing the crows from the chook pen appear to be the main daily tasks at the moment.. Happily, we are also seeing some great growth too..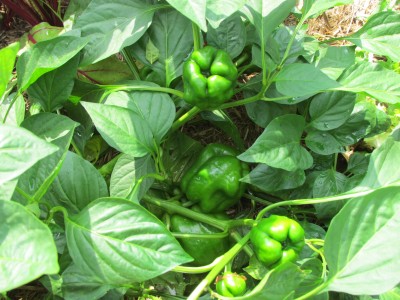 The capsicums in the hoop house are all loaded with fruit fly free fruit!! Am most pleased with this.. Have only had 1 ripe one so far but there are a few that look like they will be ready to pick over the next few weeks.. **does a happy dance**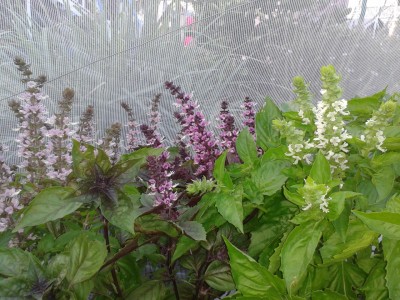 The basils are another plant that appear to be thriving at the moment.. These were grown from seed saved last year & it looks like we have made our own hybrid.. From right to left we have white sweet basil flowers, purple opal basil flowers, pink opal/sweet basil.. All 3 taste great together in salads so I think most of the plants will get a very heavy pruning soon & we can make up some cashew & basil pesto..
The pineapples have been coming along nicely too..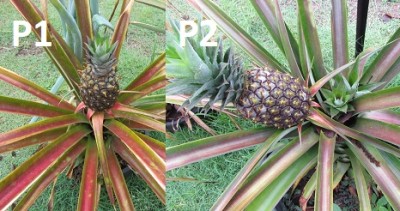 P2 is nearly ready & has formed 2 "pups" as well.. Hopefully we will get 3 new plants from this one & any seeds that I can get to germinate from them..
The carrots that went in a few weeks ago are also booming at the moment..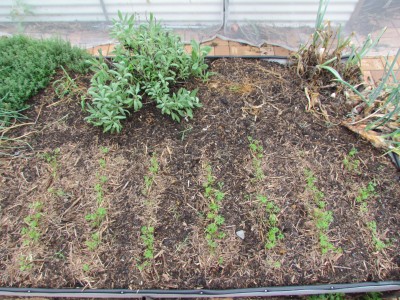 The bed will be mulched properly this weekend with the few gaps at the back of the bed being filled in by a few perennial spinach seedlings (Thanks Krackle :D»)
Harvests from the patch..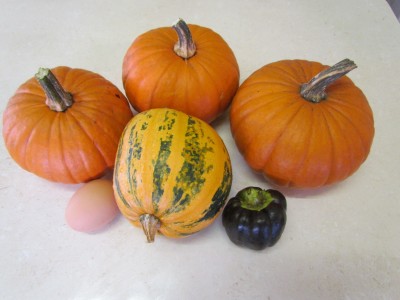 Picked the first of the baby bear pumpkins this week.. I am really looking forward to cooking up some Thai prawn & pumpkin soup with these guys.. The first of the black capsicums from the hoop house was also picked.. Was so very happy when I saw a strike free fruit ready to pick
: )»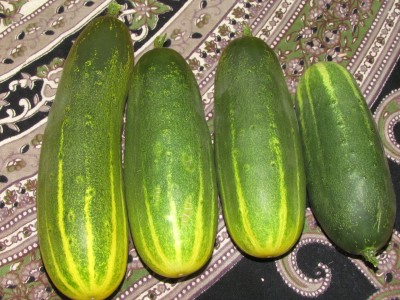 The cucumbers have been producing really well & we have been enjoying them in salads as well as just munching on them whole as a cool snack from the fridge..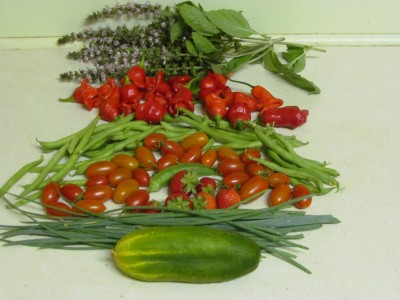 Have been stock piling the bell chillies so I can make up some of our own chilli paste... Recipe to come in the following weeks...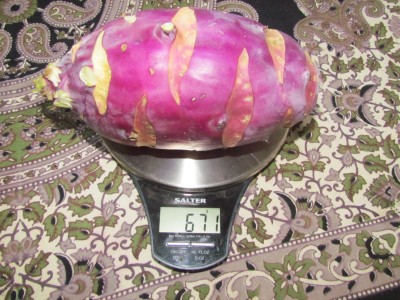 This was the last monster kohlrabi to come from the aquaponics.. It's chilling in the fridge at the moment so it can be turned into a salad for our Christmas feast..
Well that is all until next week.. Will hopefully be able to share a few ideas on preserving some chillies & other spice..
I'd also like to wish you all a wonderful Christmas & a happy & safe holiday on behalf of the girls & myself..
Take it easy & have a great one..
Rob
:D»