The First Jade Perch harvest...
Am very happy to be typing up this post as this is something I have been very keen to do for a while now.. The first 4 of our Jade Perch have been netted, dispatched & filleted.. I have always been very concerned for the fish's health.. They have had a fairly good innings with as much food as they can handle & are all very healthy as far as I can tell.. One thing I have been concerned about was, when the time came, how I was to despatch them in the most humane way possible.. I have read & seen a few different methods on line & these led me to a process that I think is the most humane way possible to dispatch the fish..
The first step was to draw some water from the system & add a bag of ice.. The reasoning behind this is the ice waters slows the metabolism of the fish down to a point that they become unconscious.. The next step is one I have deliberated on for a while & after much research decided it is the best way to despatch the fish.. The method I used is call "Iki jime" & takes only a few seconds to perform.. I have included a more in-depth explanation of the process in the below clip for those that would like further details..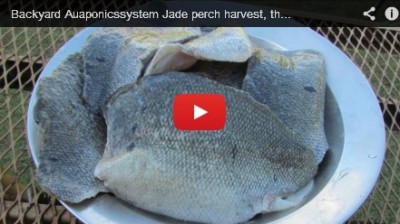 I found the filleting of the smaller fish to be quite challenging..Three of the 4 were smaller than the ones I was given & processed about a month or so ago .. I think next time and smaller fish will be cleaned and cooked whole, rather than filleting.. That way we will retain as much meat as possible, with less of the fish being wasted.. The fillets I got from my 4 that were harvested have been frozen & I am saving them for a BBQ with some extended family members... Will be great to see what they think of them.. Have also saved a cauliflower to make a chopped salad to go with it.. Shall let you know how they go over in the next blog...
Bit of a garden update...
Have been very happy with the way the straw bale beds are going in the front yard..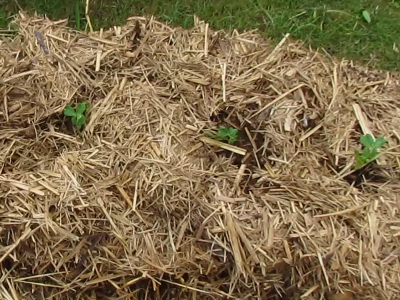 8 honey pod pea seedlings have been planted into the new long bed.. These will grow into a small bush about a meter high that produces a very sweet & tasty edible pod with very sweet peas inside.. These are one of Bianca's favourites.. I think I might just win some bonus points with her once we start to harvest the pods..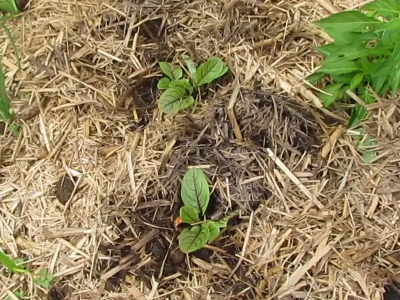 3 red sorrel went into the original hay bale bed this week.. 3 were also planted in one of the beds in the patch out the back.. It shall be interesting to see the difference between the 2 different plantings of the sorrel.. While I think that the plants in the bale bed will grow well, my money is on the plants in the garden bed out performing them.. From what I have been told, red sorrel is said to have a nice sharp lemony flavour.. I can't ever recall trying it before but from the sounds of it, I think it will make a great addition to the salad greens we are already growing..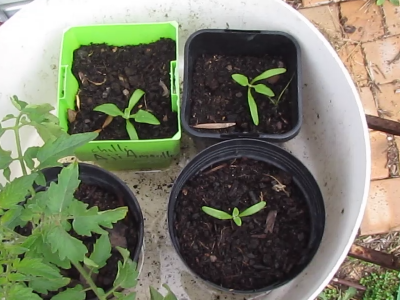 About a month ago I planted out 4 warrigal greens seeds.. 2 were from seeds I had saved & another 2 from purchased seeds from an heirloom seed provider.. I was very chuffed to find that 3 out of the 4 warrigal greens seedlings germinate.. These plants genuinely have a very poor germination rate, so I was most excited to see that both of the seeds that I saved from our old plant germinated, while only 1 from the purchased seeds did.. I had tried to grow them before with seeds that were given to me but unfortunately none germinated.. We have used some that we got from the community garden before in feta & tomato parcels & found them to be a great spinach substitute.. They thrive at the garden during summer so am hoping that they will take off in our garden as well.. Then we can have a great tasting spinach replacement that will grow 12 months of the year..
Felt I was a bit overdue for a walk around clip of the yard.. I decided to go for a bit of a wander with the camera for those that would like a bit of a tour..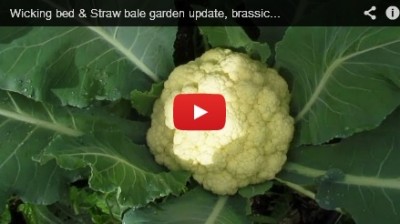 Happy harvests...
This week has proven to be another bumper week for harvesting the cauliflower & broccoli..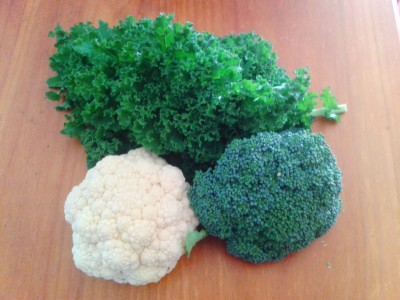 There are a few smaller heads that should be ready in a week or two, then I think that will be it for a while.. I may have been a bit off timing wise when it came to sowing the next crop.. The broccoli won't really be a problem as we can progressively picking the side shoots that the plants throws off..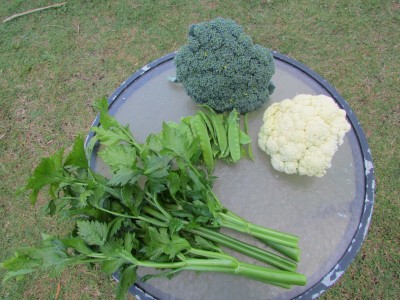 The snow peas have also been very productive this week with this lot going to a friend who will be checking up on the chooks & fish while we were away for a few days.. It is great to be able to barter for favours with produce from the patch.. Am also letting them have their pick of the veggies while we are away..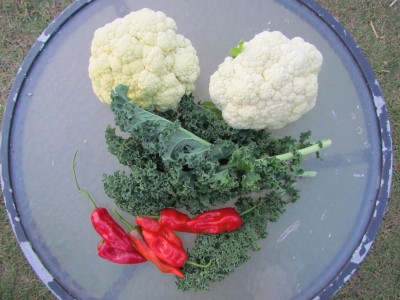 We have been using a fair amount of kale in different dishes both hot & cold lately.. I like the younger leaves in stir fries & the older leaves in salads as they tend to have a stronger flavour..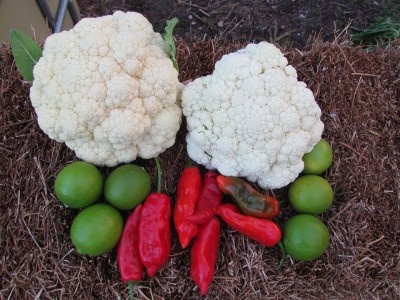 The "Market chilli" bush got a big pruning so this should be the last harvest until next spring.. Luckily the bell/Bishops Crown plant has bounced back well & has a few fruit set.. We will still have a few to pick every now & then, which is good..The girls have been slowly working their way through the limes in teas & cold drinks.. I don't think we will get to freeze many at all..
That's about it for this week.. Need to go pick up some bacon for the cauliflower soup that's planned for dinner tonight...
Hope you all get to spend some time in the garden this week..
Have a great one..
Rob : )»