Clearing out & seeding up…
To make sure that I get a few early winter harvests, now is the time to get the patch cleared out & ready to plant some seeds... I would really like to get 3 or 4 crops of broccoli & cauliflower from the garden this winter, so will need to make a start now.. The main beds I will be focusing on are the first 2 beds in the hoop house..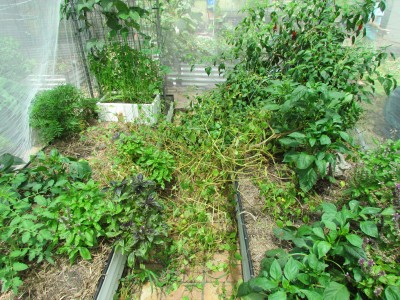 < Before After >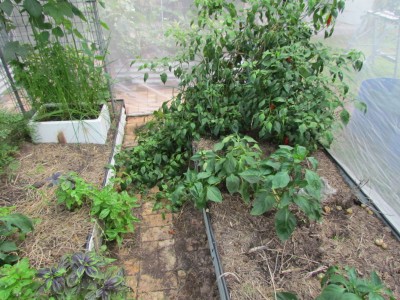 The tomatillos were removed from the first bed but the capsicums & some of the chillies have been left, so the broccoli & cauliflower can be planted around them..
Before anything goes in though, I will need to attend to a bit of a nematode outbreak.. While the plants in there have been fairly productive I did find that the beetroot in the first bed were all infested with the little pests..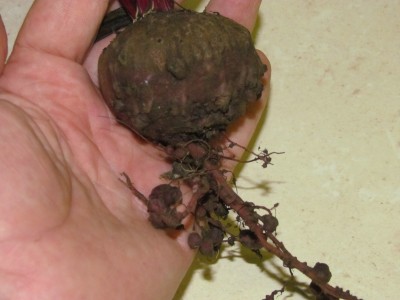 The first bed will be treated with the molasses brew (mentioned in previous blogs) this weekend & the seedlings can then be planted out in a few weeks time.. I am planning on progressively starting seeds in punnets so we can plant out seedlings every few weeks.. In the first bed there will be a few broccoli & cauliflowers with the smaller bed getting a few kohlrabi.. There are also 2 barrels in the hoop house that will both be planted out with root crops, one with beetroot & carrots in the other..
After the success we have had growing "bug free" in the hoop house I think I will be making up some covers for other beds.. In these beds I would like to plant out some kale, other leafy greens like silverbeet & mangle as they are both susceptible to grasshopper & moth caterpillar attack.. I have 2 types of kale for this season, Tuscan & blue curled Scotch.. The Tuscan did really well here last year & hope it does so again this year.. Another green that will be planted out is Warrigal greens..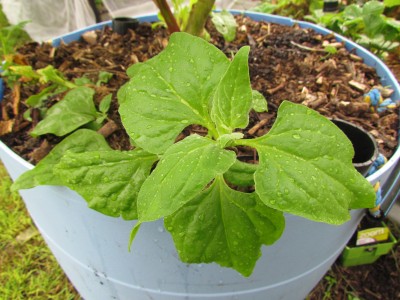 We have found this plant is a great spinach substitute that grows well here in our warmer weather & is said to also be insect resistant.. I have seen it spread like wildfire at the local community garden & for this reason it will be sown into a barrel so it doesn't get away from us..
There are also a few warm weather plants I want to try & get in before it cools down too much.. I have a mini violet ruby eggplant as well as some assorted chillies.. The chooks will also benefit from the planting spree with another living greens feeder being set up under the mango tree.. This one will be planted out with lucerne, which is a great high protein food as well as having flowers that will attract bees & other beneficial insects to the patch.. Just hope they can make it past the chooks..
Also did a walk around update clip if your interested in a walk through the patch..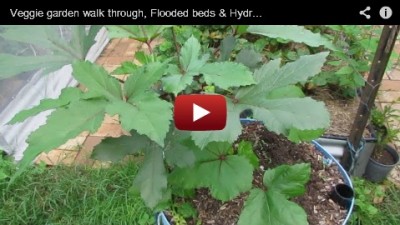 Harvest of a different kind…
Koo, Moo & I went through the patch this week & collected a few dried flower seed heads as well as some snake bean & okra pods so we can boost our stores of saved seeds for the next sowings..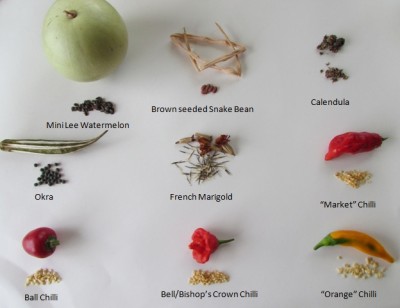 The flower, bean & okra seeds were easy to save & collect as we let the flower heads/pods dry out on the plants..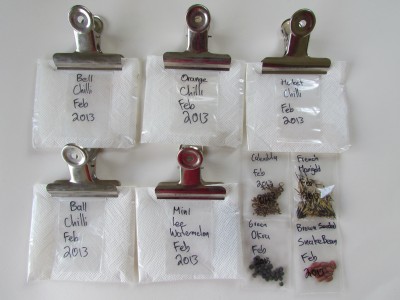 They were collected & stored into marked plastic bags.. The seeds from the chillies & watermelon still need to dry out so small envelopes were made from paper towel..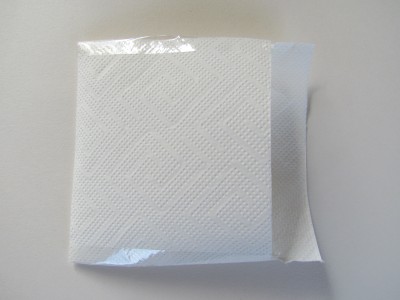 I decided to make these up as we have had a few problems with seeds getting mixed up or being blown from the drying trays in the past.. I think this is why we are growing Ball chillies & not Jalapeno chillies this year ;D»
To make the envelopes a paper towel was cut in ½ then folded leaving a small 15mm lip.. The sides were taped together then the seeds were added.. The paper towel should help draw the moisture away from the seeds allowing them to dry without blowing around or mixing with other batches.. Small plastic baggies had the variety of seed written on them then they were secured in place with a bulldog clip.. They have been hung in a breezy spot out of direct sunlight to dry..
Happy harvests…
Harvested the first of the pineapples this week..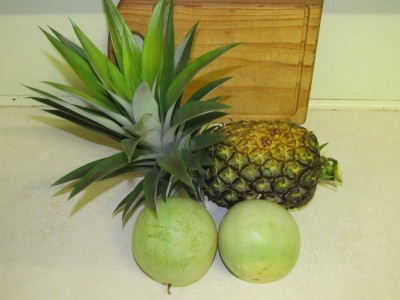 It was taken off too early as we noticed that it had a soft sunburnt patch that was attracting ants.. We thought it best to remove it & try ripening it in the house.. Also harvested 2 of the watermelons..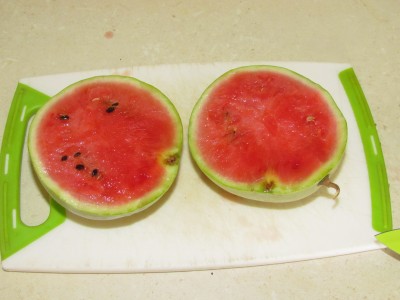 The Mini Lee melons were only about a third of the size they should of grown to but were sweet all the same.. Seeds have been saved & am sure we will do much better next year with them..
Last Sunday Bianca & I harvested all the limes from the Kaffir tree & gave it a good pruning as well.. A basket full of leaves were harvested & given out to folks at B's work with a few kept in the freezer for our use..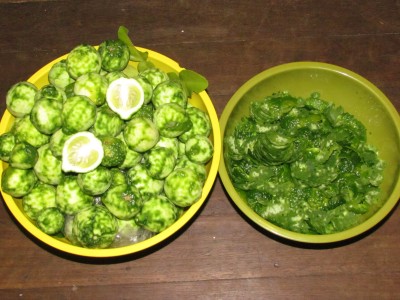 The limes were lightly peeled so the rind could be tossed in the food processor & turned into lime zest.. We have found the zest & leaves lasts for ages in the freezer..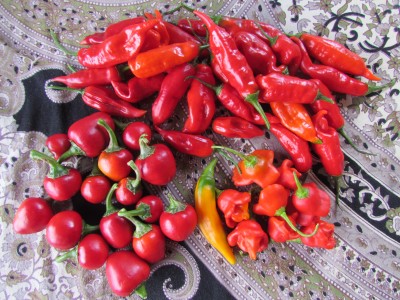 These chillies were used along with some of the above lime rind/leaves, frozen lemongrass stalks, frozen turmeric, garlic, fresh picked galangal & red shallots to make up another batch of Thai style curry paste..
There only ring ins we didn't grow were the shrimp paste, coconut vinegar & a red salad onion..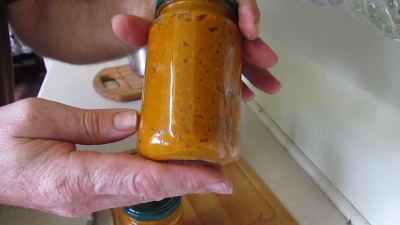 2 jars went to Bianca's work mates with orders for as much as we can supply when we do the next big spice harvest.. Don't think it will ever make us rich but I do enjoy seeing others get a kick out of what we grow & make :D» In the past we have frozen zip lock bags with small portions of lemongrass, lime leaves, lime zest, garlic, turmeric & galangal ready to be blitzed in the food processor to make up meal sized batches of paste when needed.. This year I think I will try & make up as many jars as I can to save taking up space in the freezer..

That's it for this week..
Hope you all have a great one in the patch getting ready for the Autumn & winter crops..